Curricula
---
Families Eating Smart and Moving More (FESMM)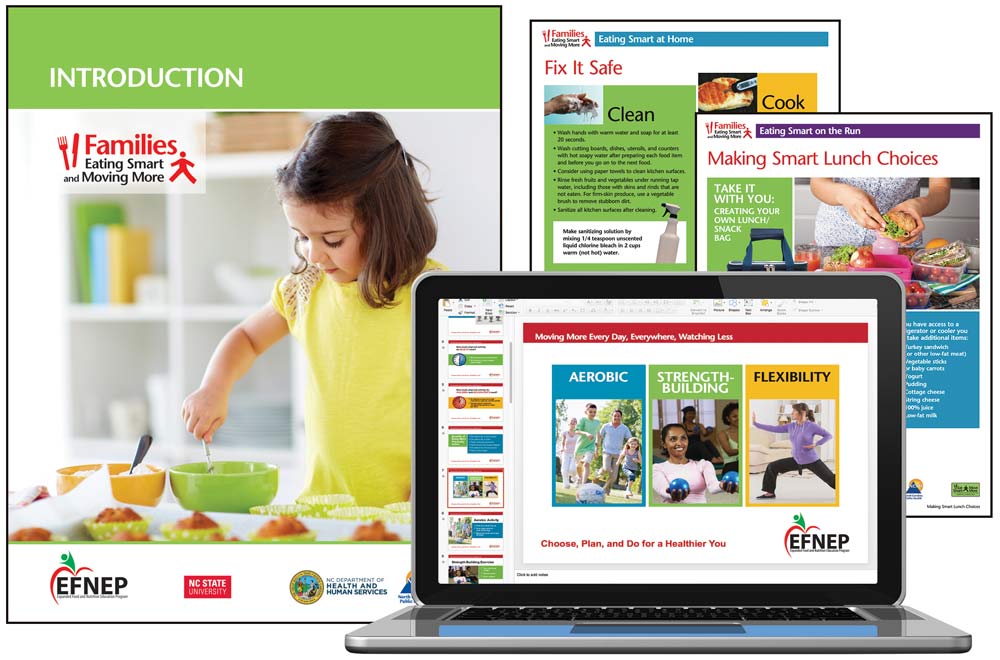 The Adult component of the program utilizes a curriculum developed collaboratively with the Division of Public Health, Nutrition Services Branch and Physical Activity and Nutrition Branch and NC State University called, EFNEP's Families Eating Smart and Moving More (FESMM). The curriculum is approved in the SNAP-Ed Toolkit.
The curriculum consists of 21 lessons under five major headings:
Introduction to the Expanded Food and Nutrition Education Program
Eating Smart at Home
Choosing More Fruits and Vegetables
Fix it Safe
Plan: Know What's for Dinner
Shop: Get the Best for Less
Fix it Fast, Eat at Home
Shop for Value, Check the Facts
Smart-size Your Portions
Eating Smart Throughout the Lifecycle
MyPlate
Pregnancy
Breastfeeding
Infants
Children
Eating Smart on the Run
Making Smart Breakfast Choices
Making Smart Lunch Choices
Making Smart Choices When Eating Out
Making Smart Choices When Eating Fast Food
Making Smart Drink Choices
Moving More, Every Day, Everywhere, Watching Less
Choosing to Move More Throughout the Day
Choose, Plan, Do for a Healthier You
Choosing a Healthier You for Life
EFNEP's Families Eating Smart and Moving More uses both hands-on food preparation activities and incorporates physical activities into each lesson. Participants are challenged to make positive changes to achieve good nutrition and health, increase physical activity, control portion sizes, practice food resource management skills, practice food safety in preparation and practice safe storage and handling of food.
View a sample lesson
---
Faithful Families Thriving Communities

Faithful Families Thriving Communities (Faithful Families), in partnership with EFNEP, works directly in communities of faith to promote health for individuals, families, and local communities. EFNEP educators in partnership with program facilitators and Lay Leaders co-deliver Faithful Families' Eating Smart and Moving More Lessons, which includes nine sessions on healthy eating and physical activity strategies, including nutrition, meal preparation and cooking, food safety, and increasing daily physical activity. Through group discussions, recipe taste tests, and activities, individuals and families are encouraged to set goals to lead healthier lives. This curriculum is approved in the SNAP-Ed Toolkit.
---
Camp, Cook, Play!
Youth ages 8-12 will have fun in a summer camp setting where they will learn about MyPlate and the five food groups, kitchen and food safety practices and physical activity. This curriculum is developed to positively affect five key health behaviors:
Increase the youth's knowledge of human nutrition;
Increase the variety of foods in the youth's daily diet;
Improve the youth's ability to select low-cost, nutritious foods for meals and snacks;
Improve food preparation and food safety practices to reduce the risk of foodborne illnesses; and
Increase daily physical activity
North Carolina State University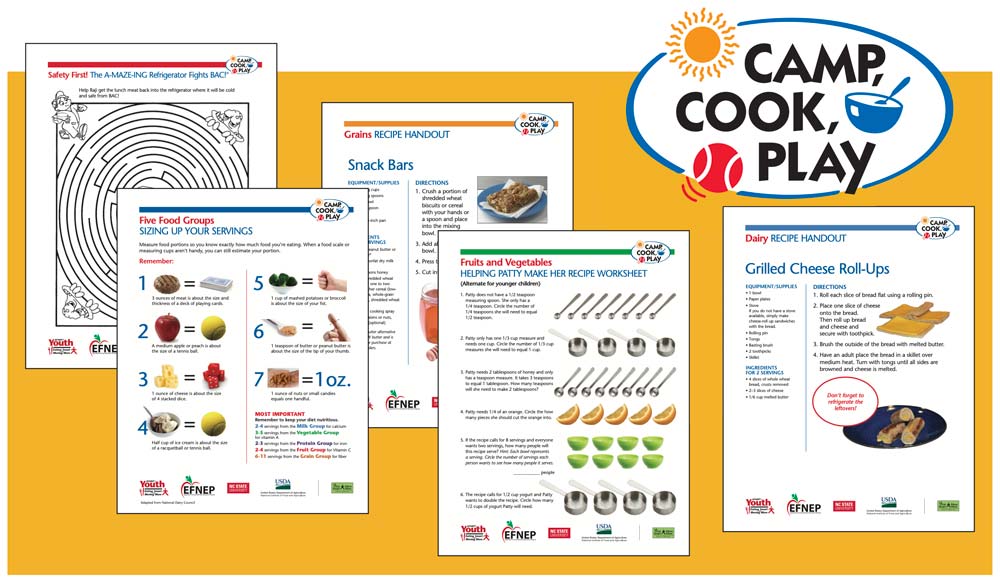 ---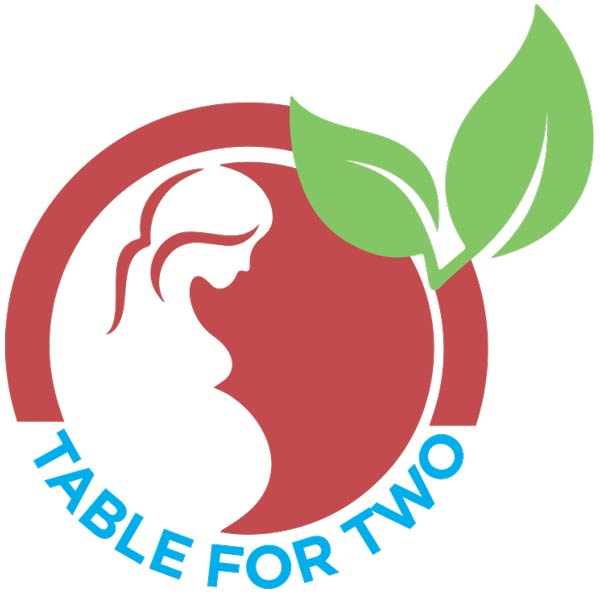 Table for Two
Table for Two educates the mother on how to use nutrition to take care of herself and the baby during and after pregnancy which reduces the risk for infant mortality. Pregnant women are empowered with the tools needed to provide healthy meals and to make healthy choices, reducing the risk of birth defects and low birth weight. Table for Two is engaging and creates a support group for the mother to ask questions and gain support for her peers.