---
Makes 6 servings | Serving Size: 1/2 cup
Ingredients for Filling
4 cups peeled, thinly sliced apples (3-4 medium)
1/4 cup water
3 tablespoons firmly packed brown sugar
1 tablespoon all-purpose flour
1/2 teaspoon ground cinnamon
Non-stick cooking spray
Ingredients for Topping
1 cup quick cooking oats
3 tablespoons firmly packed brown sugar
3 tablespoons butter, melted
1/4 teaspoon ground cinnamon
Directions
Heat oven to 350°F.
Spray 8-inch square glass baking dish with cooking spray.
For filling, combine fruit and water in large bowl.
Combine sugar, flour, and cinnamon; add to fruit; stir until fruit is evenly coated.
Spoon into baking dish.
For topping, combine all ingredients in medium bowl; mix well until oats are moistened.
Sprinkle evenly over fruit.
Bake 30-35 minutes or until fruit is tender.
Nutrition Information Per Serving: 70 Calories, Total Fat 3.5g, Saturated Fat 3.5g, Protein 0g, Total Carbohydrate 18g, Dietary Fiber 2g, Sodium 0mg
---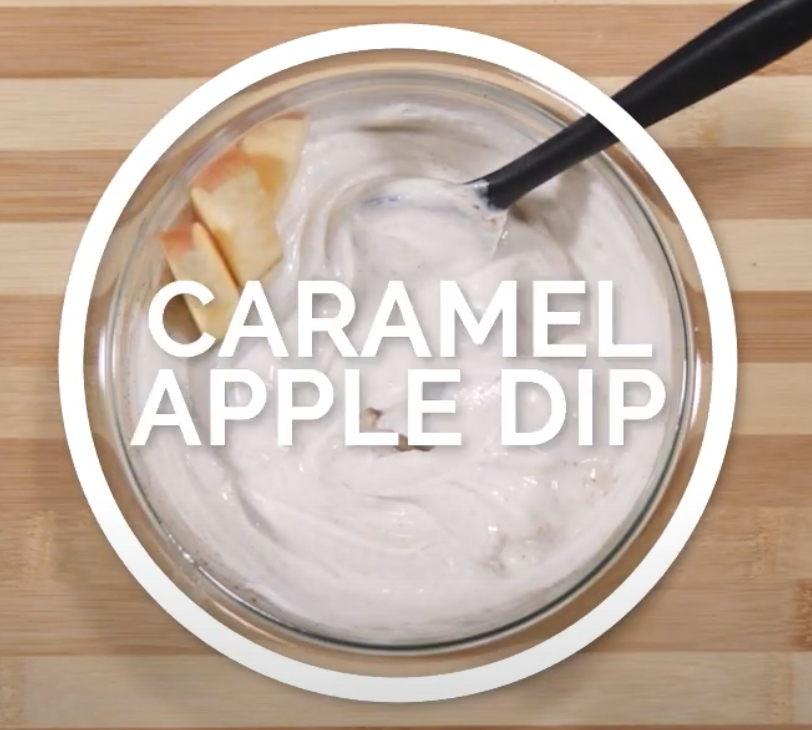 Serving Size: 1/2 cup – Makes 4 Servings
Ingredients
2 cups plain non-fat greek yogurt
1 tablespoon brown sugar
1 tablespoon maple syrup
1 teaspoon vanilla
¼ teaspoon cinnamon
Directions
Combine all ingredients in a bowl and mix well.  Serve cold with sliced apples.
---
Ingredients:
-1 cup of oats (traditional rolled oats or quick oats)
-½ cup of base (peanut butter, almond butter, mashed bananas, sunflower seed butter, or pumpkin puree)
-1 tablespoon of sweetness (maple syrup or honey)
-⅓ cup of mix-ins (raisins, shredded coconut, chopped nuts, dried craisins, chocolate chips, chocolate candies, pretzels, cinnamon, cocoa powder, vanilla extract)
Directions:
Mix all of the ingredients together. Use a spoon to scoop out ping pong ball-sized bites.  Eat right away or store them in the fridge  to eat later. 
Video Demonstrates the following variation:
1 cup quick oats
½ cup peanut butter
⅓ cup chocolate chips
1 tablespoon honey
---
Ingredients:
1 cup base fruit and vegetables (Pick 1–2: Bananas, strawberries, blueberries, peaches, pineapple, spinach, kale, carrots)
1/2–1 cup liquid (Low-fat milk, Soy milk, 100% fruit juice, water)
1/8–1/2 cup add-ins (yogurt, peanut butter, nut butters, oats, ice)
1 Tablespoon toppings (coconut flakes, chopped nuts, granola, cocoa powder, chia or flax seeds)
Directions:
Put all the ingredients in a blender and mix until smooth. Serve immediately.
Try Spinach, Banana, Peanut Butter, and Milk or any combination of the ingredients below.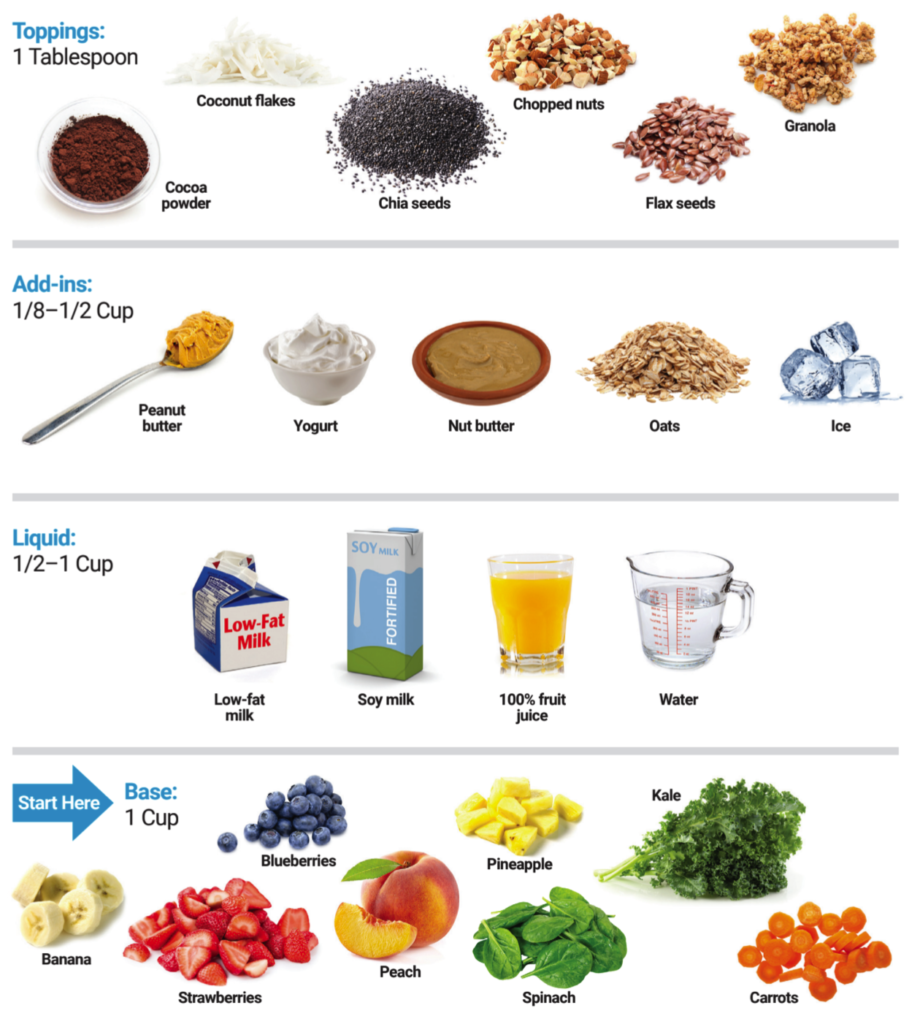 ---
Ingredients:
1 cup peanut butter
1 1⁄2 cups zucchini, grated 
1 egg
1/3 cup honey
1 teaspoon vanilla 
1⁄2 teaspoon salt
1⁄2 cup chocolate chips 
1 teaspoon baking soda 
1⁄2 cup cocoa
1⁄2 teaspoon salt
1⁄2 cup chocolate chips
Directions:
Preheat oven to 350°F.
Combine all ingredients into a large bowl and mix well.
Pour into a greased 9×9 pan.
Bake for 35-45 minutes (or until baked throughout).
Recipe from – The Food Bank of Central and Eastern North Carolina: http://foodbankcenc.org/wp-content/uploads/2022/01/Nutrition-Education-Recipes-Desserts-PB-Zucchini-Brownies-PDF.pdf