Chickpeas, also called garbanzo beans, are a great addition to a healthy diet! They are sold dry and canned, and both types can be used in different ways. 

Dried whole or split chickpeas are great for Indian and Spanish dishes. Depending how you choose to cook them, it can be a bit time-consuming, but they are worth it!
When using dry, start by rinsing the chickpeas. Soak them in water in the fridge overnight to make them easier for your body to digest. After soaking, you can cook your chickpeas on the stove for 1.5 hours, on high in a slow cooker for 3-6 hours, or in a pressure cooker for about 20 minutes. You can add a pinch of baking soda to the water when cooking to speed up the cooking time! 1 cup of dried chickpeas makes 2.5-3 cups when cooked. 
Canned chickpeas are pre-cooked and ready to eat! These are great roasted, or ground into hummus or a meatless burger. Watch out for sodium in canned chickpeas, though. Always choose low-sodium options, and feel free to rinse your chickpeas in a strainer to remove even more of the salt.
Half a cup of cooked chickpeas has about 135 calories, 2 grams of fat, 6 grams of fiber, 7 grams of protein, 30% Daily Value of folate, 10% Daily Value of zinc, and 4% Daily Value of iron. Chickpeas have also been shown to help decrease blood pressure, lower cholesterol, and improve digestive health
While chickpeas themselves are a good substitute for meat, the liquid from canned chickpeas can also be used in place of egg when baking, and it can be whipped (just like egg whites) into meringue or whipped cream! Chickpea flour is also available as a gluten free flour option. You can buy chickpea pasta, chips, tortillas, breads, and pizza doughs!
If you're looking for a tasty chickpea recipe, give this hummus a try!
Source: Foodandnutrition.org
In my home country of Trinidad and Tobago, this garlicky eggplant dish, often referred to as "baighan" or "melongene," isn't considered a recipe because all it requires is a low flame, a handful of garlic cloves, a hearty dash of curry powder, and eggplant. The biggest win of this wholly vegan eggplant recipe, which tingles with bright bursts of heat and bite, is its range and functionality. Growing up on the island, I ate it for breakfast. These days, I heap creamy spoonfuls of melongene (eggplant) over steamed brown rice for a hearty meal on a weeknight. During the balmy summer months, pair it with peppery fresh arugula and pan-seared citrusy chicken thighs.
Makes 2-3 servings
Ingredients:
3 Tablespoons vegetable oil
2 teaspoons curry powder (Chief or madras)
1 medium globe eggplant (12-16 oz.)
7 cloves garlic, minced
1 teaspoon kosher salt
¼ teaspoon Tabasco sauce (or other spicy hot sauce)
1 cup pre-cooked steamed brown rice (to serve)
½ cup of water (divided)
Directions:
Cut the top off the eggplant as close as possible to its upper stem. Using a vegetable peeler, remove the thick purple skin from the eggplant and discard. Slice the eggplant in half lengthwise, then cut each half into thirds, making thick long steaks. Cut each steak into four or five pieces, making a large dice.
Ready a saute pan with a well-fitting lid, fork and large metal spoon. Add the oil to the pan and allow it to heat for about 30 seconds over medium heat.
Add the curry powder and stir to combine the curry powder into the oil for a minute. Reduce heat to medium low.
Add the eggplant and stir to ensure the chunks of eggplant are coated with the oily curry.
Stream in a ¼ cup of water and stir.
Allow the eggplant to cook, covered, for about seven to nine minutes, until the eggplant is tender.
While the eggplant is cooking, peel and mince garlic using a chef's knife.
Remove the lid, stream in another ¼ cup of water, stir, cover and cook for another seven minutes.
Remove the lid, using a fork, mash the eggplant, which should be tender and juicy.
Add garlic, salt, and Tabasco and stir to combine.
Cook uncovered for another three minutes, until flavors have melded and garlic has mellowed. Remove from heat and season with salt and hot sauce to taste.
Serve over brown rice.
Recipe by: Chef Brigid Washington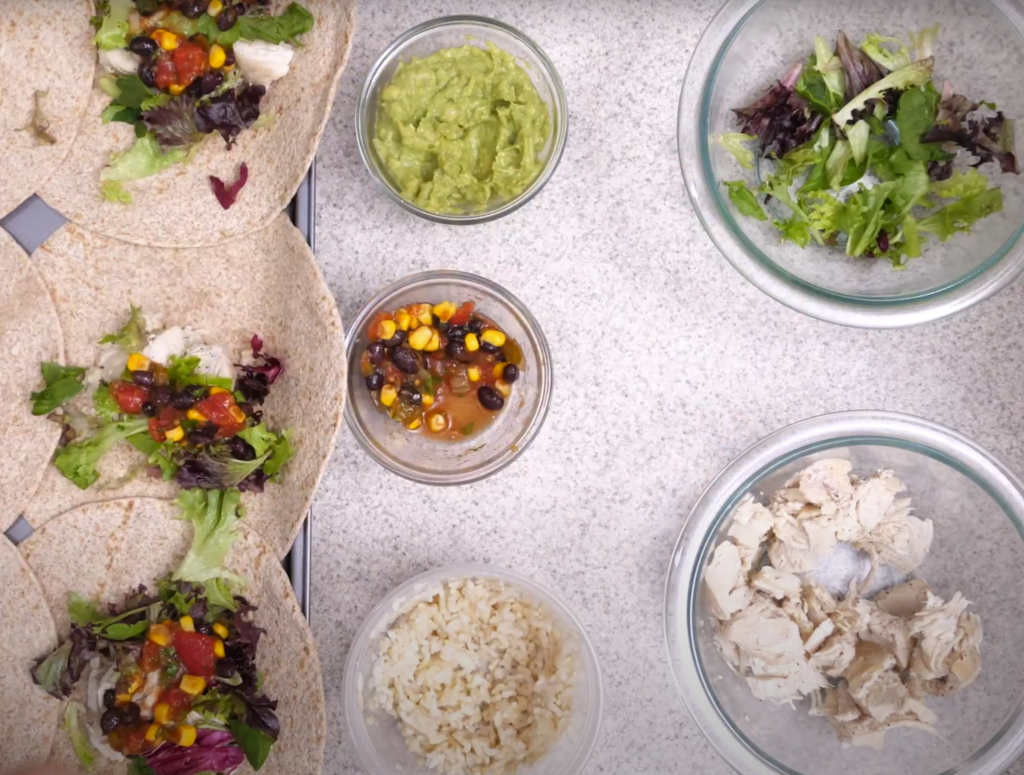 Makes 6 servings | Serving Size: 1 burrito
Directions
Ingredients:
6 whole wheat tortillas (12 inch)
1 cup cooked brown rice
2 cups cooked chicken, diced
1/2 cup Black Bean and CornSalsa (page 7)
2 cups coarsely chopped saladgreens
1/2 cup cheddar cheese,shredded (or other cheese)
1 avocado, chopped
Directions:
Warm tortillas in oven following package directions.
Leaving 1″–2″ of space from end of tortilla, divide ingredients and layer ontoone end of 6 tortillas in the following order: rice, chicken, salsa, greens, andcheese.
Fold tortilla over filling, pressing gently so that filling moves down into the fold.
Wrap both right and left side ends of tortilla over fold.
Roll tortilla to close.
Nutrition Information Per Serving
336 Calories, Total Fat 15g, Saturated Fat 5g, Protein 21g, Total Carbohydrate 32g, Dietary Fiber 8g, Sodium 455mg. Excellent source of Vitamin A. Good source of iron.
Makes 4, ¼ cup servings
Ingredients
1 cup plain greek yogurt
1 teaspoon garlic powder
1 teaspoon onion powder
1 teaspoon ground black pepper
1 tablespoon dried parsley
1 tablespoon dried dill weed
2 teaspoons white distilled vinegar 
Directions  
1. Combine all ingredients in a bowl.
2. Mix well.
3. Enjoy
March 26th is National Spinach Day! Spinach contains many helpful nutrients, but it is especially high in iron, Vitamin K, Vitamin C, and Vitamin A.

– Iron is an important building block in our blood. It helps move oxygen from the lungs to the rest of the body. If you don't have enough iron, it could lead to anemia, which may make you feel tired and short of breath.
– Vitamin K helps maintain healthy bones. It also plays an important role in healing wounds or cuts. If you don't have enough Vitamin K, it could prevent your scratches and bruises from healing properly.
– Vitamin A helps with eyesight, growth, and development, so it's especially important for kids to get the right amount! It also plays an important role in keeping many of our organs working properly. Most Americans get enough Vitamin A, but it's still important to keep track and make sure you are getting enough.
– Vitamin C is another important building block in the body that is needed for healthy bones, skin, cartilage, and blood vessels. It also helps build your immune system, and it helps our bodies absorb iron! If you don't have enough Vitamin C, you could develop scurvy, which can cause bruising, fatigue, and rashes.
All in all, spinach is a great food to work into your diet to help you get the nutrients you need to stay strong and healthy! It can be eaten raw in salads or sandwiches; blended and added to smoothies or dips; cooked into soups, sauces, and casseroles; or cooked and eaten as a side dish! Feel free to give this spinach omelet recipe a try!
*If you are worried about getting the right amount of nutrients in your diet, or if you are experiencing any worrying symptoms, talk with your doctor.
Sources: Dietary Guidelines and BBCgoodfood