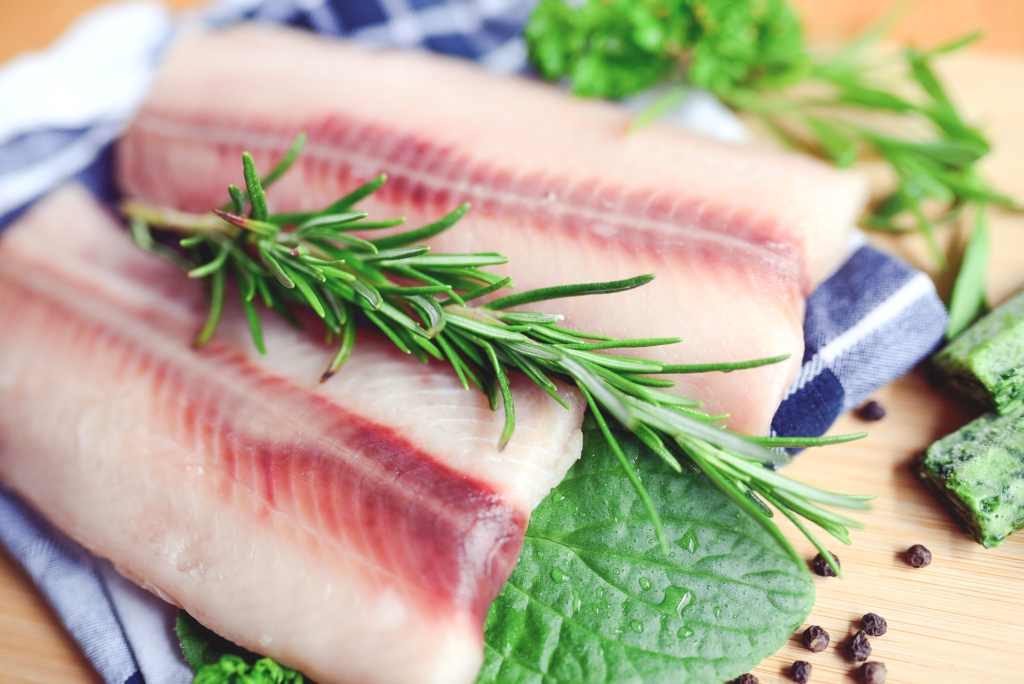 Seafood is an important part of a healthy diet. Try to include seafood at least twice a week with a goal to eat 8 ounces per week. Use these tips when buying fresh fish:
---
Tips
Whole Fish
Choose fish that smells like the ocean. Fresh fish should not have a strong odor.
Look for bright, clear eyes. Dull eyes indicate that the fish is old.
Look for a fish with shiny, tightly connected scales.
Choose fish with firm flesh. It should spring back when touched.
Look for bright red gills.
Frozen Fish
Frozen fish is often a good buy. If you live inland, frozen fish will likely be less expensive than fresh fish. Today, much of the frozen fish is flash-frozen within just a few minutes of being caught. Here are a few tips for choosing frozen fish:
Check the packaging. Avoid loose, damaged, or torn packages.
Look for moisture-proof packaging. Vacuum-sealed packages offer the most protection to preserve the quality of the fish.
Choose only fish without ice crystals. Frost or ice crystals on the fish could mean that the fish was thawed and re-frozen or has been stored for a very long time.
Avoid any fish with signs of freezer burn.
---
Recipe
Makes 4 servings | Serving size: 1 fish filet packet
Ingredients
4 frozen tilapia filets (or other mild flavored fish)
Non-stick cooking spray
Black pepper to taste
1/2 (15-ounce) can low-sodium whole-kernel corn, drained
1/2 (15-ounce) can reduced sodium black beans, rinsed and drained
1 medium tomato, chopped
1/4 cup chopped green pepper
1 small onion, sliced
2 tablespoons cilantro, chopped
3 tablespoons lime juice
Directions
Preheat oven to 450°F.
Tear off 4 pieces of aluminum foil big enough to wrap 1 fish filet each.
Spray foil with cooking spray.
Lay 1 filet on each piece of aluminum foil and sprinkle each filet with desired amount of black pepper.
In a separate bowl, combine corn, black beans, tomato, and green pepper. Top each filet with 1/4 of the vegetable mixture.
In another bowl, combine onion, cilantro, and lime juice. Add 1/4 of this mixture to each filet.
To make each packet, bring two sides of foil to meet in the middle and fold together to seal. Fold remaining open sides together to seal packet.
Place each packet on a baking sheet and bake for 20 minutes. Remove from oven.
Let rest for 5 minutes. Serve.
Nutrition Information Per Serving: 190 Calories, Total Fat 3g, Saturated Fat 1g, Protein 26g, Total Carbohydrate 19g, Dietary Fiber 4g, Sodium 150 mg. Excellent source of vitamin C.
Experiment with different seasonings and vegetables.Packets can be cooked on a grill if desired.