---
Herbs and spices are an excellent choice for flavoring your meals, and many herbs and spices have health benefits as well! By using other flavors, you'll be able to make delicious food without adding salt or sugar. If you aren't sure where to start with seasoning, here are some tips.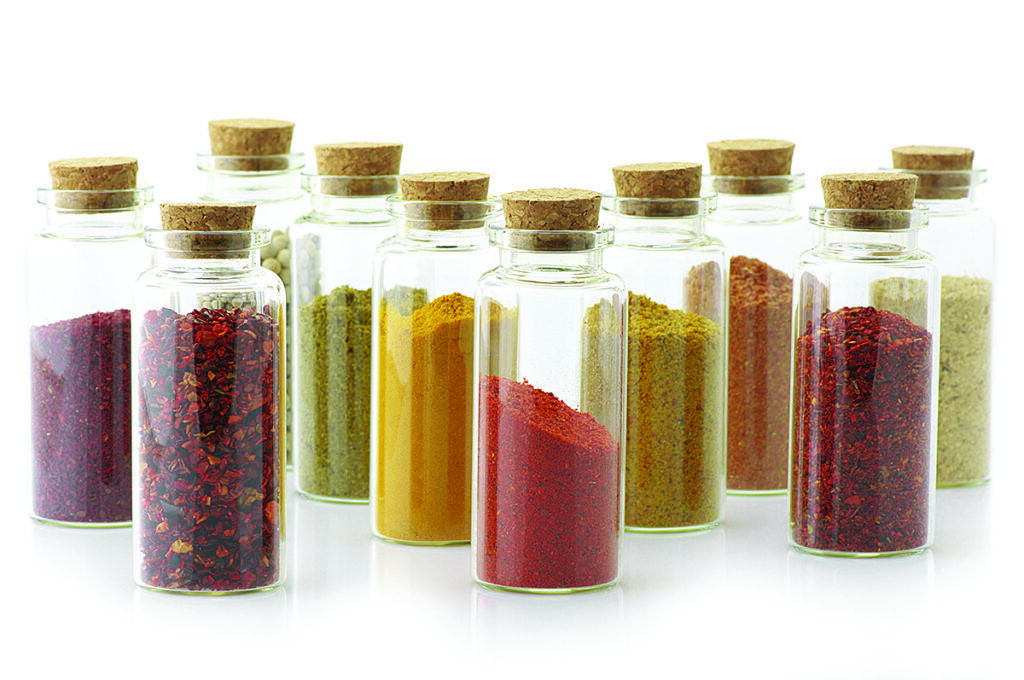 Spices that have a bite are great for replacing salt. Try one of these Savory spices:
Black pepper
Coriander
Cumin
Curry powder
Garlic powder
Ginger
Sweet-tasting spices can be used in place of sugar. Try one of these Sweet spices:
Allspice
Cinnamon
Cloves
Ginger
Nutmeg
Rice: Try thyme or basil, or use ginger, curry, or chili powder for a little kick.
Pasta: Flavor with basil, oregano, parsley, or Italian seasoning after cooking.
Eggs: Use pepper, paprika, chives, or basil while they cook. 
Mix up your own seasoning blends and rub them onto meats before cooking. This handout has some great suggestions for seasoning meats and vegetables, and this article has recipes for some helpful at-home seasoning blends!
If you aren't following a recipe, start with a small amount of seasoning (about ¼ tsp) and adjust to taste. For herbs and spices with stronger flavors, like garlic and cayenne pepper, start with about ⅛ tsp.
Dried herbs and spices are a good option but you can also grow your own! Try growing them on a windowsill or in a pot outside. Remember, when using fresh herbs, 1 Tablespoon of fresh herbs equals about 1 teaspoon of dried herbs. If a recipe calls for fresh herbs you don't have, feel free to substitute the dried versions!
For more flavor combination ideas, use the charts below: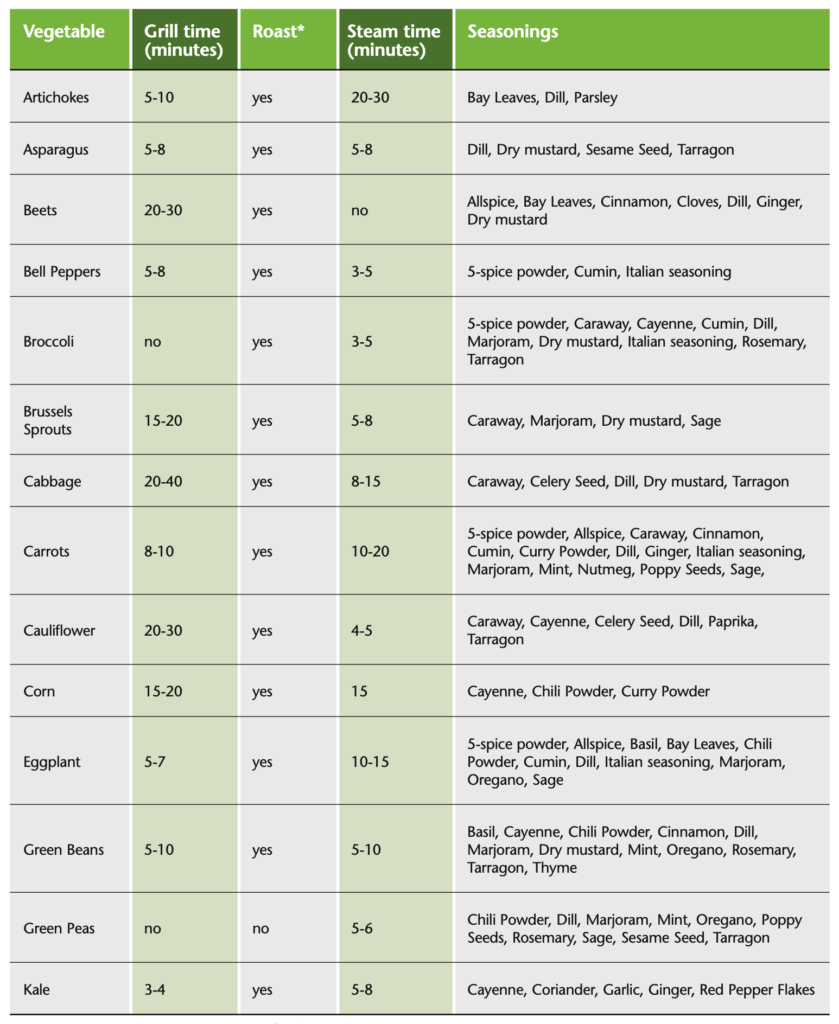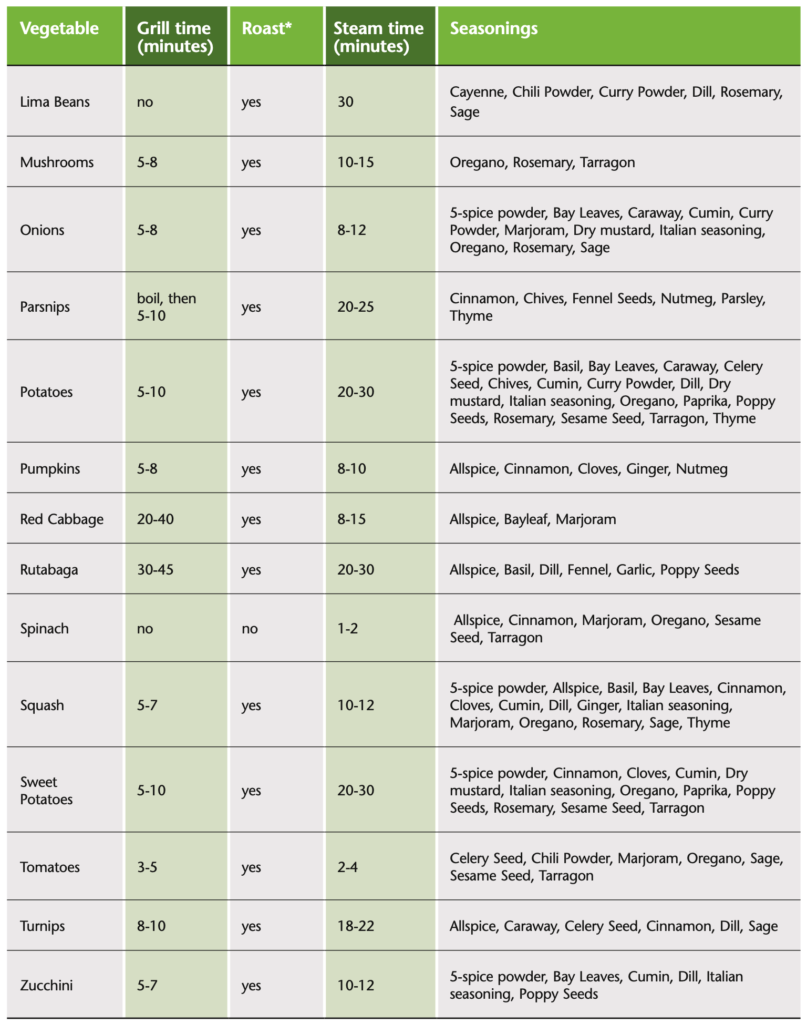 ---
Serves 4
Serving Size: ¼ medley (about 1½ cups)
Ingredients
1 tablespoon olive oil or canola oil
3-4 cloves garlic, minced
1 medium broccoli crown, chopped (about 2 cups chopped broccoli)
8-10 cremini or white button mushrooms, sliced (about 2 cups sliced mushrooms)
2-3 medium tomatoes, chopped (about 2 cups chopped tomatoes)
¼ teaspoon salt
¼ teaspoon black pepper
¼ teaspoon dried oregano (can substitute with 1 teaspoon fresh oregano if desired)
Directions
Heat a large skillet over medium-high heat and add 1 tablespoon olive oil.
Add minced garlic and sauté for 2 minutes.
Add broccoli and half of seasonings (salt, pepper, oregano) and sauté for an additional 5 minutes.
Add mushrooms, tomatoes and the other half of seasonings (salt, pepper, oregano) and sauté for an additional 2 minutes.
Cover and cook for an additional 5-10 minutes or until the vegetables reach the desired level of doneness. Add additional salt, pepper and/or oregano to taste before serving.
Nutrition Information per Serving:
Serving Size:¼ medley (about 1½ cups)
Vegetables: 1½ cups
Fruits: 0 cups
Calories: 72 calories
Carbohydrates: 8 grams
Fiber: 3 grams
Protein: 3 grams
Fat: 4 grams
Sodium: 167 mg
Prep Time: 10 minutes
Cook Time: 15-20 minutes
Recipe from: Med Instead of Meds. Learn more and explore more 'Med' recipes here: https://medinsteadofmeds.com/category/recipes/
---
Makes 6 servings – Serving Size: 8 ounces
Ingredients
1 (14.5-ounce) can pineapple packed in own juice
Nonstick cooking spray
2 yellow plantains, peeled and thinly sliced
Dash ground red pepper
1 cup low-fat vanilla yogurt
1 tablespoon fresh cilantro, rinsed, stems removed and chopped
16 ounces soy milk
Directions
Drain pineapple, reserving 1 cup juice. Set aside.
Spray skillet with cooking spray. Preheat skillet over medium heat.
Place sliced plantains in skillet. Cook, covered for 5 minutes.
Lift lid. Flip plantains to opposite side, sprinkle with red pepper and add 1/4 cup pineapple juice to pan. Cook an additional 5 minutes stirring occasionally to avoid sticking.
Remove skillet from heat and remove lid to allow plantains and juice to cool.
In a blender, combine pineapple and remaining reserved liquid, yogurt, cilantro, and soy milk. Blend.
Slowly add cooled plantain mixture and continue blending until all ingredients are a smooth consistency.
Chill prior to serving.
Nutrition Information Per Serving
129 Calories, Total Fat 3g, Saturated Fat 1g, Protein 5g, Total Carbohydrate 21g, Dietary Fiber 2g, Sodium 67mg. Excellent source of Vitamin A. Good source of Calcium.
Recipe contributed by Natema Drummond and Jessica Kearney, NC EFNEP Educators
---
There are four main types of exercise we should be doing regularly: endurance, strength, balance, and flexibility.
Each of these four types of exercise are important in keeping us healthy and fit throughout our lives.
Endurance exercises, also called aerobic or cardio exercises, strengthen your lungs, heart, and circulation. This type of exercise includes anything that makes you breathe harder and causes your heart to beat faster. Doing regular endurance exercises can lower your risk of heart disease, diabetes, and stroke. Depending on your fitness level, try walking, jogging, running, biking, dancing, hiking, jumping rope, playing with the kids, or even cleaning the house! "Start small and add in activity when you can. Adults should aim for 150 minutes of physical activity each week. You can build up to this time as you gain stamina.
Strength exercises make your muscles work harder than normal and are helpful in building the strength of your bones and connective tissues. Strength exercises can help lower your risk of injury and make everyday activities and movements easier. Strength exercises often include weights, but they don't have to! You can also do "body-weight" exercises like push ups, squats, sit ups, planks, chair sits, and calf raises. Try to exercise all your major muscle groups equally (chest, back, arms, legs, abs, and shoulders).
Balance exercises help you in your everyday life with everything from walking, to picking things up, to climbing the stairs. This type of exercise gets you familiar with how your body moves and carries weight and helps you learn to distribute your body weight more evenly in different positions and movements. Yoga is a great way to practice balance, but you can also do simple balance exercises on your own: try standing on one foot, lifting up onto your toes, and walking heel to toe in a straight line.
Finally, flexibility exercises stretch your muscles and keep you moving freely as you age. This type of exercise can also help you stay comfortable when you're stuck sitting for long periods of time, like during a long trip or in a meeting. There are two types of flexibility exercises, dynamic and static. Check out our previous blog post for a more in-depth description of each. Typically, static stretches where you hold the same position for 15-30 seconds are more helpful in increasing flexibility, but both types are important for maintaining flexibility and preventing injury.
For more information visit these resources: Strength and Balance Exercises, Balance Exercises, Flexibility Exercises 1, Flexibility Exercises 2
Always check with your doctor before beginning a new exercise routine, and stop if you feel any pain.
---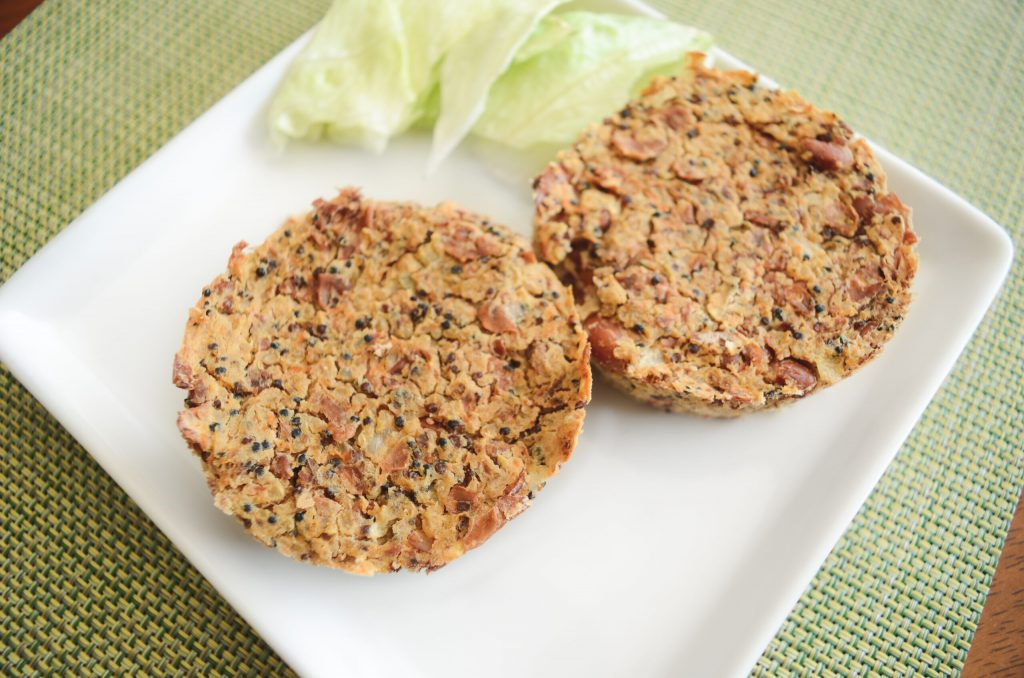 Ingredients
Non-stick cooking spray
2 (16-ounce) cans pinto beans
1 teaspoon ground cumin
1/2 teaspoon ground coriander
1/4 teaspoon cayenne
1 carrot, peeled and grated
1/2 cup onion, minced
1 egg
1 teaspoon salt
1/2 teaspoon fresh ground pepper
1 tablespoon whole-wheat flour
1/2 cup whole-wheat bread crumbs
1 cup cooked quinoa (you can use any type of quinoa)
1 1/2 cups salsa (optional)
Directions
Preheat oven to 350°F.
Spray a regular size muffin tin with non-stick cooking spray.
Drain and rinse the canned beans.
Cook the canned beans in water over medium heat for 10-15 minutes. Drain well
Place half of the beans in a large bowl and using a fork or potato masher, mash beans to a coarse texture.
Add spices to mashed beans and combine well, mashing further.
Add carrot, onion, and egg and mix well.
Add salt, pepper, flour, breadcrumbs, quinoa, and remaining beans. Mix well.
Divide mixture into 8–10 equal portions. Roll into balls. Press gently into muffin tin. (Refrigerating for 1 hour will help burgers stay together better.)
Bake for 20 minutes or until internal temperature reaches 165°F.
Allow burgers to rest on counter for 10 minutes, then gently run a knife around the edges to loosen. Serve with Fresh-Made Salsa if desired.
Hint: Use Fresh-Made Salsa or Black Bean and Corn Salsa for added flavor and nutrients. Recipes are in Cooking with EFNEP. Try adding leftover diced veggies to boost the veggie content even more.