---
Makes 1 serving | Serving size: 1 recipe
Ingredients:
1 cup base fruit and vegetables

Pick 1–2: Bananas, strawberries, blueberries, peaches, pineapple, spinach, kale, carrots

1/2–1 cup liquid

Low-fat milk, Soy milk, 100% fruit juice, water

1/8–1/2 cup add-ins

Yogurt, peanut butter, nut butters, oats, ice

1 Tablespoon toppings

Coconut flakes, chopped nuts, granola, cocoa powder, chia or flax seeds
Directions:
Put all the ingredients in a blender and mix until smooth.
Serve immediately.
Other alternatives
Try Spinach, Banana, Peanut Butter, and Milk or any combination of the ingredients below.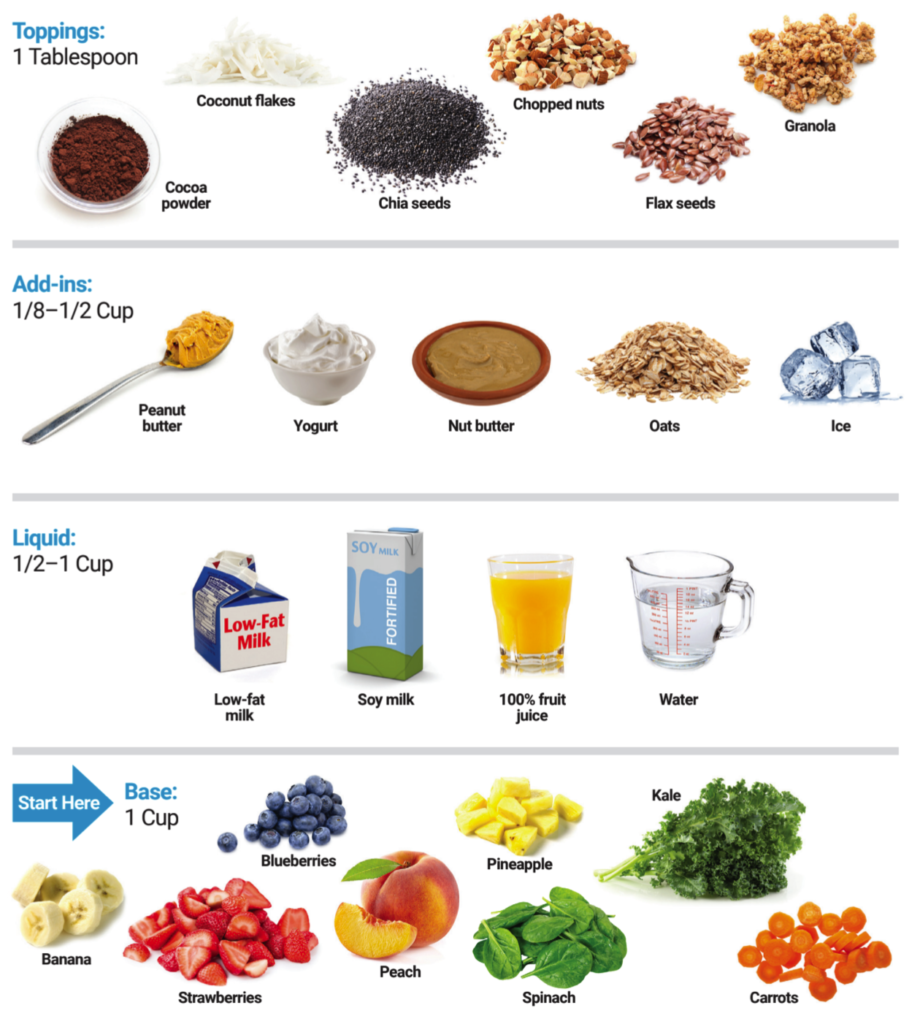 ---
Ingredients:
1 cup peanut butter
1 ½ cups zucchini, grated 
1 egg
⅓ cup honey
1 teaspoon vanilla
½ teaspoon salt
½ cup chocolate chips 
1 teaspoon baking soda
½ cup cocoa
½ teaspoon salt
½ cup chocolate chips
Directions:
Preheat oven to 350°F.
Combine all ingredients into a large bowl and mix well.
Pour into a greased 9×9 pan.
Bake for 35-45 minutes (or until baked throughout).
Recipe from – The Food Bank of Central and Eastern North Carolina: http://foodbankcenc.org/wp-content/uploads/2022/01/Nutrition-Education-Recipes-Desserts-PB-Zucchini-Brownies-PDF.pdf
---
It is always important to eat healthy but for those with a baby on the way, nutrition is even more important! Make sure you are fueling yourself and your baby well during pregnancy with these tips on what to eat, what not to eat, and how much to eat too!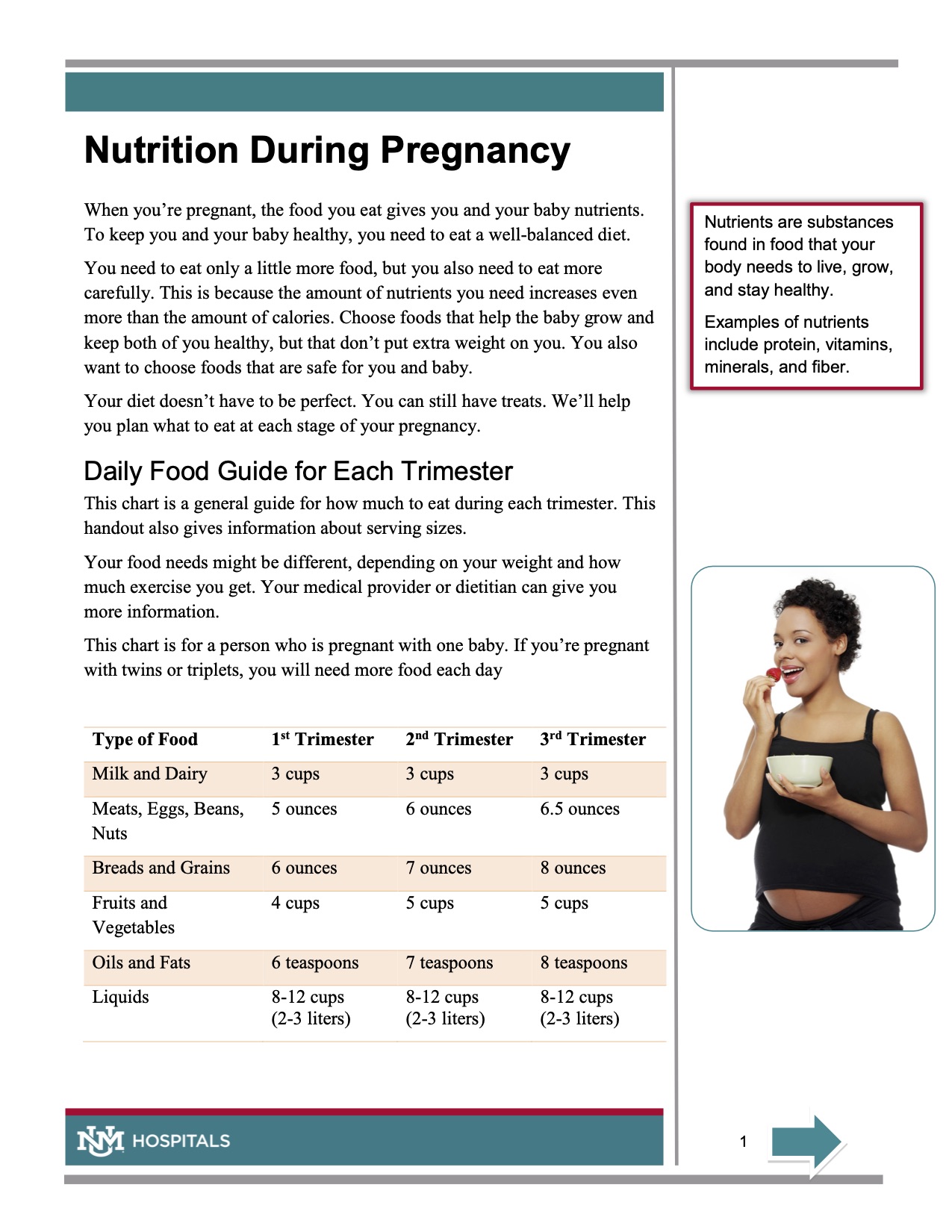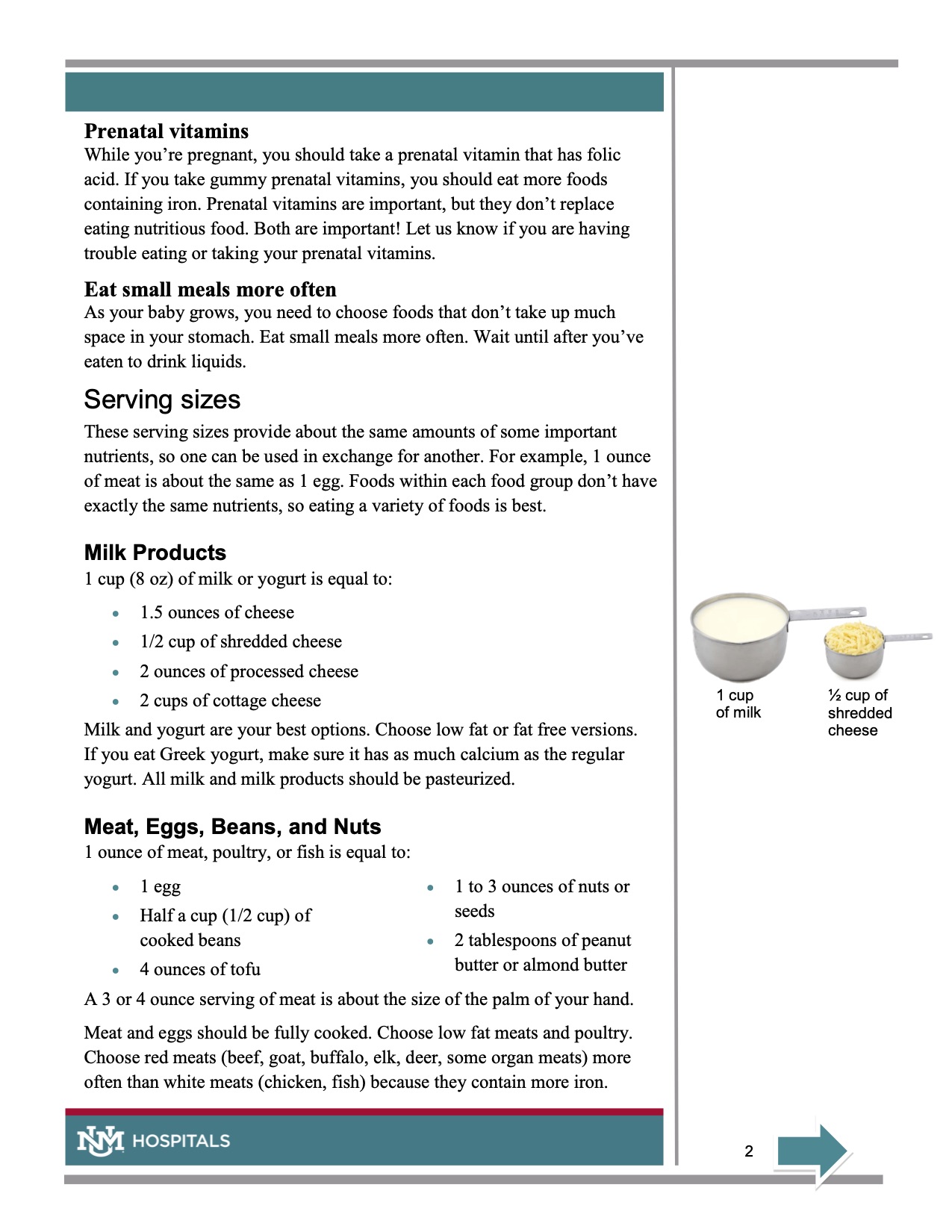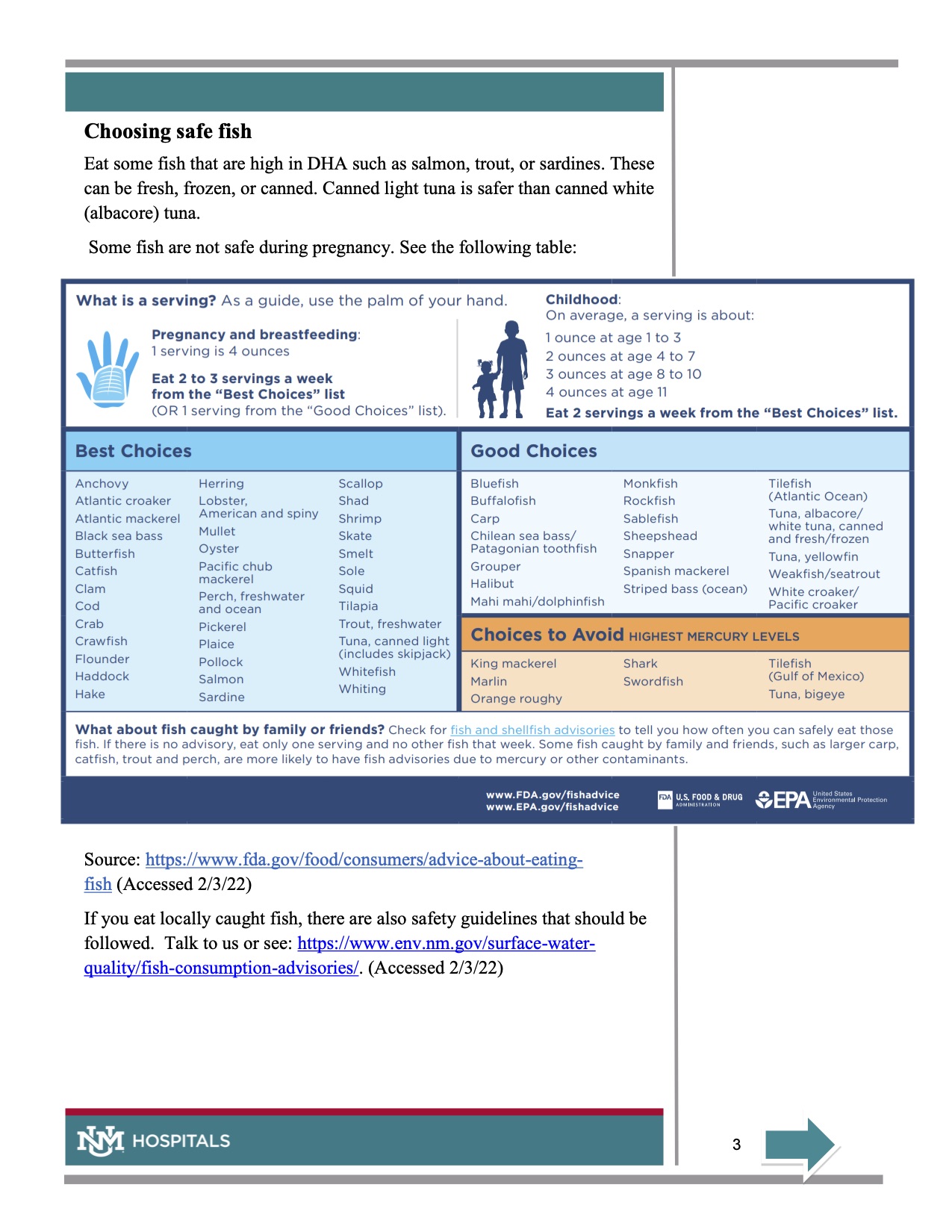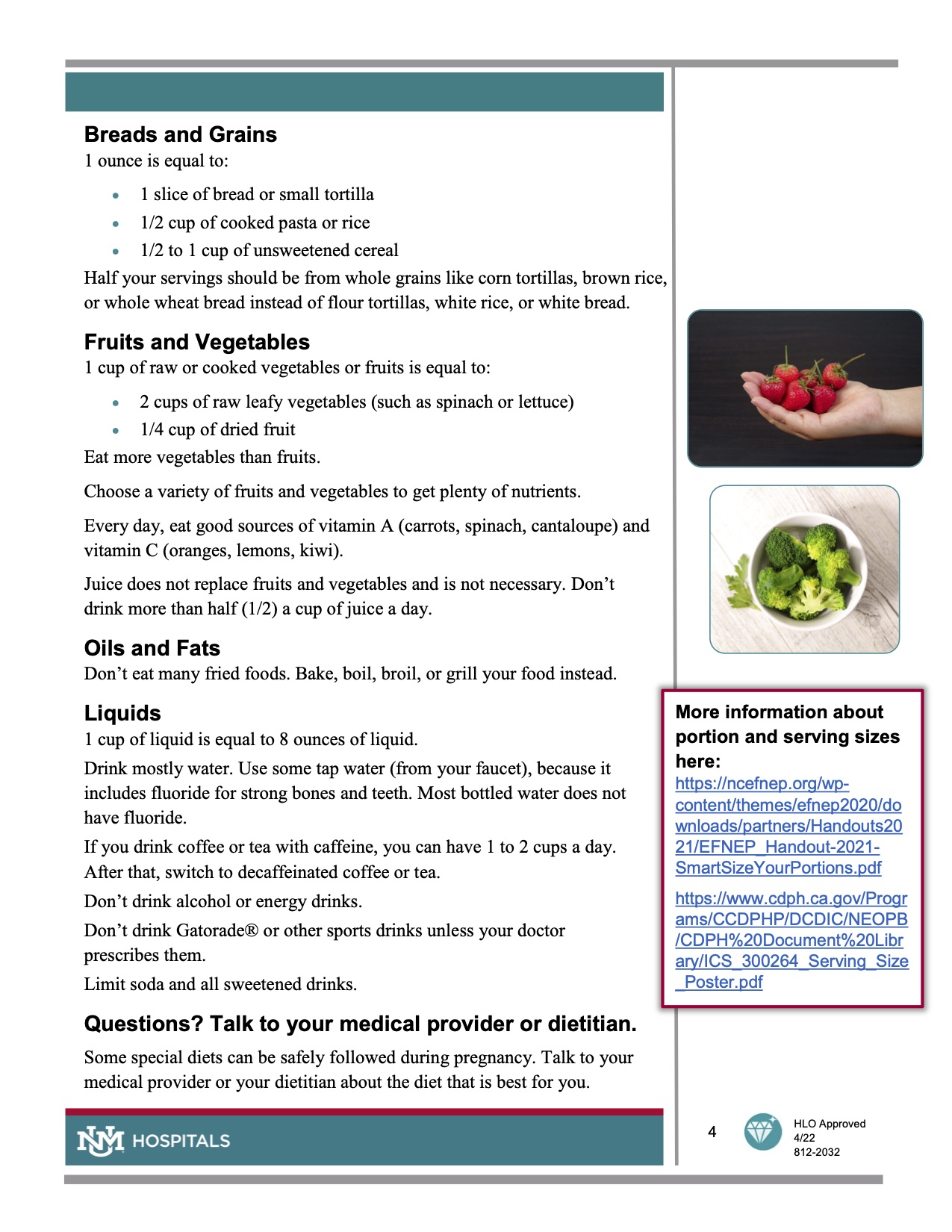 Source: Maternity and Family Planning Clinics and the Health Literacy Office – UNMH
Jean Cox, MS, RD, LN
---
Makes 8 servings | Serving size: 1/2 cup
Ingredients:
1 (15-ounce) can black-eyed peas, drained and rinsed
1 (15-ounce) can whole-kernel corn, drained and rinsed
1/2 cup chopped green pepper
1/2–1 cup chopped onion
Marinade: 
1/4 cup vegetable oil
1/2 cup sugar or equivalent amount of artificial sweetener
1/4 cup vinegar
Directions:
Mix peas, corn, green pepper, and onion in a bowl.
In a separate bowl, combine oil, sugar, and vinegar and stir well.
Pour Marinade over vegetables and mix well.
Cover and chill 4-8 hours in refrigerator before serving.
Nutrition Information Per Serving: 190 Calories, Total Fat 8g, Saturated Fat 1g, Protein 4g, Total Carbohydrate 26g, Dietary Fiber 3g, Sodium 15mg. Excellent source of vitamin C
---
Makes 4 servings | Serving size: 1/4 casserole
Ingredients
½ pound lean ground turkey 
¼ cup chopped onion
¼ cup chopped green pepper 
1 tablespoon Homemade Taco Seasoning (page 13)
1 teaspoon cumin
Non-stick cooking spray
4 whole-wheat tortillas, cut in strips 
1 (15.5-ounce) can black beans, drained
1 (10-ounce) can whole-kernel corn, drained
1 cup low-fat cheese, shredded 
1 cup shredded lettuce
1 chopped tomato
Directions
Over medium-high heat, brown ground turkey in a medium skillet. Add chopped onion and green pepper. Drain fat.
Add taco seasoning and cumin. 
Preheat oven to 350°F.
Spray a square baking dish with non-stick cooking spray.
Cover the bottom of the dish with half of the tortilla strips.
Continue layering with ½ of black beans, ½ of corn, ½ of cheese, and ½ meat.
Repeat layers starting with another layer of tortilla strips.
Bake for 20 to 30 minutes or until cheese melts.
Remove from oven and top with shredded lettuce and chopped tomato.