We are watching our wallets more than ever this year. However, a leaner budget doesn't mean that the holiday season should be any less festive. In these trimmed-down recipes, we've outlined simple ways to have a memorable meal that hits on all the right traditional notes, without breaking the bank.
Serves 4
Herbed Baked Turkey Breast

For good reason, the turkey is always the star of the show, and there's typically an appropriate price-tag attached to its high status. By roasting an ample-sized, bone-in, turkey breast in a three ingredient herb-blend, this Thanksgiving staple is ready for the taking.

Ingredients
1 whole, bone-in turkey breast, about 2-3 lbs (around $4/lb)
1 tablespoon butter
2 teaspoons salt
2 teaspoons black pepper
3-5 cloves garlic, minced (depending on your preference for garlic)
1 tablespoon dried rosemary
1 tablespoon dried thyme
¼ cup fresh parsley, chopped
1 lemon, juiced and zested
Directions
Preheat oven to 325˚ F. Place the turkey breast on a sheet pan, pat dry with a paper towel and season the skin and under the skin of the turkey with butter, salt, pepper, herbs and the zest of the lemon.
Loosely cover the breast with aluminum foil.
Roast the turkey for an hour and a half to two hours (depending on the size) or until the internal temperature of the breast reaches 165˚.
Allow the turkey to rest for 15 minutes and drizzle with lemon juice.
Scrape and reserve the pan juices and drippings for gravy.
Slice the turkey breast and serve.
---
Turkey Pan Gravy

Ingredients
Pan drippings from roasting pan
2 tablespoons all purpose flour
1 tablespoon butter
1 cup water
Salt and pepper to taste
Directions
On medium heat, add the pan drippings to a small pot or sauce pan.
Make a roux by sprinkling the flour into the pan drippings then adding the butter.
Whisk to combine and slowly pour in the water.
Continue whisking on low heat to remove any lumps, adding more water if needed.
Season with salt and pepper to taste.
---
Garlic Mashed Potatoes

No thanksgiving spread is complete without this ultimate comfort food. This recipe includes a hefty amount of garlic for satisfying depth and flavor. While almost any potatoes can be mashed, the naturally creamy texture and buttery nature of Yukon golds potatoes make for a decadent side without the significant addition of heavy fats or creams.

Ingredients
2 pounds Yukon gold potatoes, scrubbed, peeled, and cubed
2-4 cloves fresh garlic, minced (depending on your preference for garlic)
1 tablespoon butter
¼ cup milk, low-fat
Salt and pepper to taste
Directions
Add the potatoes in a large pot, cover with water and bring to boil over medium high heat.
Cover and cook for twenty minutes until the potatoes are fork tender.
Using a colander, drain the potatoes and return them to the pot.
Add the garlic, butter, milk, and salt and pepper
Mash using a fork.
---
Steamed Lemony Green Beans

Ingredients
-1 pound fresh green beans
-1 lemon, juiced and zested
-1/2 tablespoon butter
-Salt and black pepper to taste
Directions
In a pot over medium high heat, bring 2 cups of water to a boil.
Add green beans and cook for 3 – 4 minutes.
Drain using a colander and run under cold water for 30 seconds.
Season with lemon juice, butter, salt and pepper.
Serve immediately.
And finally, 1 Can of Cranberry sauce to serve!
We hope you enjoy this traditional meal for perhaps a not so traditional Thanksgiving this year!
Recipes By: Chef Brigid Washington.
Nutrition Facts labels can help us choose healthier foods, but only if we know what to look for! Here are a few tips to keep in mind when checking nutrition labels.

First, look at the serving size. All the other information on the nutrition label applies to the serving size, but your portion size (the amount you actually eat) may be bigger or smaller than the serving size listed on the label. So, if the serving size is ½ cup but you ate 1 cup, then remember to double the amount of calories and other nutrients.
Percent Daily Values (%DV) tell you how much of a certain nutrient you will get from the product. If the label says "10% Total Fat," this means one serving of the food is 10% of all the fat you should be eating each day. However, Daily Values (DV) are based on a 2,000 calorie per day diet. You may need more or less than 2,000 calories per day. This means that you might need more or less than 100% of the nutrients listed on the label each day.
In general, aim for a low percent Daily Value (5% or less) of
Saturated fat
Trans fat
Cholesterol
Sodium
Added sugars
Aim for a high percent Daily Value (20% or more) of
Vitamins
Minerals (like potassium, calcium, and iron)
Fiber
It's also helpful to remember that the ingredients on the bottom of a food label are listed in order of most to least. So if you want to know what's in your food, the products at the beginning of the ingredients list are the ones you should look at most closely.
Resources:
Eatright.org , FDA & Heart.org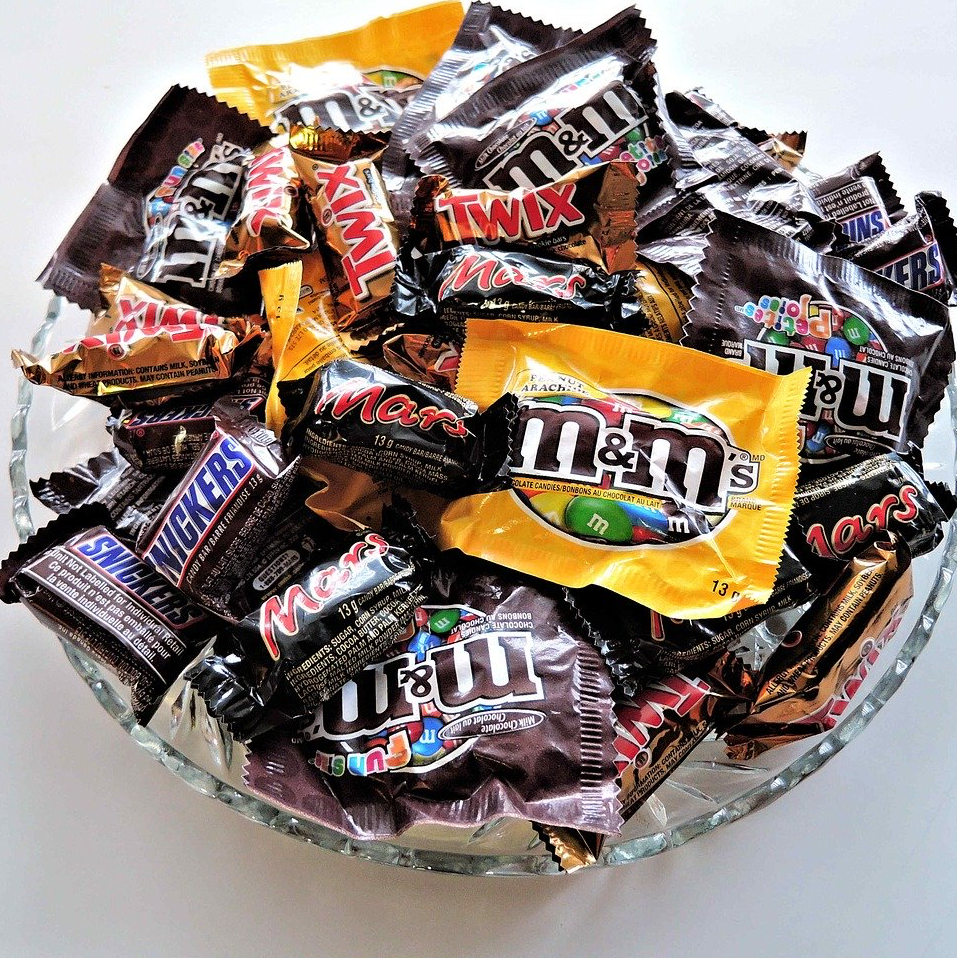 During the holidays, especially during Halloween when there is candy around every corner (literally!), it can be hard for kids to manage their candy cravings. Help your kids stay in control by setting some rules. These tips aren't just for Halloween. They're great for any holiday that involves lots of sweets, especially sweets your kids get to bring home!
Set Expectations: Talk ahead of time about how much candy your child is allowed to have while they are trick-or-treating. Also discuss when they will be allowed to eat the rest of the candy they bring back–how many pieces can they have each day? Do they need to finish their lunch or dinner to get a piece?
Keep it in the Kitchen: Knowing where the sweet treats are kept will help you limit when they are eaten. It's especially important to keep candy out of kids' bedrooms so you know when they are eating it. Also consider keeping treat containers on a high shelf so younger kids have to ask for help reaching them.
Focus on other Traditions: Involve kids in activities like decorating, making cards for friends and family, carving pumpkins, and creating their own costumes. Focusing on the other fun activities will help take the focus away from sweets and will give kids other things to look forward to.
Trade and Share: Some dentist offices will "buy back" leftover candy from children, and there are several programs that send donated candy to troops and first responders. You can also call your local soup kitchen, homeless shelter, nursing home, or Ronald McDonald House as these sometimes accept candy donations too! (Candy Buyback Locations , Operation Gratitude , or find a Ronald McDonald House )
Written by: Bethany Helm, Student Employee
Ingredients:
-Cooking spray
-2 Cups Skim or 1% Milk
-¼ Cup Brown Sugar
-1 Teaspoon Cinnamon
-1 Cup Old Fashioned Oats
-1 Cup Apples, Chopped 
-½ Cup chopped pecans or almonds 
Directions:
Spray the inside 
2. Add all the ingredients
3. Mix together
4. Cook on low for about 8 hours
Maintaining a healthy diet can be challenging when eating fast food on a busy day or treating yourself to a dinner out. Use these tips to help you make healthier choices when eating out:

Choose smart-drinks like water, unsweet tea, or milk. Remember that coffee, alcohol, and even juice can have a lot of added sugars.
Start your meal with a salad so you fill up on healthier foods first. Choose one with lots of veggies, and ask for the dressing on the side so you can use a smaller amount.
If the restaurant you are at serves large portions, feel free to order an appetizer or side dish as your meal, or split a regular entree with someone else. This will also save you money!
Pack snacks so you aren't tempted to stop for fast food to fill up! Fruit, nuts, granola bars, and string cheese are all good choices if you tend to get hungry on your commute or have a long day of errands planned.
Choose veggies as your side and fruit as your dessert instead of fries and sugary sweets.
Check out the nutrition information on the menu–lots of restaurants list the calories next to the dish, and many will have this information available somewhere else. If you don't see it, just ask!
Go for steamed, broiled, or grilled dishes instead of fried as these tend to have fewer calories and be lower in saturated fats and cholesterol.
When you order bread, sandwiches, or pasta, ask for 100% whole-wheat. Many sit-down restaurants and even some fast food chains will have this on hand even if it's not listed on the menu.
Leftovers are your friend! Don't feel pressured to clean your plate. Instead, eat until you are full and take the rest home for later. Leftovers will last about 3-4 days in the fridge.
Don't stress too much. If you don't eat out that often and maintain a healthy and well-rounded diet at home, a few fries or a soda every once in a while is okay.
Find out more at Choose MyPlate
Written by: Bethany Helm, Student Employee