---
Makes 4 servings Serving Size: 1/4 casserole
Ingredients
• 1/2 pound lean ground turkey
• 1/4 cup chopped onion
• 1/4 cup chopped green pepper
• 1 tablespoon Homemade Taco Seasoning (page 13)
• 1 teaspoon cumin
• Non-stick cooking spray
• 4 whole-wheat tortillas, cut in strips
• 1 (15.5-ounce) can black beans, drained
• 1 (10-ounce) can whole-kernel corn, drained
• 1 cup low-fat cheese, shredded
• 1 cup shredded lettuce
• 1 chopped tomato
Directions
1. Over medium-high heat, brown ground turkey in a medium skillet. Add chopped onion and green pepper. Drain fat.
2. Add taco seasoning and cumin.
3. Preheat oven to 350°F.
4. Spray a square baking dish with non-stick cooking spray.
5. Cover the bottom of the dish with half of the tortilla strips.
6. Continue layering with 1/2 of black beans, 1/2 of corn, 1/2 of cheese, and ½ meat.
7. Repeat layers starting with another layer of tortilla strips.
8. Bake for 20 to 30 minutes or until cheese melts.
9. Remove from oven and top with shredded lettuce and chopped tomato.
---
Makes 6 servings (Serving Size: 1 taco)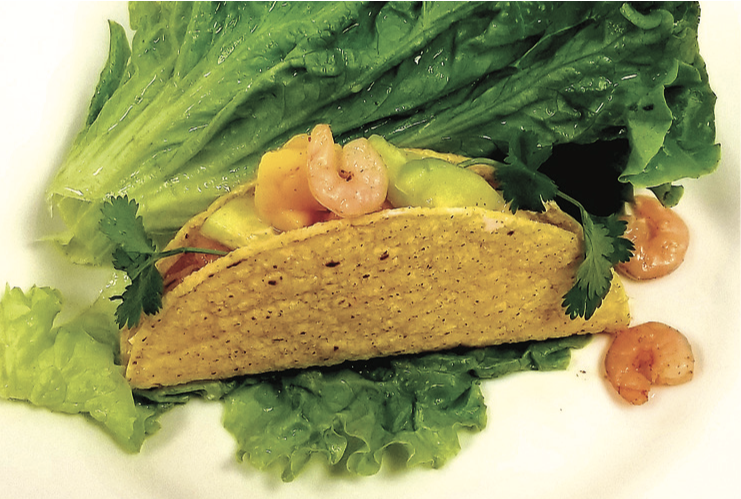 Ingredients for Shrimp:
-4 tablespoons smoked paprika
-1 tablespoon oregano
-1 teaspoon chipotle chili powder
-1/2 teaspoon garlic powder
-1/4 teaspoon cayenne red pepper
Ingredients for Ginger Mango Salsa:
-1 medium mango, diced
-1/2 medium cucumber, diced
-1/4 teaspoon fresh ginger, minced • 1/2 teaspoon chili powder
-1 tablespoon cilantro, minced
Directions:
-1/4 teaspoon dry mustard
-1 tablespoon olive oil
-1 pound medium shrimp, deveined
-6 corn tortillas (can also use whole wheat tortilla or lettuce leaves to make a wrap)
1. In a medium bowl, mix paprika, oregano, chipotle chili powder, garlic powder, red pepper, and dry mustard.
2. Add raw shrimp. Coat thoroughly.
3. In a small bowl, combine ingredients for salsa. Cover and chill.
4. In a large skillet, heat olive oil over medium heat. Add shrimp and cook until pink (Fish should be cooked to an internal temperature of 145°F and will
flake easily when it is thoroughly cooked.)
5. Divide shrimp between 6 tacos (or wraps). Top with salsa.
Nutrition Information Per Serving
178 Calories, Total Fat 5g, Saturated Fat 1g, Protein 13g, Total Carbohydrate 23g Dietary Fiber 4.5g, Sodium 465mg. Excellent source of vitamins A and C. Good source of iron.
Recipe contributed by Kathy Copeland and Della Hicks, NC EFNEP Educators
---
Makes 8 servings Serving Size: 1/2 cup
Ingredients
2 cups shredded green cabbage
1 cup shredded red cabbage
1/4 cup thinly sliced onion
1 medium carrot, grated
1/2 cup finely chopped bell pepper
Dressing Ingredients
2 tablespoons honey
1 1⁄2 tablespoons vegetable oil
1 1⁄2 tablespoons vinegar
Pinch of salt
1/2 teaspoon black pepper
Directions
1. Make dressing first. In a large bowl mix together the honey, oil, vinegar, salt, and black pepper.
2. Add cabbage, onion, carrot, and bell pepper to bowl.
3. Toss to coat all ingredients with dressing.
4. Cover and refrigerate for 1–2 hours before serving.
Nutrition Information Per Serving
55 Calories, Total Fat 2.5g, Saturated Fat 0g, Protein 1g, Total Carbohydrate 7g, Dietary Fiber 1g, Sodium 55mg. Excellent source of vitamins A and C.
---
Ingredients
• 3 cups whole strawberries
• 1 (5.3-ounce) container nonfat vanilla flavored Greek yogurt
• 1 teaspoon orange juice
• ½ teaspoon ground cinnamon
• 4 whole wheat honey graham crackers
• 14 pieces dark chocolate chips
Directions
1. Line a sheet pan with wax paper.
2. Wash berries. Pat dry.
3. With a paring knife, remove stems. Cut "X" in strawberry at the stem, continuing cut to midpoint of berry.
4. In a small bowl, mix yogurt, orange juice, and cinnamon together. Place in resealable bag.
5. In another resealable bag, crush graham crackers until very fine. Move to small saucer.
6. Place chocolate chips in a small microwave safe bowl and heat on high for 10 seconds. Stir. Repeat until chocolate is melted.
7. On counter, line up ingredients in this order: prepared strawberries, yogurt mix, chocolate, graham crackers, and prepared pan.
8. Cut a small hole on one end of plastic bag with yogurt to form a piping bag.
9. Fill strawberry with yogurt, dip in chocolate, roll in graham cracker crumbs and place on prepared pan.
Repeat until all strawberries are prepared.
10. Place in freezer for 20 minutes or until yogurt and chocolate are firmly set.
Recipe contributed by Nicole Simmons, Former NC EFNEP Educator
---
Ingredients:
1 (14.5-oz.) can great northern beans, drained and rinsed
1⁄4 c. creamy peanut butter
1⁄4 c. maple syrup
1⁄4 Tbsp. vanilla extract
1⁄4 c. mini semisweet chocolate chips
Instructions:
Blend together the beans, peanut butter, maple syrup and vanilla extract by hand or in a blender. Stir chocolate chips into mixture. Serve with fruit or graham crackers.
Yield: 6 servings  
Recipe from: North Dakota State University EFNEP