---
Ingredients
1 ¾ cups cooked, pureed pumpkin (15 ounce can)
1 cup packed brown sugar
2 eggs
½ cup vegetable oil
1 cup of old fashioned oats 
¾ cups all purpose flour
1 cup whole-wheat flour
1 Tablespoon baking powder
2 teaspoons cinnamon
1 teaspoon nutmeg
½ teaspoon salt
¼ teaspoon ground ginger
1 cup raisins
1 cup walnuts or hazelnuts, chopped
Directions
Wash hands with soap and water.
Preheat oven to 400˚ F.
In a large bowl, stir together pumpkin, brown sugar, eggs and oil. Mix well until smooth.
In another bowl, stir together the flours, baking powder, cinnamon, nutmeg, ginger and salt. Add to the pumpkin mixture and mix well.
Stir in raisins and nuts.
Drop the dough by a tablespoon on to a greased baking sheet, 1 inch apart.
Gently flatten each cookie with the back of a spoon.
Bake 10 to 12 minutes until tops are dry and begin to brown.
Original recipe from Food Hero
---
Arguably, this menu can be made at any time during the cold –weather months, but it is especially delightful during the holiday season. Lightly but brightly seasoned pork tenderloin is the star alongside the skin-on red potatoes — that's amped up by Dijon mustard — and steamed garlicky broccoli finishes it off.
Serves 4-6
Ingredients:
Pork tenderloin –
1 ½ lbs pork tenderloin
1 tablespoon olive oil
1 teaspoon salt
1 teaspoon black pepper
1 teaspoon ground cumin
1 teaspoon garlic powder
Sweet Potatoes –
1 lb sweet potatoes, diced
1 tablespoon Dijon mustard
2 teaspoons olive oil
1/2 teaspoon salt 
½ cup chopped fresh parsley, chopped
Cauliflower –
1 head cauliflower, cut into bite size pieces
2 cloves garlic, minced
2 teaspoons olive oil
1/2 teaspoon salt 
Pork Tenderloin Directions:
Preheat the oven to 400˚F. Combine all the spices and rub into the pork tenderloin. Be sure to wash your hands after handling raw meat.
In a sauté pan add the oil then heat for thirty seconds over medium high heat.
Add the pork and sear for two minutes per side.
Place the pork on a sheet pan or oven safe dish. Bake uncovered for about 20 minutes until it reaches an internal temperature of 145˚ F.
Allow to rest for five minutes before slicing.
Potato Directions:
Rinse and scrub the potatoes.
Dice the potatoes and place them in a large stock pot of water. Bring to a boil and cook until fork tender.
Drain the potatoes and return them to the pot.
Add the salt, pepper, Dijon mustard, and parsley. Stir to combine. Set aside
Cauliflower Directions:
In a large pot, bring 1 quart of water to a boil.
Add the cauliflower and cook for three minutes. Drain.
Return the cauliflower to the pot and season with olive oil, garlic, and salt.
---
Butternut and Pumpkin typically get all the attention when it comes to winter squash but there are other tasty seasonal varieties. No matter which variety you choose, they are all healthy and hearty options to enjoy this time of year.
All varieties of winter squash are fat-free and cholesterol-free. They also contain fiber and other vitamins and minerals. These varieties of squash can last for several months if stored properly. Make sure to store your whole squash in a cool and dry space. Avoid storing the vegetables in a space with direct sunlight.
Winter squash are full of seeds – don't throw them out! These make a great protein snack. They contain fiber and fat but mostly healthy fats. Spread them on a baking sheet and roast them for about 10 minutes at 300˚ F. Try tossing them in some spices to add some extra flavor!
Butternut: Good source of Vitamin C, A, and copper.
Pumpkin: High in Vitamin A.
Acorn: Good source of Vitamin C.
Delicata: Good source of Vitamin C and excellent source of Vitamin C.
Carnival: Excellent source of Vitamin A
Spaghetti: Good source of Potassium, Vitamin C and Vitamin A. 
Check out MyPlate for more recipes: 
---
Makes: 4 Servings
Ingredients
2 avocados, mashed
½ cup onion, chopped
1 tomato, chopped
½ lime, juiced
½ teaspoon garlic powder
¼ teaspoon salt
½ teaspoon pepper
Dash of hot sauce (optional)
Directions
Carefully cut the avocados in half and use a spoon to scoop out the insides. Use a fork to mash into a chunky puree.
Add the chopped onion, tomatoes, and lime juice.
Add the garlic powder, salt, pepper, and hot sauce if desired. Mix well.
Chill for at least one hour before serving.
---
This warm autumn salad is a power-house meal that boasts a nutty crunch from the chickpeas and a fruity sweetness from the dried cranberries. The avocado finishes this dish with a creamy heft.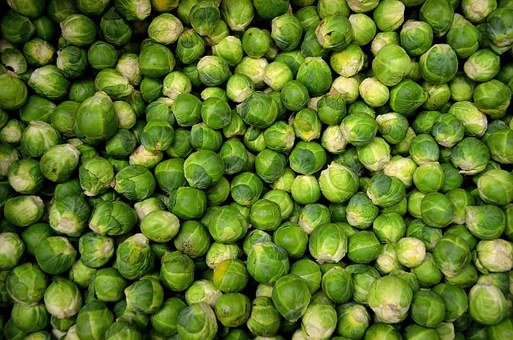 Makes 3-4 servings
Ingredients:
2 lbs brussels sprouts, halved
¼ cup olive oil
¼ cup lemon juice
1 can low-sodium chickpeas, drained
¼ cup craisins
1 cup spinach
1 avocado, sliced
1 teaspoon salt
1 teaspoon black pepper
Directions:
1. In a stockpot, boil water on high heat.
2. Add the brussels sprout and boil for three minutes. Drain and set aside.
3. In a large bowl, whisk to combine the olive oil, lemon juice, salt, and pepper.
4. Add the chickpeas, cranberries, and spinach to the oil mixture.
5. Add the brussels sprout then fold in the avocadoes. Add salt and pepper to taste.