---
Getting kids into the kitchen is an important way to help them learn about healthy foods, meal preparation, and food safety. Having your children help with meals when they are young will prepare them to choose and cook healthy foods for themselves when they are older. Cooking together is also a great way to get more time with your kids!
When cooking with kids, remember that they may need more instructions since they have less experience. It's especially important to remind them to practice food safety, like washing their hands after touching raw foods, keeping different food groups separate, and cooking meats to the correct temperature.
An easy way to do this is to include food safety instructions in your recipe. On written recipes, make notes that remind you to wash your hands, sanitize your knife and cutting board after they touch raw foods, and note the correct cooking temperature for the food used in the recipe. If you are giving your child verbal instructions, make these steps part of the process instead of just telling them before starting.
You may also need to remind kids to clean their cooking space as they go. This includes throwing away fruit and vegetable peels and turning the heat down if things are cooking too quickly. Kids, especially young children, don't always notice the same things as adults!
If your child is not a big fan of cooking, try some of these fun ideas to keep them interested and engaged:
Make it a competition. If you have multiple children close to the same age, have them each make the same recipe and compare the results. Or, have the kids team up and compete against you.
Let them be creative. Challenge your kids to do something surprising with the dish, like add food coloring or include a different seasoning. Kids are full of ideas and learn by trying, so let them get a little funky (with supervision, of course!)
Give age-appropriate tasks. When kids help you in the kitchen, give them something interesting to do. Older kids can chop, peel, wash, and cook. Younger kids can stir, pour, measure, and mix. You can also ask elementary-age kids to read you the recipe. This lets them practice reading and helps them learn measurements.
Choose a theme. Have older kids plan and cook a meal to fit a theme they choose. They could go with a favorite TV show, animal, color, or even a pop star or viral trend!
However you choose to involve your kids in cooking, the important part is that they are involved! Teaching your children how to navigate the kitchen and prepare food safely is a valuable lesson. With time, practice, and supervision, they will learn to be great chefs and helpers. Happy Culinary Arts Month!
-Bethany Helm, Student Employee
Learn more at FightBac.org
---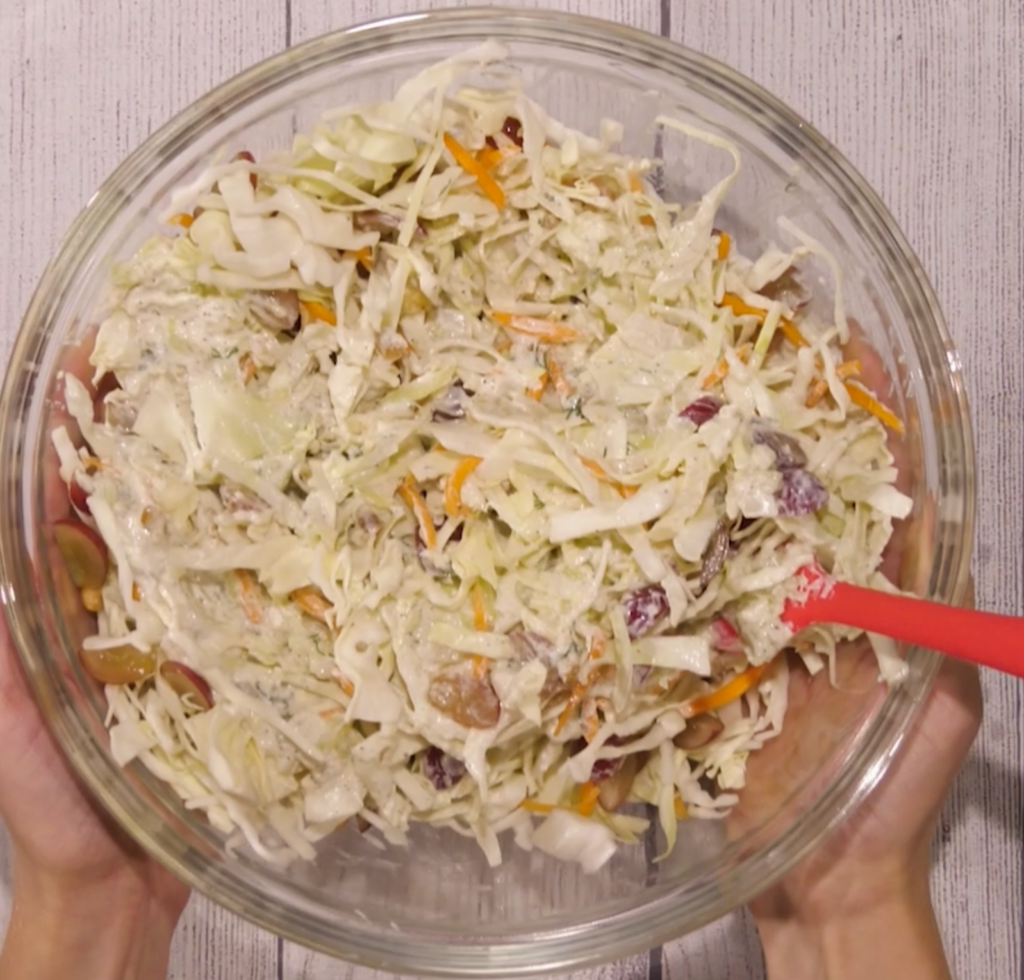 Makes 6 servings
Serving Size: 1 cup
Ingredients for Tzatziki Sauce
1 medium cucumber, peeled
5 ounces nonfat Greek yogurt, vanilla
1/4 cup nonfat Greek yogurt, plain
1 tablespoon fresh dill, chopped
1 tablespoon garlic, minced
1/8 cup onion, finely diced
1 1⁄2 tablespoons apple cider vinegar
2 tablespoons extra virgin olive oil
3/4 teaspoon salt, divided
1/2 teaspoon pepper
Ingredients for Coleslaw
4 cups cabbage, finely shredded
1 1⁄2 cups seedless grapes, cut into quarters
1 cup carrots, coarsely shredded
6 ounces walnuts, chopped
Directions
1. Cut cucumber lengthwise. Remove seeds.
2. In a medium size bowl, coarsely grate cucumber.
3. Add 1/4 teaspoon salt to cucumber and place on plastic wrap, over- lapping plastic to firmly secure. Set aside on colander for 15-20 minutes.
4. In a small bowl, mix remaining Tzatziki Sauce ingredients. Cover with a lid and allow to chill in the refrigerator while preparing coleslaw.
5. In a large bowl, mix all Coleslaw ingredients.
6. Gently wring plastic wrap from one end to the other and squeeze and discard juice from grated cucumber.
7. Stir cucumber into chilled yogurt mix.
8. Combine Tzatziki Sauce with Coleslaw and mix thoroughly.
9. Serve immediately or cover and chill to serve later.
Nutrition Information Per Serving:
300 Calories, Total Fat 14g, Saturated Fat 2g, Protein 10g, Total Carbohydrate 24g, Dietary Fiber 5g, Sodium 377mg. Excellent source of vitamins A and C. Good source of calcium and iron.
Recipe contributed by Lethia Lee and Ahira Sanchez, Former NC EFNEP Educators
---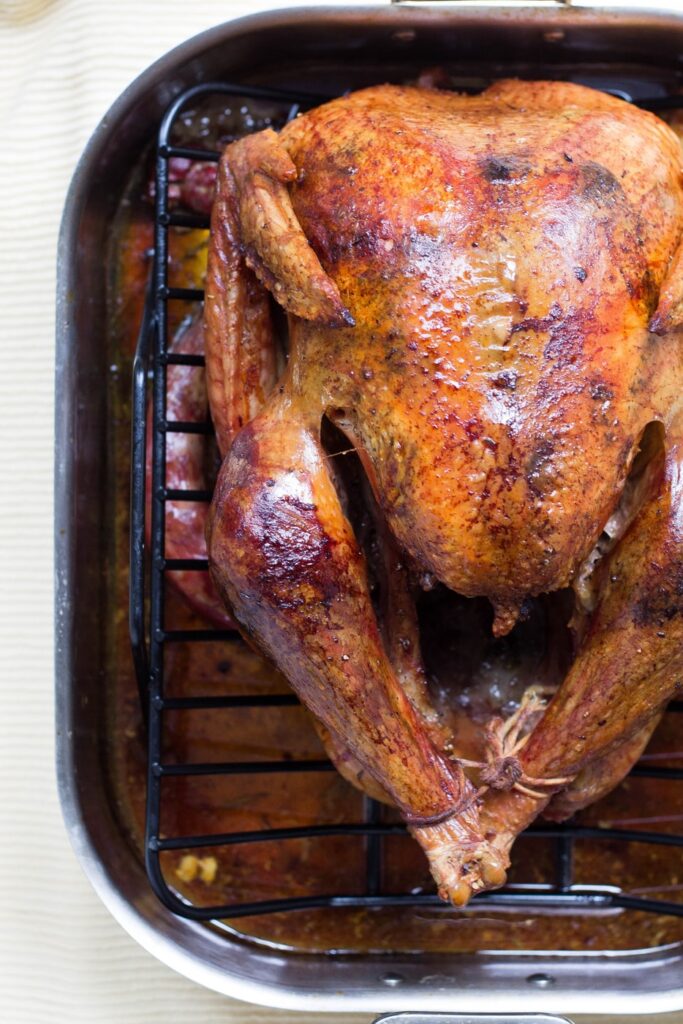 Have you seen Rotisserie chicken on sale at your local grocery store lately? Don't pass up on this deal! 
Here are some healthy recipes that can be prepared with a pre-cooked chicken. You can also easily shred a precooked chicken and throw it into other soups, salads, casseroles, and stir frys.
---
Herbs and spices are an excellent choice for flavoring your meals, and many herbs and spices have health benefits as well! By using other flavors, you'll be able to make delicious food without adding salt or sugar. If you aren't sure where to start with seasoning, here are some tips.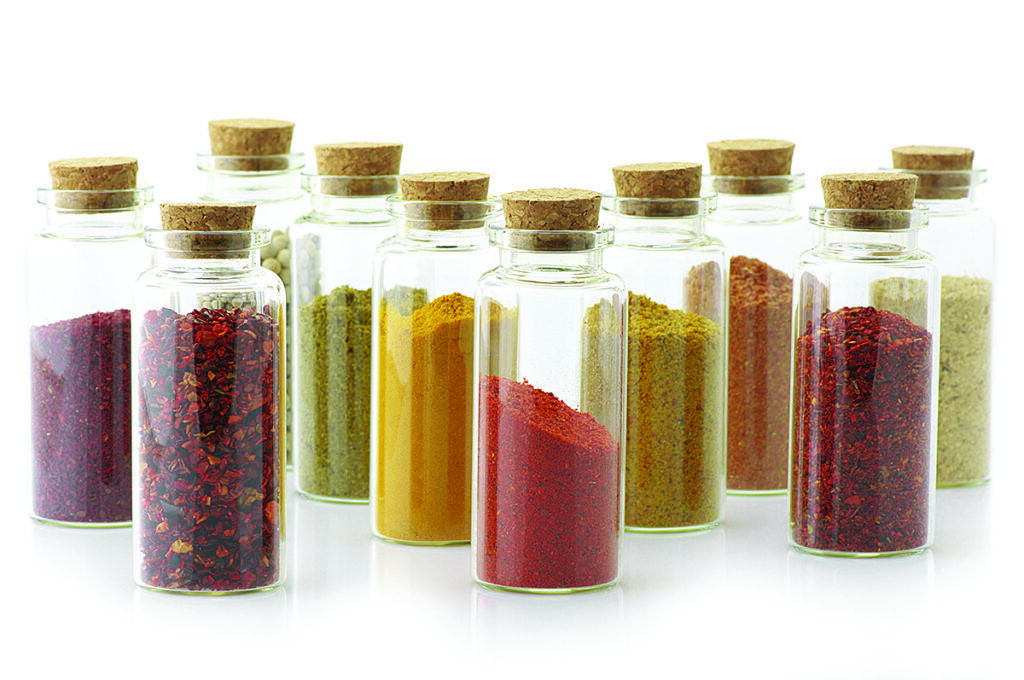 Spices that have a bite are great for replacing salt. Try one of these Savory spices:
Black pepper
Coriander
Cumin
Curry powder
Garlic powder
Ginger
Sweet-tasting spices can be used in place of sugar. Try one of these Sweet spices:
Allspice
Cinnamon
Cloves
Ginger
Nutmeg
Rice: Try thyme or basil, or use ginger, curry, or chili powder for a little kick.
Pasta: Flavor with basil, oregano, parsley, or Italian seasoning after cooking.
Eggs: Use pepper, paprika, chives, or basil while they cook. 
Mix up your own seasoning blends and rub them onto meats before cooking. This handout has some great suggestions for seasoning meats and vegetables, and this article has recipes for some helpful at-home seasoning blends!
If you aren't following a recipe, start with a small amount of seasoning (about ¼ tsp) and adjust to taste. For herbs and spices with stronger flavors, like garlic and cayenne pepper, start with about ⅛ tsp.
Dried herbs and spices are a good option but you can also grow your own! Try growing them on a windowsill or in a pot outside. Remember, when using fresh herbs, 1 Tablespoon of fresh herbs equals about 1 teaspoon of dried herbs. If a recipe calls for fresh herbs you don't have, feel free to substitute the dried versions!
For more flavor combination ideas, use the charts below: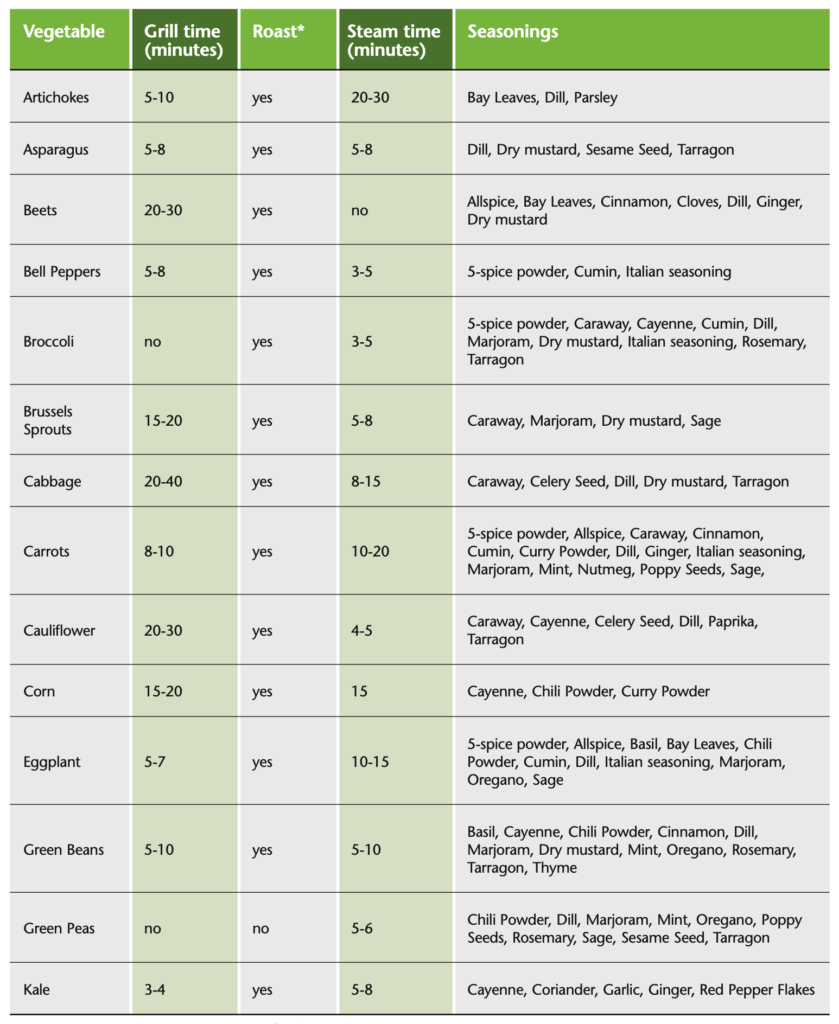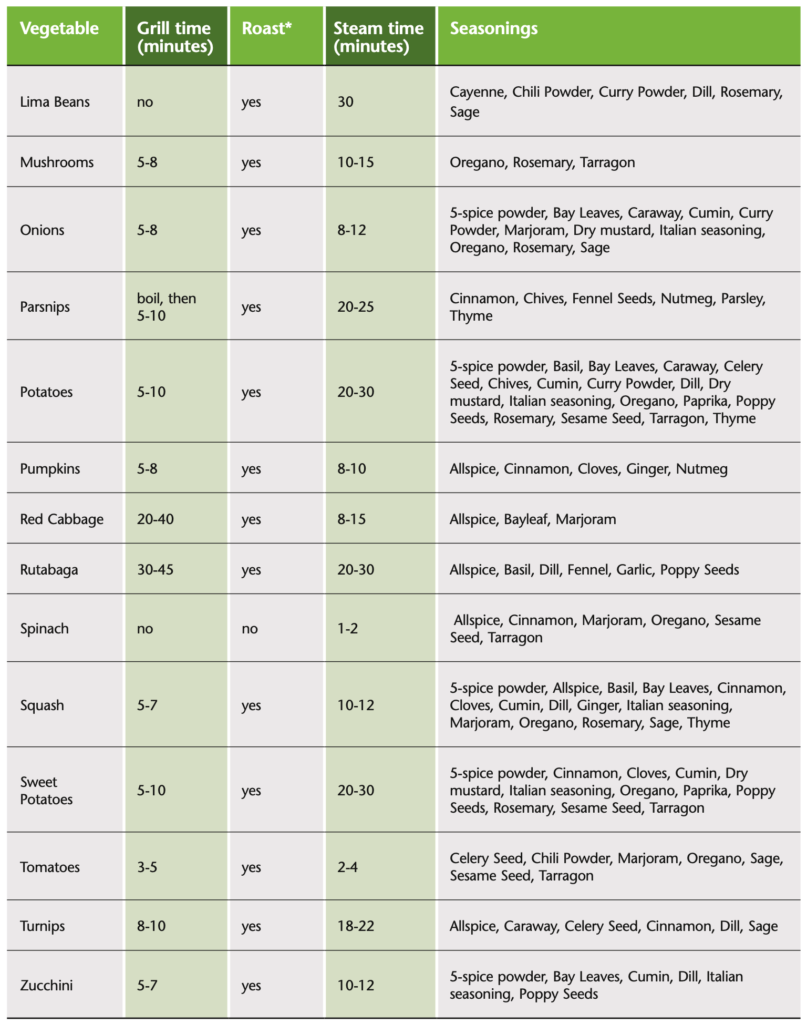 ---
Serves 4
Serving Size: ¼ medley (about 1½ cups)
Ingredients
1 tablespoon olive oil or canola oil
3-4 cloves garlic, minced
1 medium broccoli crown, chopped (about 2 cups chopped broccoli)
8-10 cremini or white button mushrooms, sliced (about 2 cups sliced mushrooms)
2-3 medium tomatoes, chopped (about 2 cups chopped tomatoes)
¼ teaspoon salt
¼ teaspoon black pepper
¼ teaspoon dried oregano (can substitute with 1 teaspoon fresh oregano if desired)
Directions
Heat a large skillet over medium-high heat and add 1 tablespoon olive oil.
Add minced garlic and sauté for 2 minutes.
Add broccoli and half of seasonings (salt, pepper, oregano) and sauté for an additional 5 minutes.
Add mushrooms, tomatoes and the other half of seasonings (salt, pepper, oregano) and sauté for an additional 2 minutes.
Cover and cook for an additional 5-10 minutes or until the vegetables reach the desired level of doneness. Add additional salt, pepper and/or oregano to taste before serving.
Nutrition Information per Serving:
Serving Size:¼ medley (about 1½ cups)
Vegetables: 1½ cups
Fruits: 0 cups
Calories: 72 calories
Carbohydrates: 8 grams
Fiber: 3 grams
Protein: 3 grams
Fat: 4 grams
Sodium: 167 mg
Prep Time: 10 minutes
Cook Time: 15-20 minutes
Recipe from: Med Instead of Meds. Learn more and explore more 'Med' recipes here: https://medinsteadofmeds.com/category/recipes/