Eggnog is a class holiday drink enjoyed by many. However, it has never been known as a healthy choice. If you don't want to miss out on a flavorful tradition, try this healthy eggnog recipe instead!
Ingredients:
½ Cup Lowfat Vanilla Yogurt
½ Teaspoon Cinnamon
¼ Teaspoon Nutmeg
1 Banana (sliced and frozen)
½ Cup Milk, Skim or 1%
Directions:
Combine all ingredients except the nutmeg
Blend until smooth
Serve in a glass and sprinkle with nutmeg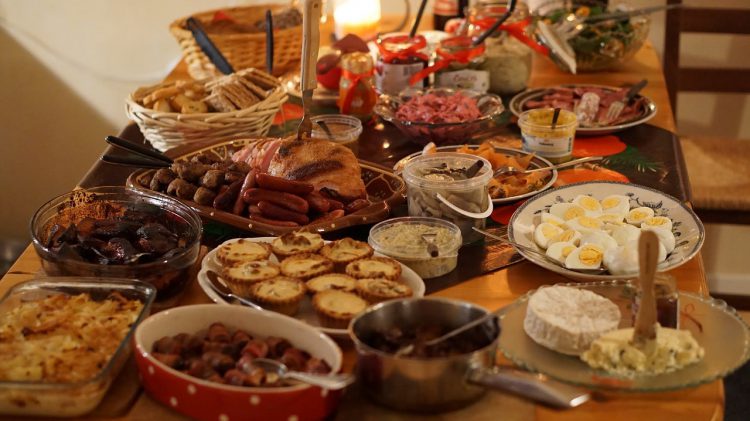 Happy Holidays! Whether you're the head chef at your holiday gatherings or bringing a casserole to share, food safety is always the most important job in creating a holiday meal. Eating food that's not cooked or refrigerated correctly could make you and your guests sick. Nobody wants to miss out on the fun because of unsafe food. Keep your holiday festivities healthy and happy this year with these simple food safety steps!

(Wash)ing in a Winter Wonderland
Holiday food safety starts with the basics. Be sure to wash your hands, utensils, and cooking surfaces before and after you are in the kitchen. Don't forget to rinse fresh fruits and vegetables with clean water too!

Where's the Turkey?
We've all been there: you forget to pull the turkey out of the freezer and it's frozen solid. Panic sets in and drastic measures are taken to unthaw as fast as possible. A little planning can prevent foodborne illness (and heartache). Allow 3 to 4 days for your turkey to thaw in the refrigerator. You could also try running it under water and check it regularly, changing the water so that it does not reach 75 º F or higher.
Timing and Temperature: The Perfect Holiday Pair
Using a thermometer to check the temperature of your dish not only ensures food safety, it can also improve the taste! Avoid over or undercooking by using this safe cooking temperatures chart: eatright.org/holidayhelpertipssheet.
Transporting (Safely) All the Way
If you're traveling and bringing cooked food, be sure it arrives bacteria-free to the holiday feast! Use towels or insulated bags with ice packs to keep food hot or cold. Hot food should be at 140º F or above, and cold foods at 41º F or less.

Serving your Feast
Foods left at room temperature can quickly grow harmful bacteria. When serving your holiday spread, be sure that foods are not left out for more than 2 hours.

Enjoying Leftovers
What's a holiday meal without delicious leftovers, right? Enjoy them safely by making sure foods are fully reheated to a minimum of 165º F.
Happy Holidays!

Logan, EFNEP student employee
The holiday season is quickly approaching! Gatherings with family and friends are often filled with laughter, games, happy memories…and casseroles and desserts served with a side of guilt.
Portion Control and Overeating
We all overeat from time to time, and during the holidays it can feel more difficult to break the habit. Another piece of Aunt Betty's coconut cake or that third helping of Grandma's turkey- it's hard to resist. We tend to eat more than we need for many reasons – not wanting to waste, getting our money's worth, feeling bored, happy, sad, or just eating out of habit.
But did you know that people who usually overeat are more likely to be overweight? The cycle of overeating and weight gain can increase the risk of high blood pressure, type 2 diabetes, high cholesterol, trouble sleeping, difficulty breathing, and heart disease. This holiday season, it's time to take control. You can have your cake (and eat it too!) by paying attention to portion sizes.

MyPlate: Healthy Portions for Beginners
Portion control includes the amount and types of foods we eat. MyPlate.gov was created by the US Department of Agriculture (USDA) and has easy to follow tips for a healthy diet. For a well-balanced meal, MyPlate recommends:
Two sections (or ½ of the plate) fruits and vegetables,
One section of lean proteins (such as meat, poultry, fish, or beans)
One section of grains (focus on whole grains!)
Be sure to include a serving of dairy such as low-fat or non-fat milk, yogurt, or cheese.
Each section of the plate is important to keep our weight balanced, muscles fueled, and our bodies healthy.

Help Yourself to Some Practical Tips!
In addition to MyPlate, there are a lot of easy ways you can help yourself and your family to be smarter about portion sizes!

Use a smaller plate: we normally eat what we see. Using a smaller plate can "trick" your mind into feeling full without overeating.
Watch serving sizes: serving sizes are listed on packages and can help us avoid eating extra calories, sugar, salt, and saturated fat.
Portion out leftovers: make it easy to eat the right amount
Don't clean the plate: encourage kids to eat until they are full – not until their plate is clean. Teaching children portion control early will help them control their weight throughout life.
Avoid eating out of the bag: take out just one serving to avoid eating too much
Leave the dish on the counter: reaching for seconds at the dinner table is easy when the dish is beside you.
Watching what you eat doesn't mean you'll miss out on the holiday season, it just means you get to be smarter about it! Go ahead and enjoy a piece of cake or dig into that pie, just be mindful of your portion sizes.
Happy Eating!

Logan
EFNEP student employee
Chili is a classic meal as the weather starts to cool down. This time of year butternut squash is in season. Add squash to chili for a hearty and healthy dish this fall!
Red Bean & Butternut Squash Chili
INGREDIENTS
Non-stick cooking spray
2 cups diced butternut squash (about ½ of a medium squash)
1 medium onion
1/2 pound extra-lean ground beef
1 cup or 1 (15-ounce) cans red kidney beans
1 cup or 1 (15-ounce) can black beans
3 cups or 1 (28-ounce) can chopped tomatoes
1 tablespoon garlic powder
1 tablespoon chili powder
2 teaspoons cumin
2 teaspoons onion powder
1 teaspoon red chili flakes
1 small bunch cilantro, leaves and stems separated
Shredded cheese and non-fat sour cream for topping (if desired)
DIRECTIONS
Spray Dutch oven or large pot with non-stick cooking spray.
Peel and chop butternut squash into a medium dice (discard the skin and seeds) and set aside.
Peel and dice onion.
Place chopped onion and pepper in skillet.
Cook ground beef and onion over medium heat in a non-stick skillet until meat is browned and onion is soft (about 5 minutes). Drain.
Add butternut squash, undrained red kidney beans, undrained black beans, tomatoes, garlic powder, chili powder, cumin, onion powder, red chili flakes, and chopped cilantro stems to cooked ground beef and onions. Stir to mix well.
Bring to a boil and cook slowly for 10-15 minutes. Stir several times to be sure chili is not sticking to the pot. (Temperature should reach 160°F.)
Top with cheese and non-fat sour cream if desired. Garnish with cilantro leaves.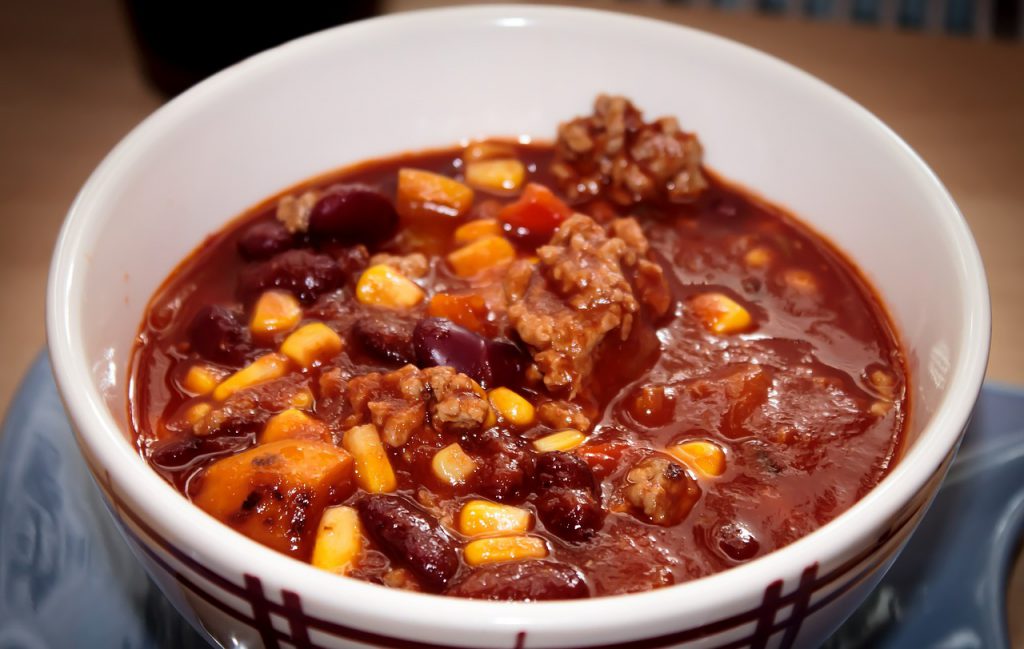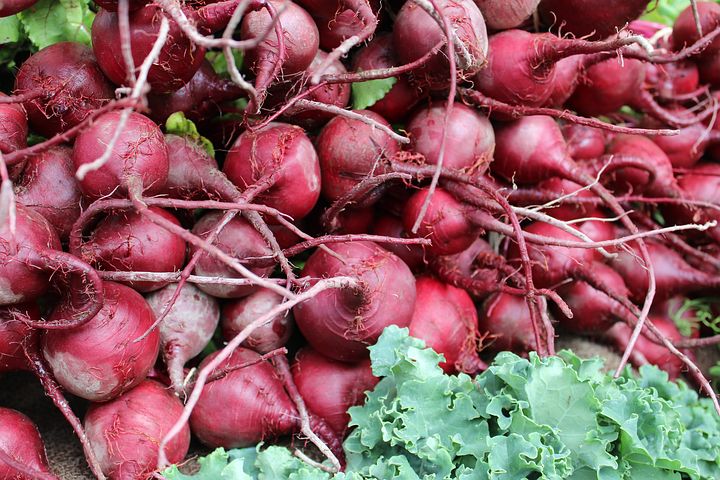 Beets are tasty and colorful vegetable that can be found in season during the fall in North Carolina. This root vegetable has a sweet taste and contains fiber. Check out these four recipes to include beets in your diet this fall.

Chicken Quesadillas with Beet & Green Apple Salsa
Makes 4 servings/Serving size: 1 quesadilla
INGREDIENTS:
-Non-stick cooking spray
-¼ cup chopped onion
-1 cup cooked and shredded chicken
-2 tablespoons Beet & Green Apple Salsa
-¼ cup Monterey Jack, Colby, or other cheese, grated
-4 (10-inch) whole-wheat tortillas
DIRECTIONS:
Spray skillet with cooking spray and preheat over medium-high heat.
Sauté onions until tender.
In a medium bowl, mix chicken, salsa, and onions.
Place ¼ of chicken mixture on one side of tortilla and top with ¼ of cheese. Fold over mixture and seal edges. (Use a small amount of water for a perfect seal.)
Spray skillet. Brown one side of quesadilla over medium heat for about 3-4 minutes. Turn and brown the other side. (Chicken temp should be 165˚ F.)
Cut each folded tortilla into 3 wedges for easy handling. Serve with extra salsa if desired.
Beet Salsa
Ingredients:
4 small beets, preferably a mix of golden and red, roasted, peeled and cut in very small dice
1-2 tablespoons olive oil
¼ teaspoon salt
¼ teaspoon pepper
1 jalapeño chiles, minced
¼ cup chopped cilantro (more to taste)
2 tablespoons fresh lime juice (more to taste
½ small green apple, cored and cut in very small dice
2 tablespoons extra virgin olive oil

DIRECTIONS TO ROAST BEETS:
Preheat oven to 400.
Remove the tops and roots of the beets and peel each one with a vegetable peeler. Cut the beets in desired size.
Place the cut beets on a baking sheet and toss with olive oil, salt and black pepper.
Roast for 35-40 minutes, turning once at the 20-minute mark.
When tender, remove from oven. Serve warm.
DIRECTIONS FOR SALSA:
In a large bowl, toss to combine all the ingredients.
Serve immediately.
Chicken & Ratatouille Sheet Pan Supper
INGREDIENTS:
-2 tablespoons olive oil
-4 tomatoes, quartered or one can tomatoes
-1 medium zucchini, large dice
-1 medium white onion, large dice
-2 small beets, scrubbed, peeled and cut into large dice
-1 medium eggplant
-10 cloves of garlic, minced
-6 chicken thighs
DIRECTIONS:
Preheat oven to 400 ̊F.
Drizzle a little olive oil on 2 sheet pans. Spread olive oil to evenly coat pans.
In a small bowl or jar with lid, mix all ingredients for Balsamic-Thyme Oil. Set aside.
Combine all cut vegetables including the garlic in a large bowl.
Place 3 chicken thighs on each pan. Brush each thigh with Balsamic-Thyme Oil. Pour remaining Balsamic-Thyme Oil over mixed vegetables and toss to coat.
Divide the vegetables between the two pans. (Do not crowd).
Roast chicken and vegetables in oven for approximately 30 minutes, stirring vegetables every 15 minutes.
Internal temperature of chicken should be 165°F before removing from oven.
Beet & Sweet Potato Oven Fries
INGREDIENTS:
-Non-stick cooking spray
-2 large sweet potatoes
-4 large beets (2 red, 2 golden)
-2 tablespoons extra virgin olive oil
-Juice and zest of one navel orange
-Salt to taste
DIRECTIONS:
Preheat Oven to 400.
Lightly spray baking sheet with non-stick cooking spray.
Wash potatoes and beets thoroughly and dry with a paper towel.
For the beets, trim tops and roots.
Cut the sweet potatoes and beets into long strips about 1/2 inch thick.
Drizzle the sweet potatoes and beets with oil and the zest and juice of the orange.
Spread the beets and sweet potatoes evenly in a single layer on a baking sheet and place in preheated oven.
Bake at 400°F for 40 minutes. After 20 minutes, take sheet out of oven and turn the potatoes and beets over. Immediately return sheet to oven and continue to bake for another 20 minutes.
Remove from oven and season to add salt to taste.
Beet Greens Pesto
INGREDIENTS:
-1 bunch beet greens (leaves, not stems)
-2 cups spinach
-½ cup almonds
-3 large cloves garlic
-1 lemon, juiced
-1 tablespoon salt
-2 teaspoons black pepper
-¼ cup olive oil
-2 tablespoons parmesan cheese
DIRECTIONS:
Combine all ingredients in a food processor. Pulse until well blended (about 2 minutes).
Using a rubber spatula, wipe the sides down of the food processor and repeat the pulsing process for another minute. Do NOT pulse with rubber spatula in the processor.
Serve immediately over fresh whole grain pasta or freeze for future use.
Recipes contributed to by: Chef Brigid Washington