Serves 4
This classic breakfast ingredient is transformed into a satisfying dinner-worthy main dish. Tomatoes are simmered in aromatics then freshly cracked eggs are poached within flavorful pockets of stewed tomatoes. The result is a surprising and delicious meal that you're sure to repeat. This dish is best served with whole grain pitas.
Ingredients:
3 tablespoons olive oil
3 garlic cloves, smashed
¼ cup white onion, chopped
1 28oz can crushed tomatoes
2 teaspoons dried oregano
6 eggs
1 teaspoon salt
1 teaspoon black pepper
1/3 cup fresh hand torn basil (or 1 ½ tablespoons dried)
Whole grain pitas (or other whole wheat bread) optional
Directions:
Preheat the oven to 375˚ F.
In a saucepan, over low heat, add the olive oil and allow it to heat for about 30 seconds.
Add the onions and garlic and stir until soft, fragrant, and translucent (about two to three minutes.)
Add the tomatoes and oregano and stir to combine, then bring to a simmer.
Using a spoon, create six small pools within the tomatoes.
Crack the eggs in each pool and season with salt and pepper.
Bake uncovered for 10-12 minutes until the whites and yolks are soft and cooked to 160˚ F.
Top with basil and serve with whole wheat pita or bread if desired.
A simple can of cannellini or white beans stars in this hearty winter pasta dish. The pasta water gives this dish a creamy and comforting consistency without adding any heavy cream products. The addition of spinach rounds out this dish with a pop of color and extra nutrients. 
Watch the video here: https://www.youtube.com/watch?v=Yob7zbVzoFM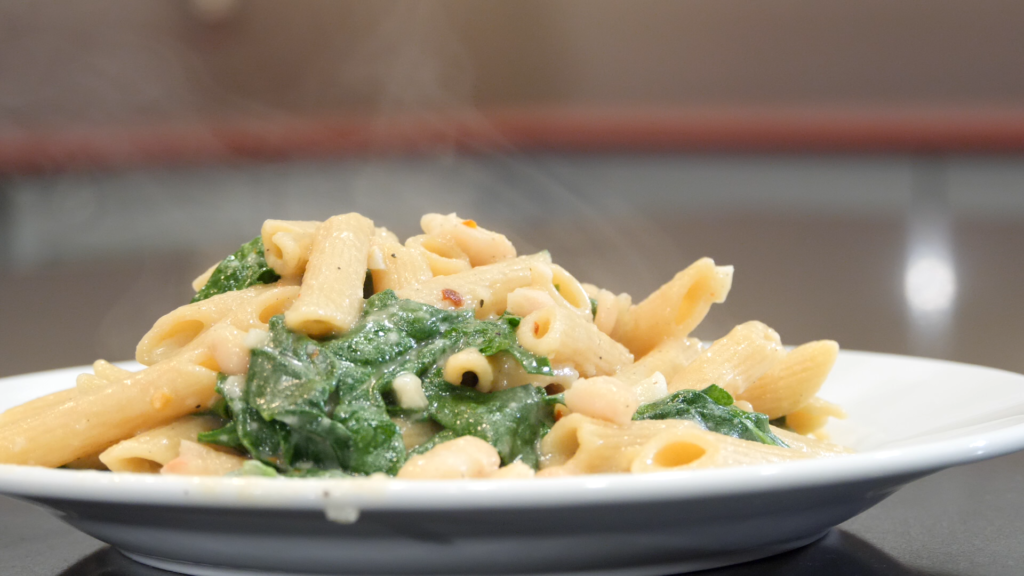 Serves 4
Ingredients:
1 pound whole wheat pasta (penne, shells, macaroni or bowtie)
1 15oz can white beans, drained
5 oz bag of spinach, rough chopped
1 teaspoon salt (plus more for boiling pasta)
1 teaspoon red pepper flakes (optional)
Parmesan cheese for garnish (optional)
Directions:
In a large quart pot of boiling and salted water, add the pasta and cook for two minutes less than package directions.
While the pasta is boiling, add the oil to a sauté pan and heat over medium heat.
Add the minced garlic and sauté until fragrant (about two or three minutes.)
Add the white beans to the pan and season with salt, pepper, and red pepper flakes.
Before draining the pasta, carefully take ¼ cup of water from the boiling pasta and slowly add it to the pan with the beans before draining the pasta.
Next add the pasta to the pan. Stir to combine.
Add the spinach, parsley, and lemon juice.
Garnish with parmesan cheese if desired.
Like Olaf from Frozen sang, "Winter's a good time to stay in and cuddle," but that can't be all we do during the cold-weather months!
It's important to stay active year-round, but some days it's just not possible to bundle everyone up, load the kids into the car, and drive 20 minutes to a gym or a playground for kids to get the exercise they need to stay healthy. But don't worry! There are plenty of fun indoor activities that will get your kids moving, help them stay healthy, and fight those chilly winter blues!
Balloon Volleyball
Just like regular volleyball, the goal of balloon volleyball is to keep the balloon from touching the ground. The catch is that you can only move the balloon by blowing on it, no limbs allowed.
Hang a piece of ribbon, yarn, or string across the room where you are playing to serve as a net. The balloon has to go over the string and land on the other team's side of the "net" to score a point.
If your kids are younger or less competitive, you can skip the "net" and try to keep the balloon off the floor by hitting it back and forth. Each player can only touch the balloon once in a row.

Indoor Obstacle Course
We all know that kids have huge imaginations, so use that to your advantage by creating an indoor obstacle course! Imagine that the floor is lava, rushing water, or something else that would be unsafe to step in. Place pillows, towels, chairs, or anything else that you are okay with your kids standing on at various points around the house, designating them as "safe." Then challenge players to get from point A to point B without touching the floor.
For an added challenge, come up with tasks players must accomplish along the way (still without touching the floor), like putting on a pair of tennis shoes, crossing over or under a certain piece of furniture, collecting certain toys, washing their hands, etc.
Laser Maze
(This will take up some space, so be prepared to dedicate whatever area you are playing in to the game while it is going on.)
Create a web of "lasers" by stringing yarn or rope around furniture or taping it to walls, criss-crossing it back and forth. Once your laser web is built, instruct players to get through the "lasers" without touching them!
Have fun!
-Bethany Helm
Cappuccino, caramel macchiato, pumpkin spice latte, extra whipped cream mocha—we all have our favorite coffee drinks. They're sweet, delicious, and give an extra boost of energy. Who wouldn't love that, right?
While these drinks are a tasty treat, they typically have a lot of extra saturated fat (unhealthy fat) and added sugar. While fat and sugar can be a part of a healthy diet, getting too much can be bad for your health.
Don't panic! You can still enjoy coffee drinks once in a while.
Let's break down each part of the drink and see how we can make healthier choices:
Coffee: Regular coffee is really just water that has been flavored by brewing it with coffee beans. It doesn't add sugar or fat to your drink!
Milk: Whole milk contains a lot of unhealthy fat. Ask for 1% or 2% milk in your drink instead of whole.
Flavored syrup: Pumps of flavored syrup bring the taste and the sugar to our favorite drinks. Ask for only 1 pump or a smaller amount of syrup in your drink to cut back on the sugar.
Whipped cream: Whipped cream is mostly made of sugar and unsaturated fat. Ask for no whipped cream to enjoy a healthier drink!
Caramel or chocolate: Drizzle on top of the drink makes it look pretty, but it also adds more sugar. Since most of the flavor in the drink comes from the flavored syrup, try asking for no drizzle. You might not be able to taste the difference!
Coffee drinks are a fun treat to be enjoyed every once in a while. How will you make your coffee healthier?
By Logan Joyner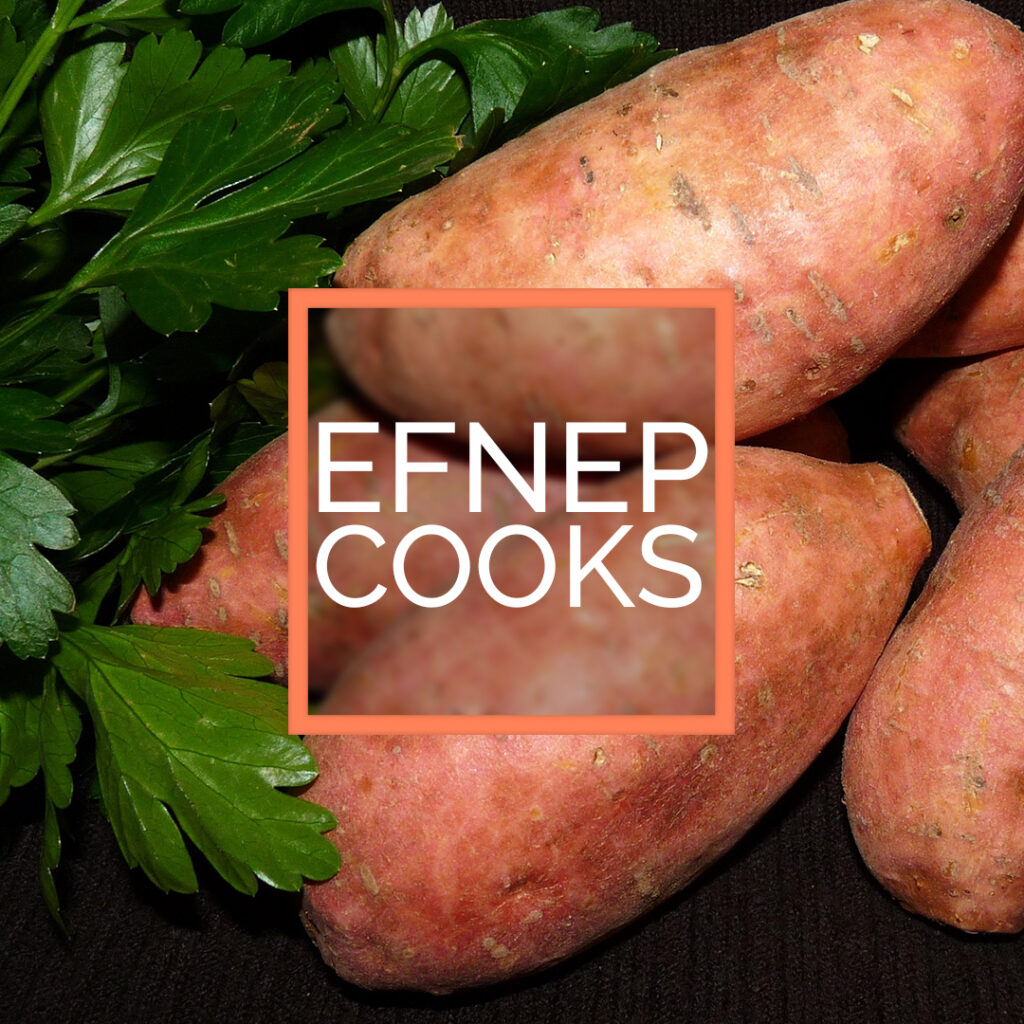 For good reason, this classic Irish holiday casserole has survived the test of time. In this adaptation, seasonal North Carolina sweet potatoes provide sweetness and depth, while the ground turkey — cooked with traditional peas and carrots — makes this a complete one pot meal, worthy of all the festivities!
Serves 4
Ingredients:
-2 tablespoons butter, divided
-1 lb ground turkey
-3 cloves garlic, minced
-½ cup onion, chopped
-¼ cup parsley, stems and leaves separated and chopped (or 1 tablespoon dried)
-1 teaspoon salt
-1 teaspoon black pepper
-1 pound sweet potatoes, peeled and roughly chopped (about 3 cups)
-1 can peas and carrot, low-sodium
-1 cup water (plus additional for boiling potatoes)
-1 tablespoon flour
-1 teaspoon brown sugar
-2 dashes Tabasco (optional)
-½ cup shredded cheese, low-fat
Directions:
Preheat the oven to 400˚ F.
In a large pot over medium high heat, add the cubed sweet potatoes and cover with water.
Boil for 17-20 minutes, until cooked and fork tender.
While the sweet potatoes are cooking, prep and cook the turkey. Start by adding 1 tablespoon of butter to a medium saute pan, over medium heat.
Add the onions, garlic, and parsley stems until the aromatics are soft and fragrant, about 3 minutes. 
Add the ground turkey and break apart with a spoon.
Cook for 5-7 minutes until the meat has reached an internal temperature of 165˚ F. 
While the turkey is cooking, in a small bowl whisk to combine 1 cup of water and 1 tablespoon of flour. 
Add this mixture to the turkey to thicken it, season with salt and black pepper and simmer for another two or three minutes.
Rinse and drain the excess liquid from the can of peas and carrots and add them to the pan with the turkey. 
Turn off heat.
Drain the potatoes and return them to the pot, add the remaining tablespoon of butter, brown sugar, Tabasco (if desired) and season with salt and pepper.
Mash to combine, using a fork. 
In a casserole dish, add the turkey mixture then cover with the sweet potatoes. 
Cover with cheese and bake for 10 minutes until the cheese has melted. Garnish with reserved parsley leaves.
Click here to learn more about the health benefits of sweet potatoes