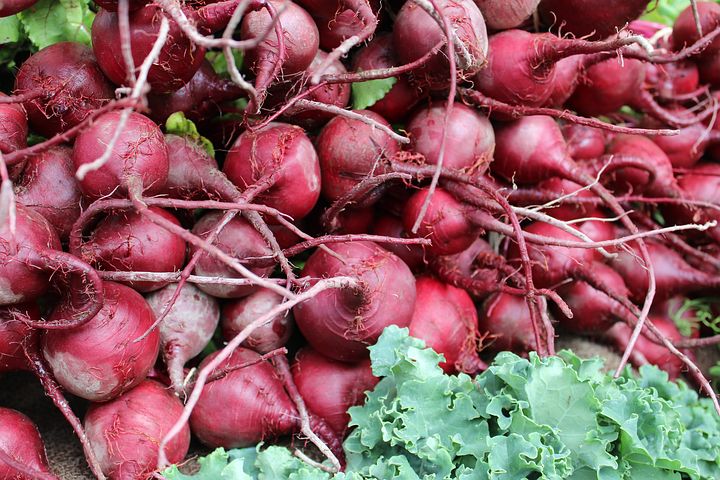 Beets are tasty and colorful vegetable that can be found in season during the fall in North Carolina. This root vegetable has a sweet taste and contains fiber. Check out these four recipes to include beets in your diet this fall.

Chicken Quesadillas with Beet & Green Apple Salsa
Makes 4 servings/Serving size: 1 quesadilla
INGREDIENTS:
-Non-stick cooking spray
-¼ cup chopped onion
-1 cup cooked and shredded chicken
-2 tablespoons Beet & Green Apple Salsa
-¼ cup Monterey Jack, Colby, or other cheese, grated
-4 (10-inch) whole-wheat tortillas
DIRECTIONS:
Spray skillet with cooking spray and preheat over medium-high heat.
Sauté onions until tender.
In a medium bowl, mix chicken, salsa, and onions.
Place ¼ of chicken mixture on one side of tortilla and top with ¼ of cheese. Fold over mixture and seal edges. (Use a small amount of water for a perfect seal.)
Spray skillet. Brown one side of quesadilla over medium heat for about 3-4 minutes. Turn and brown the other side. (Chicken temp should be 165˚ F.)
Cut each folded tortilla into 3 wedges for easy handling. Serve with extra salsa if desired.
Beet Salsa
Ingredients:
4 small beets, preferably a mix of golden and red, roasted, peeled and cut in very small dice
1-2 tablespoons olive oil
¼ teaspoon salt
¼ teaspoon pepper
1 jalapeño chiles, minced
¼ cup chopped cilantro (more to taste)
2 tablespoons fresh lime juice (more to taste
½ small green apple, cored and cut in very small dice
2 tablespoons extra virgin olive oil

DIRECTIONS TO ROAST BEETS:
Preheat oven to 400.
Remove the tops and roots of the beets and peel each one with a vegetable peeler. Cut the beets in desired size.
Place the cut beets on a baking sheet and toss with olive oil, salt and black pepper.
Roast for 35-40 minutes, turning once at the 20-minute mark.
When tender, remove from oven. Serve warm.
DIRECTIONS FOR SALSA:
In a large bowl, toss to combine all the ingredients.
Serve immediately.
Chicken & Ratatouille Sheet Pan Supper
INGREDIENTS:
-2 tablespoons olive oil
-4 tomatoes, quartered or one can tomatoes
-1 medium zucchini, large dice
-1 medium white onion, large dice
-2 small beets, scrubbed, peeled and cut into large dice
-1 medium eggplant
-10 cloves of garlic, minced
-6 chicken thighs
DIRECTIONS:
Preheat oven to 400 ̊F.
Drizzle a little olive oil on 2 sheet pans. Spread olive oil to evenly coat pans.
In a small bowl or jar with lid, mix all ingredients for Balsamic-Thyme Oil. Set aside.
Combine all cut vegetables including the garlic in a large bowl.
Place 3 chicken thighs on each pan. Brush each thigh with Balsamic-Thyme Oil. Pour remaining Balsamic-Thyme Oil over mixed vegetables and toss to coat.
Divide the vegetables between the two pans. (Do not crowd).
Roast chicken and vegetables in oven for approximately 30 minutes, stirring vegetables every 15 minutes.
Internal temperature of chicken should be 165°F before removing from oven.
Beet & Sweet Potato Oven Fries
INGREDIENTS:
-Non-stick cooking spray
-2 large sweet potatoes
-4 large beets (2 red, 2 golden)
-2 tablespoons extra virgin olive oil
-Juice and zest of one navel orange
-Salt to taste
DIRECTIONS:
Preheat Oven to 400.
Lightly spray baking sheet with non-stick cooking spray.
Wash potatoes and beets thoroughly and dry with a paper towel.
For the beets, trim tops and roots.
Cut the sweet potatoes and beets into long strips about 1/2 inch thick.
Drizzle the sweet potatoes and beets with oil and the zest and juice of the orange.
Spread the beets and sweet potatoes evenly in a single layer on a baking sheet and place in preheated oven.
Bake at 400°F for 40 minutes. After 20 minutes, take sheet out of oven and turn the potatoes and beets over. Immediately return sheet to oven and continue to bake for another 20 minutes.
Remove from oven and season to add salt to taste.
Beet Greens Pesto
INGREDIENTS:
-1 bunch beet greens (leaves, not stems)
-2 cups spinach
-½ cup almonds
-3 large cloves garlic
-1 lemon, juiced
-1 tablespoon salt
-2 teaspoons black pepper
-¼ cup olive oil
-2 tablespoons parmesan cheese
DIRECTIONS:
Combine all ingredients in a food processor. Pulse until well blended (about 2 minutes).
Using a rubber spatula, wipe the sides down of the food processor and repeat the pulsing process for another minute. Do NOT pulse with rubber spatula in the processor.
Serve immediately over fresh whole grain pasta or freeze for future use.
Recipes contributed to by: Chef Brigid Washington