Since we were kids, we've been told breakfast is the most important meal of the day. But, do you know why? Our bodies fast each night as we sleep. By morning, our blood glucose levels have been exhausted and need replenishing. Glucose gives our bodies fuel to function both physically and mentally. Breakfast provides that fuel.
Here's a quick list of some breakfast eating benefits:
Adults and children who skip breakfast have trouble staying focused at work and at school.
No breakfast means no energy. Breakfast skippers become fatigued and grouchy more easily.
Breakfast provides the nutrition we need each day. Researchers have shown that people who eat breakfast are more likely to meet their needs for calcium, iron, riboflavin, folic acid, iron, vitamins A and D and other nutrients. They also eat less fat.
People who eat breakfast tend to eat more healthfully all day.
Breakfast skippers usually don't make up for the nutrients they missed at breakfast – and they may end up overeating later in the day.
Eating breakfast helps with weight management – Grabbing high calorie snacks and overeating increases calorie intake, which in turn, causes weight gain.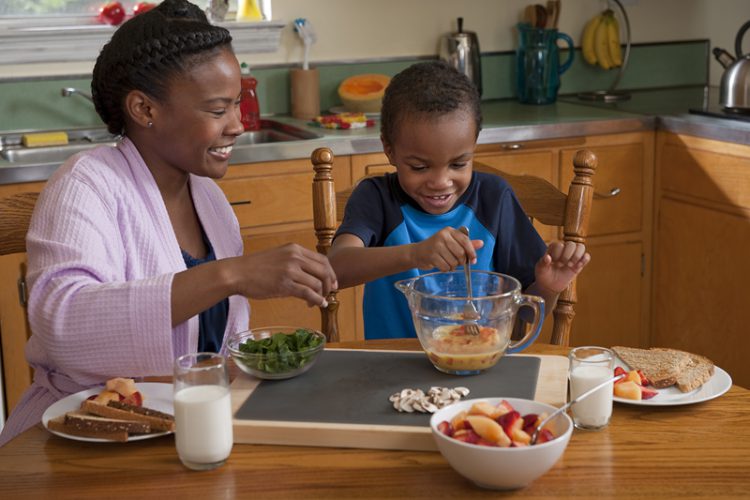 So, now that we know why eating breakfast is important, what does a good breakfast look like?
Aim for variety. Choose foods from three or four different food groups, such as a grain, meat, fruit and milk.
Have some protein. Researchers have shown that people who eat a protein-containing breakfast performed better on tests involving thinking and concentration. For example, having a glass of milk, container of yogurt, a piece of cheese, peanut butter on your toast or a hard-cooked egg all would add protein.
Choose cereal wisely. When shopping, look high on the shelves instead of at eye level or lower, where the kids' cereals often are placed.
Read the Nutrition Facts labels carefully. Compare fiber, sugar content, vitamins and minerals.
Compare cereal prices. Consider store brands, and use the unit price found on most store shelves.
Choose whole-grain cereals and whole-grain breads. To select whole-grain foods, check the first couple of items on the ingredient list. For example, look for oatmeal, whole wheat or whole grain.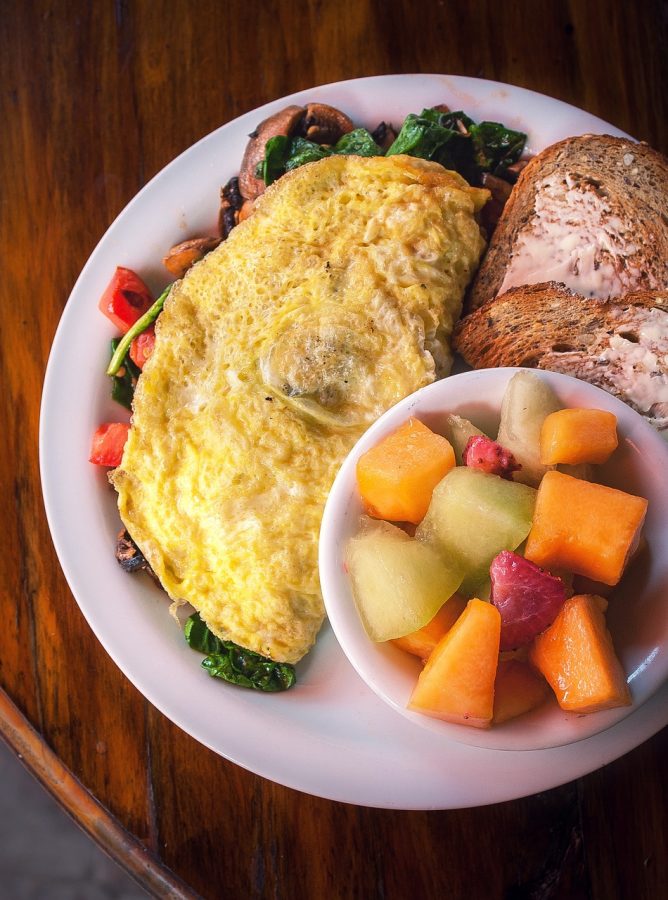 Below are some breakfast ideas that might help you start your day.
Cereal with sliced bananas and milk
Homemade cereal mix with whole-grain cereal, nuts, dried fruit and milk
Graham crackers with peanut butter, and a fruit and yogurt smoothie
Waffles with fresh strawberries, lean ham and low-fat milk.
Oatmeal with raisins and low-fat milk
Peanut butter on whole-wheat toast, apple slices and low-fat milk
Mini-pizzas made with English muffins, pizza sauce, cheese, Canadian bacon or other toppings and orange juice
Scrambled eggs, whole-wheat toast, orange slices and low-fat milk
Scrambled eggs with salsa wrapped in tortillas, sliced peaches and low-fat milk
Source:
https://www.ag.ndsu.edu/publications/food-nutrition/now-serving-breakfast/fn694.pdf https://njaes.rutgers.edu/sshw/message/message.asp?p=Health&m=216
-Virginia