Makes 8 servings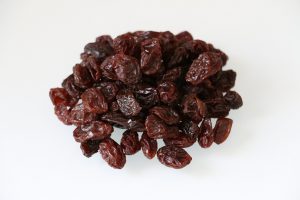 Serving Size: 1/2 cup
Ingredients
1 bunch broccoli or 1/2 bunch of broccoli and 1/2 head of cauliflower, washed and cut into pieces
2 pieces of bacon, cooked crisp and crumbled
1/4 cup onion, chopped
1/2 cup raisins
1/2 cup low-fat mayonnaise (or plain non-fat yogurt)
2 tablespoons cider vinegar
2 tablespoons sugar
Directions
Make dressing of mayonnaise, vinegar, and sugar.
Combine broccoli, bacon, onion, and raisins.
Stir in dressing.
 Cover and refrigerate.
Nutrition Information Per Serving
110 Calories, Total Fat 3g, Saturated Fat 1g, Protein 3g, Total Carbohydrate 18g, Dietary Fiber 3g, Sodium 210mg. Excellent source of vitamin C. Good source of vitamin A.