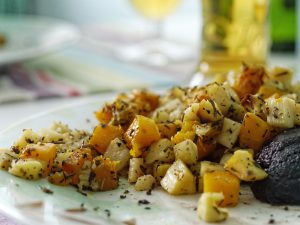 Ingredients
Non-stick cooking spray
1 medium sweet potato, peeled and cubed
1 large baking potato, peeled and cubed
1/4 cup olive oil
1/3 cup honey
1/4 cup vinegar
1/2 teaspoon garlic powder
1/2 teaspoon salt
1 teaspoon cumin
1/2 teaspoon black pepper
Directions
Preheat oven to 450°F.
Spray a baking pan with cooking spray.
Put potatoes on baking pan and drizzle with 2 tablespoons olive oil. Stir gently to coat potatoes thoroughly.
Spread cubed potatoes evenly on baking pan.
Bake for 30 minutes.
While potatoes are baking, mix together remaining 2 tablespoons olive oil and all other ingredients.
Placed baked potatoes in a bowl. Pour dressing over potatoes and toss to coat well.