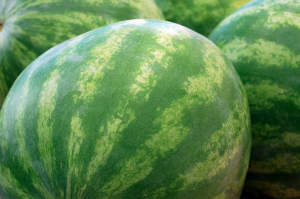 Watermelon Kebabs
An easy, fast, no-mess meal!
Ingredients
18 1 inch cubes of seedless watermelon
6 cubes of smoked turkey breast
6 cubes of cheddar cheese
6 coffee stirrers or beverage straws
Instructions
Cut watermelon, turkey and cheese in cubes and skewer on stirrers or straws.
Servings:  Serves 6.
 Watermelon Banana Split
A healthy twist to an old favorite
Ingredients
2 bananas
1 watermelon medium sized
1 cup fresh blueberries
1 cup diced fresh pineapple
1 cup sliced fresh strawberries
1/4 cup caramel fruit dip
1/4 cup honey roasted almonds
Instructions
Peel bananas and cut in half lengthwise then cut each piece in half. For each serving, lay 2 banana pieces against sides of shallow dish. Using an ice cream scooper, place three watermelon "scoops" in between each banana in each dish. Remove seeds if necessary. Top each watermelon "scoop" with a different fruit topping. Drizzle caramel fruit dip over all. Sprinkle with almonds.
Servings:  Makes 4 servings.
Chicken Salad with Watermelon and Peaches
Ingredients
3 cups chopped cooked chicken
1 cup plain yogurt
1/2 cup mayonnaise
1 teaspoon dried dill leaf or
1 tablespoon fresh snipped juice from a lemon
dash of salt and pepper to taste
2 peaches seeded and chopped
2 cups chopped seeded watermelon
Instructions
Mix together the chicken, yogurt, mayonnaise, dill and lemon juice.
Servings:  Makes 4 to 6 Servings.
Kid's Watermelon Strawberry Shake and Frozen Smoothie Pops
Easy to find and now affordable home ice cream machines and popsicle sleeves make for a great dessert. Check out your Costco and Target stores for some good finds.
Ingredients
Strawberry Shake
1 container (8 ounces) lemon nonfat yogurt
2 cups cubed, seedless watermelon
1 pint fresh strawberries, cleaned and hulled
1 banana medium, peeled and sliced
Frozen Smoothie Pops
Strawberry Shake
Small paper cups
Popsicle sticks
Instructions
Strawberry Shake
In blender or food processor, process yogurt, watermelon, strawberries and banana until smooth and frothy. Serve immediately.
Frozen Smoothie Pops
Pour prepared Watermelon Strawberry Shake into small paper cups. Freeze, inserting popsicle sticks or plastic spoons when mixture is partially frozen. Or, pour Watermelon Strawberry Shake into ice cream machine. Set and enjoy!
Servings:  Makes 4.
Find more recipes at www.watermelon.org