We keep hearing that breakfast is the most important meal of the day, but many people still have trouble finding time in their busy mornings to eat a nutritious breakfast.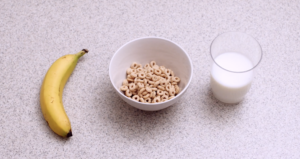 Here are some quick grab and go ideas:
Whole fruit, like bananas, apples and oranges. (For an even faster option, keep peeled oranges in the refrigerator in plastic baggies)

Whole grains and peanut butter: spread 2 tablespoons of peanut butter on whole wheat bread, bagels, English muffins, or frozen waffles.
Low fat yogurt cups.
Fruit smoothies
Low sugar granola bars
Hard boiled eggs
Leftovers: you don't have to eat breakfast food for breakfast!