Makes 4 servings (Serving Size: 2 tacos)
This recipe is a 3-step recipe. First, make the salsa. Second, make the coleslaw. And third, cook the fish and assemble the tacos. The salsa and slaw can be made the day before to allow flavors to blend.
SALSA –
Ingredients:
1 mango, finely chopped
¼ cup green bell pepper, finely chopped
¼ cup cucumber, finely chopped
½ cup red onion, finely chopped
2 tablespoons cilantro, finely chopped
1 ½ teaspoons chili powder
1 tablespoon lime juice
Directions:
Mix all ingredients together
Set aside
SLAW MIX –
Ingredients:
2 cups cabbage, finely shredded
¼ cup fat-free Ranch dressing
1 teaspoon chili powder
Directions:
Mix all ingredients together
Set aside
TACOS –
Ingredients:
Salsa
Slaw mix
4 tilapia filets (or other white fish)
Non-stick cook spray
Black pepper, to taste
Paprika, to taste
8 (6-inch) soft corn tortillas
1 cup cheese, grated
Directions:
Preheat broiler in oven. Adjust top rack to rest approximately 6 inches from broiler.
Line pan with aluminum foil and spray with non-stick cooking spray.
Place filets on prepared pan and sprinkle with pepper and paprika to taste.
Broil filets until cooked, about 6 minutes or until fish flakes easily when tested with a fork.
Meanwhile, wrap tortillas in damp paper towels and heat in microwave for 30 seconds.
Divide each filet in half. Place half of cooked filet in each tortilla.
Top with slaw mix and salsa.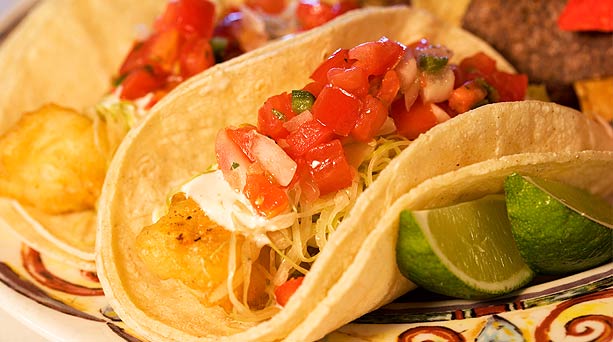 Nutritional Information per Serving
260 Calories, Total Fat, 4.5g, Saturated Fat 1g, Protein 24g, Total Carbohydrate 29g, Dietary Fiber 2g, Sodium 110mg.
Tip: Pico de gallo can be used in place of salsa.