Going meatless at least once a week can help improve your health. Red and processed meats, which is high in saturated fat, may increase your risk of developing chronic diseases. Try replacing meat with high fiber alternatives such as beans and lentils (among other foods). Visit eatright.org for more information. Going meatless one day a week gives you a chance to explore new recipes. To help get you started, check out this vegetable chili recipe that is healthy and tasty.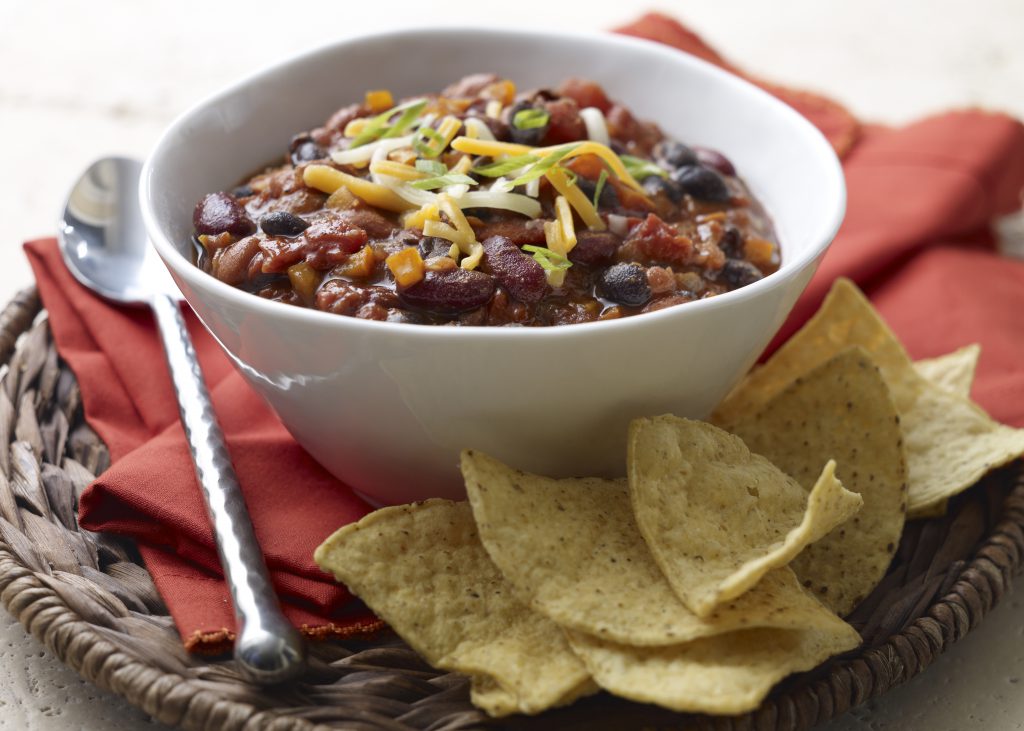 Vegetable Chili Boat
Serves 6
Ingredients
2 1/2 teaspoons canola oil
1/2 cup Fresh onion, peeled, diced
1/2 cup Fresh green bell pepper, seeded, diced
1/2 cup Canned low-sodium pinto beans, drained, rinsed
1/2 cup Canned low-sodium kidney beans, drained, rinsed
1 cup Canned low-sodium black beans, drained, rinsed
1 1/2 tablespoons chili powder
1 1/3 cups Canned low-sodium diced tomatoes
1 cup Low-sodium chicken stock
1 dash hot sauce (optional)
1/4 cup Canned low-sodium tomato paste
18 Low-sodium tortilla chips (about 3 oz)
1/4 cup reduced-fat cheddar cheese, shredded (1 oz)
1/4 cup Low-fat mozzarella cheese, low moisture, part skim, shredded (1 oz)
Directions
1. Heat canola oil in a large pot over medium-high heat. Add onions and green peppers. Cook for 2-3 minutes or until tender. Add beans and stir to coat. Add chili powder. Stir. Cook for 1 minute for flavors to blend.
2. Add tomatoes, chicken stock, and hot sauce. Bring to a boil. Simmer uncovered for 10 minutes. Add tomato paste and mix well. Cook uncovered for an additional 10 minutes. Bring to a rolling boil for at least 15 seconds. Reduce heat to low and simmer to keep warm.
3. Combine cheddar and mozzarella cheeses (the cheese is a garnish).
4. Place ¾ cup chili in a bowl. Top with 3 chips and sprinkle with about 1 tablespoon of cheese blend. Serve hot.
¾ cup provides:
Legume as Meat Alternate: 1 oz equivalent meat alternate, ¼ cup red/orange vegetable, and ¼ cup oz equivalent grains.
OR
Legume as Vegetable: ¼ oz meat alternate, 1/8 cup legume vegetable, ¼ cup red/orange vegetable, 1/8 cup other vegetable, and ¼ oz equivalent grains.
Legume vegetable can be counted as either a meat alternate or as a legume vegetable but not as both simultaneously.
Source: https://recipesforkids.devpost.com/submissions/831-vegetable-chili-boat