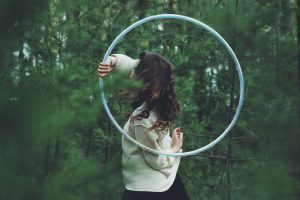 Hula hooping is an inexpensive way to fit in physical activity. If you practice, you'll not only improve your skills, but you'll get a great workout! There are many different sizes of hula hoops, so you can choose hoops appropriate for children of all ages and even get one for yourself. After all, activities like hula hooping are more fun with the whole family!
Before you begin, make sure the hula hoop is the right size. If you place it in front of you, it should stand between your belly button and chest. Also, larger hoops rotate more slowly than smaller hoops, so starting with a larger hoop may be easier for beginners. Once you have a proper size hula hoop, step inside, hold it around your waist, give it a push, and shift your weight with the hoop as it moves. Hula hooping isn't just for your waist–you can even hula hoop around your arm, knee, and leg doing all kinds of tricks. The possibilities are endless! Always make sure to give yourself plenty of room so you don't accidentally hit anyone. Don't have a hula hoop? You can make your own! This is also a great method to ensure you have the right size hula hoop.
Did you know World Hula Hoop Day exists? The first Saturday in October, every year people from all over the world gather to hula hoop the day away and promote peace. To learn more about hula hooping and how to do it, visit http://www.hooping.org/2003/08/how-to-hula-hoop/.
Share what hula hoop techniques your children learn!