May is National Osteoporosis month. Osteoporosis is a weakening of the bones. Risk factors include smoking, age, being a female, early menopause, and not getting enough calcium or Vitamin D. To make sure that you are getting enough of these nutrients, consume a well-balanced diet with whole grains, fruits and vegetables, protein and dairy products such as low-fat yogurt and low-fat or non-fat milk.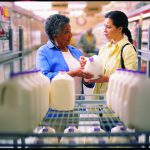 Aim for getting some sunlight in your day because sunlight is a great source of vitamin D. Also, getting active or doing weight-bearing activities or even walking is a great way to help build and maintain bone strength. Personally, I like to get out and walk around the park and use park benches for exercises. This helps me get both the activity and the sunlight.
Here's one of the recipes that is a great source of calcium and tastes delicous with just about anything you can dip into it!
Spinach Dill Dip
Ingredients: 
¾ c strained yogurt
¾ c cottage cheese
½ pkg frozen spinach, thawed &  drained
4 cloves garlic
½ c fresh dill
Nutmeg
Black pepper
Directions: 
Blend yogurt and cottage cheese.  Add remaining ingredients and mix.  Chill thoroughly.
Nutritional Information: Servings: 8, Amount/Serving: Calories 53, Total Fat 2g, Sat. Fat 1g, Cholesterol 9mg, Sodium 105mg, Total carbohydrates 3g, Sugars 2g, Dietary Fiber 1g, Protein 5g, Calcium 104mg, Vitamin D <0.8 IU.
Find more information here or find more recipes here.