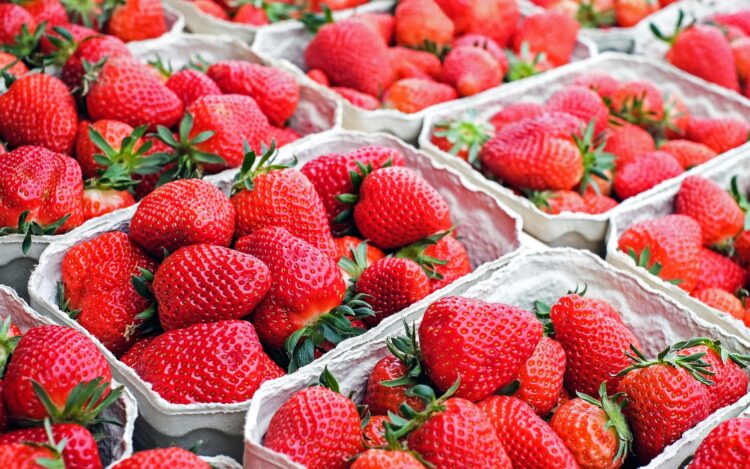 Many North Carolinians look forward to fresh strawberries each spring. Strawberries are a popular fruit with 94% of American households eating strawberries each year. Although strawberries can now be bought in a grocery store year round, these strawberries, usually from California, are not as sweet and juicy as the locally grown strawberries. Strawberries are grown locally in all fifty states.
In 2018, North Carolina farmers grew about 1,000 acres of strawberries that produced about 12.5 million pounds of berries. Compared to the 1 billion pounds grown in California, production is small but still provides over $21 million in income to North Carolina growers. The big difference in strawberries from California and North Carolina are the types of strawberries grown. California grows strawberries that can be packed and shipped while strawberries grown in North Carolina do not ship well and are consumed locally. In North Carolina you can pick your own or buy freshly picked strawberries at roadside or farmers markets.
The harvest time for strawberries in North Carolina is late April through early June. Fresh Strawberries are a popular and refreshing treat. Strawberries are great fresh but they can also be enjoyed as a healthy snack in a homemade smoothie like the one below.
Strawberries have high levels of antioxidants, vitamins, and fiber. Eight strawberries provide 140 percent of the recommended daily intake of Vitamin C for kids. With only 55 calories per cup, strawberries are a great snack.
Be sure you celebrate May as National Strawberry month by enjoying fresh strawberries locally grown in North Carolina. You can make it a fun family event by taking everyone to a local pick-your-own strawberry farm. You can find a pick-your-own farm near you at http://www.pickyourown.org/NC.htm

James Wynne – EFNEP Intern