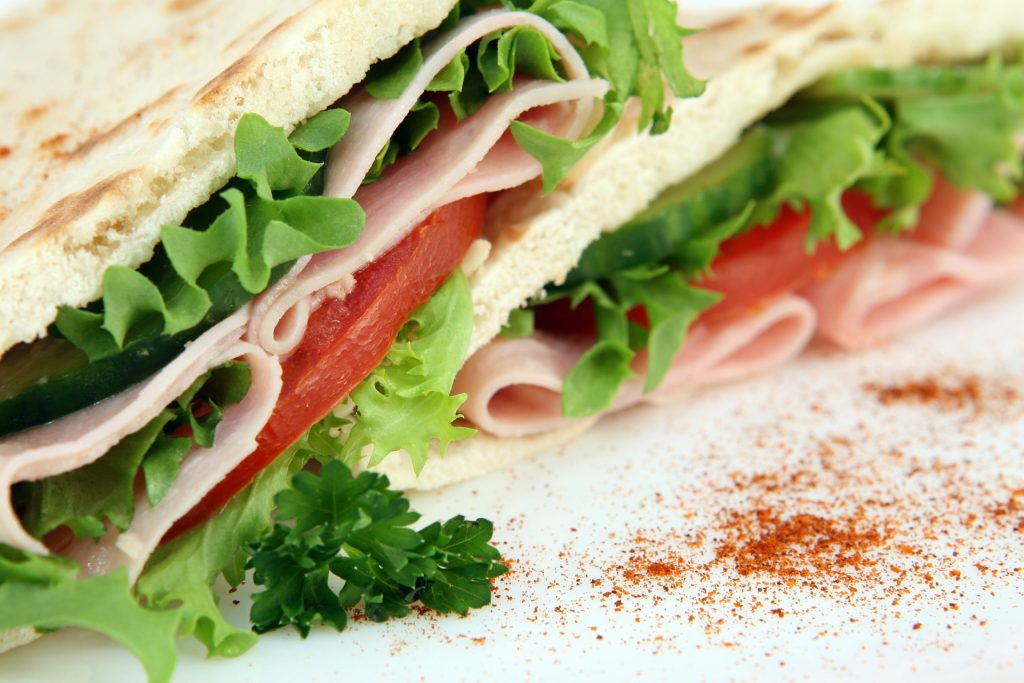 Sandwiches are an easy, no-cook, heat-free way to prepare a quick dinner for the family. The sandwich is named after John Montagu, 4th Earl of Sandwich, an 18th-centry English aristocrat. The story goes that he asked for meat tucked between two pieces of bread. Others saw how easy it was to eat and began to order "the same as Sandwich!"
During the summer we usually have a sandwich for dinner at least once a week. I try to use leftover meat from a previous meal to stretch my food dollar and speed up my preparation time. For variety, we like to use different breads to make our sandwiches. One of our favorites is chicken salad stuffed into pita bread. Try this recipe from our friends at Fruit and Veggies More Matters.
Chicken Pita Sandwiches – makes 6 sandwiches
Ingredients
2 cups cooked chicken, chopped
½ cup celery, diced
 ½ cup apple, diced
 ½ cup grapes, halved
* 1 cup dried cranberries OR raisins
1 cup plain low-fat yogurt
6 small green leafy lettuce leaves
 black pepper, to taste

3 (6 inch) whole wheat pita breads, hal
ved
Directions
In a medium bowl, combine chicken, celery, apple, grapes, dried cranberries, and yogurt.
Mix gently. Season with pepper.
Place 1 lettuce leaf in each pita half. Fill pita with chicken mixture, dividing evenly.
Suzanne