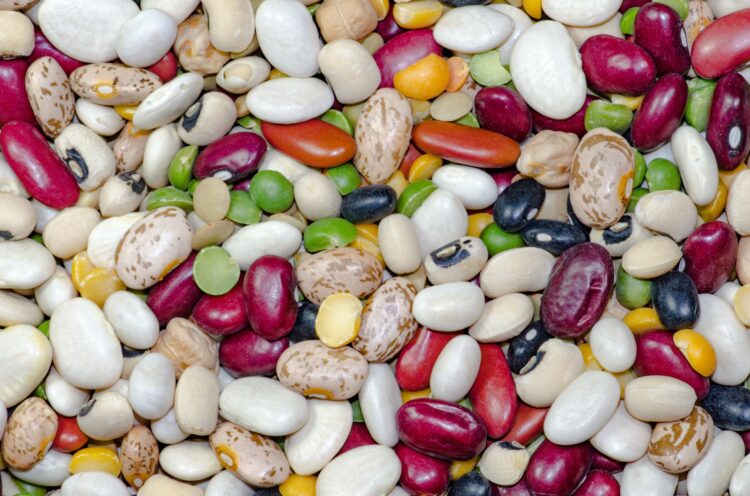 Legumes are types of foods in the protein food group which include lentils, edamame/soybeans, split peas, chickpeas/garbanzo beans, and other beans such as kidney beans, lima beans, red beans, navy beans, black beans, pinto beans, black-eyed peas, cannellini beans, and Great Northern beans. Beans and other legumes are rich in fiber, folate, potassium, iron, magnesium, and are low in fat. Eating more beans and other legumes can help lower blood pressure, improve heart health, and regulate blood sugar levels. They're inexpensive and can be added to a variety of dishes. Note that while string beans are a nutritious, starchy vegetable, they are not considered legumes like other kinds of beans.
When you buy canned beans, look for low-sodium options. Drain and rinse canned beans before eating or cooking reduce sodium even further. To prepare dry beans, soak them (for at least 48 hours to reduce gastrointestinal side effects), then drain and rinse beans in cold water. Place soaked beans in a pot, cover with water, and let them come to a boil on the stovetop. After boiling for 10 minutes, reduce heat to low and continue cooking until beans are soft and can be easily mashed (usually around 45 minutes depending on the bean). If you cook beans in a slow cooker, make sure to boil them on the stovetop before finishing cooking in your slow cooker.
Not sure what to do with your beans once they're ready to eat? Here are a few ways you can eat beans!
Salads: Top your salad with beans for a nutritional boost. You can also make a bean-based salad, like this fiesta salad.
Soups: You can add beans of your choice to any soup, such as chicken noodle soup and potato soup. Also, try bean-based soups like taco soup and chili.
Rice and Beans: Rice and beans is a quick nutritious meal. Brown rice and beans together provide plenty of fiber, and you can add all kinds of vegetables and sauces. For example, you can try rice and beans with salsa, tomatoes, salad greens, onion, and bell pepper.
Hummus/Bean Dip: Hummus (made with chickpeas) pairs well with vegetables and whole grain crackers. Chickpeas aren't the only bean you can use to make a bean dip–you can also try making bean dips with other types of beans like black beans and kidney beans.
Tacos: Use beans instead of meat for a less expensive taco recipe. If you want to include some meat, you can replace some of the meat with beans. This is a great way to slowly add beans to your diet!
Hidden: Add whole or mashed beans to recipes with ground beef (like meatloaf, meatballs, and hamburgers) and sauces (such as spaghetti sauce) where you may not even realize they're there.
Eggs: Try Southwest-style eggs with black beans, salsa, onions, bell pepper, and other vegetables. You can also make an egg burrito with beans.
A common complaint about eating beans is the gastrointestinal side effects like bloating and gas. This is completely normal when your body isn't used to eating beans. Make sure to rinse canned beans very well and cook dry beans until they're very soft to eliminate as much of the gas-producing carbohydrates as possible. Also, introduce beans into your diet very slowly. Start with just a couple of tablespoons, then gradually add more by the tablespoon as you tolerate small amounts over time. Lastly, you can add spices like cumin and ginger when you're cooking beans to help with digestion.
How will you try beans this week?