See how to make it here: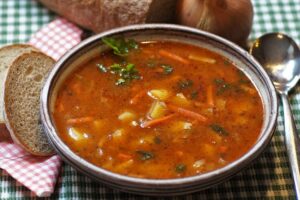 Makes 4 servings; Serving size 1½ cups
Ingredients
1 ½ cups pre-soaked beans or 1 (16-ounce) can beans, drained
1 (14-ounce) can low-sodium chicken broth
1 (16-ounce) can chopped or diced tomatoes, undrained
1 small onion, chopped
½ teaspoon garlic powder
1 (10-ounce) package frozen, chopped spinach
½ Cup macaroni
Directions
In a 2-quart pot, combine all ingredients except spinach and macaroni.
Heat until the liquid comes to a boil.
Stir in and break up spinach; bring to a boil again.
Stir in macaroni and simmer until pasta is tender, about 6-8 minutes.
Nutrition information per serving
145 calories, Total Fat .5g, Saturated Fat 0g, Protein 7g, Total Carbohydrate 28g, Dietary Fiber 7g, Sodium 135mg. Excellent source of vitamins A and C. Good source of iron and calcium.