A simple can of cannellini or white beans stars in this hearty winter pasta dish. The pasta water gives this dish a creamy and comforting consistency without adding any heavy cream products. The addition of spinach rounds out this dish with a pop of color and extra nutrients. 
Watch the video here: https://www.youtube.com/watch?v=Yob7zbVzoFM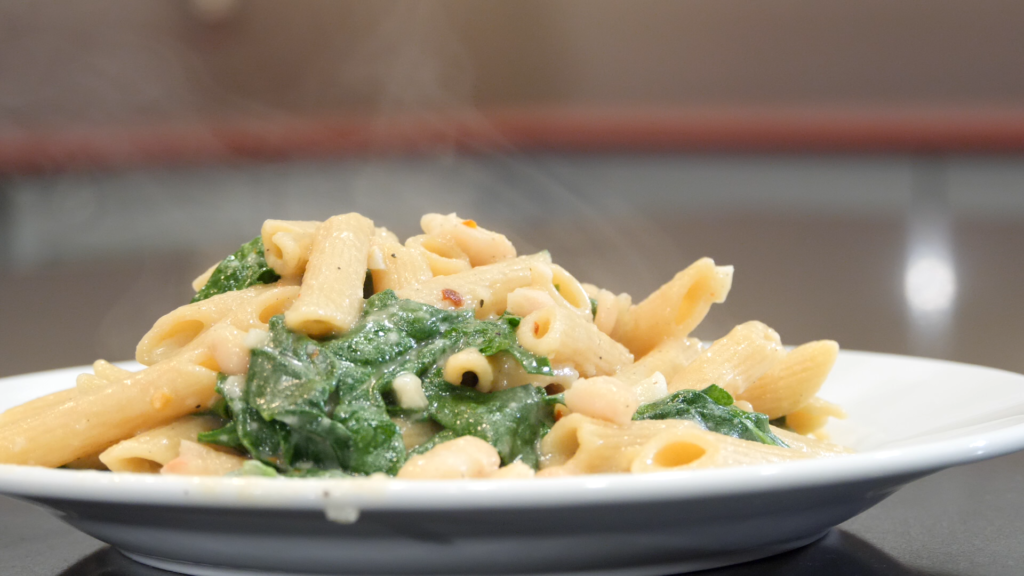 Serves 4
Ingredients:
1 pound whole wheat pasta (penne, shells, macaroni or bowtie)
1 15oz can white beans, drained
5 oz bag of spinach, rough chopped
1 teaspoon salt (plus more for boiling pasta)
1 teaspoon red pepper flakes (optional)
Parmesan cheese for garnish (optional)
Directions:
In a large quart pot of boiling and salted water, add the pasta and cook for two minutes less than package directions.
While the pasta is boiling, add the oil to a sauté pan and heat over medium heat.
Add the minced garlic and sauté until fragrant (about two or three minutes.)
Add the white beans to the pan and season with salt, pepper, and red pepper flakes.
Before draining the pasta, carefully take ¼ cup of water from the boiling pasta and slowly add it to the pan with the beans before draining the pasta.
Next add the pasta to the pan. Stir to combine.
Add the spinach, parsley, and lemon juice.
Garnish with parmesan cheese if desired.