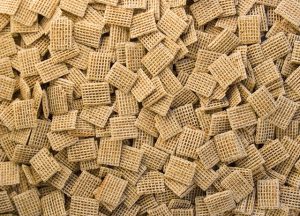 Makes 8 servings
Ingredients
2 cups small, square, whole-wheat cereal
1 cup pretzel twists
1/2 cup square, reduced-fat cheese crackers
1/2 cup whole-wheat crackers
1 1/2 tablespoons butter or margarine, melted
1 tablespoon ginger stir-fry sauce
1 teaspoon chili powder
1 teaspoon ground cumin
Directions
Preheat oven to 250°F. See option below for microwave oven.
Spray a baking sheet with nonstick spray.
Combine first four ingredients in a large bowl.
Melt butter in a microwave-safe bowl.
Combine butter, ginger stir-fry sauce, chili powder, and cumin. Drizzle over cereal mixture, tossing to coat.
Spread mixture on baking sheet.
Bake for 30 minutes or until crisp, stirring twice.
Microwave Option: Using a microwave-safe baking dish, microwave on high for a total of 6 minutes, stirring at 2-minute intervals. Let cool.