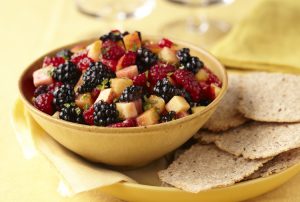 Fruit Salsa
1 cup strawberries, diced
1 cup blackberries or raspberries
1 apple, cored and diced
2 Tablespoons lemon juice
¼ cup sugar
¼ teaspoon nutmeg
¼ teaspoon cinnamon
Directions:
Wash your hands!!!
Combine fruits in a medium mixing bowl and add lemon juice
Store in sugar, nutmeg, and cinnamon. Mix Well.
Refrigerate until serving time.
NOTE:  You can use ANY fruit for your salsa, such as peaches, oranges, blueberries, kiwi, bananas, pineapple, mango.  Create your own favorite!
Cinnamon Crisps
10 whole wheat tortillas, cut into 8 wedges
2 Tablespoon of sugar with 1 teaspoon of cinnamon
cooking spray
Preheat oven to 350 degrees F (175 degrees C).
Cut tortillas into wedges. Arrange wedges in a single layer on a baking sheet and lightly spray.
Bake in the preheated oven until crisp, about 15 minutes.
Remove from oven.
Place spiced sugar in a 1-quart plastic bag.
When tortilla pieces are still warm, gently toss 3-4 at a time in the sugar mixture.
Remove and let cool.