Nuts are my favorite snack to munch on in between meal times. They are bite-size nutritional powerhouses, packed with heart-healthy fats, protein, vitamins, and minerals. When I choose this vitality-boosting snack, I stick to a handful mix of unsalted nuts to get the best valuable vitamins and minerals in my diet.
All nuts have different nutrition credentials and will offer various health benefits. Here are our top 5 nuts and with their benefits.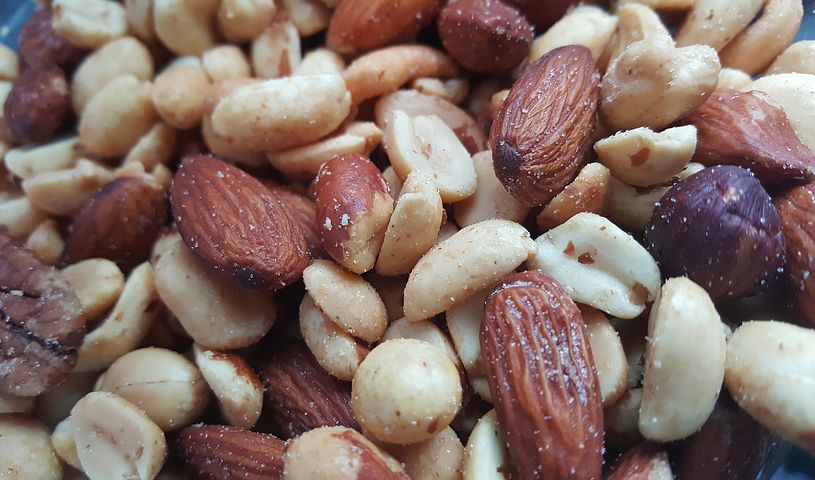 1) Almonds – Almonds are the best choice if you are avoiding dairy from your diet. They are calcium-rich and high in vitamin E, a nutrient which helps to improve the condition and appearance of your skin. For some extra heart help, swap flaked almonds for the whole nut with the skin intact because the almond's skin is full of heart-protecting compounds called flavonoids.
2) Cashews– They are your go-to if you're in need of minerals like magnesium, iron, zinc, biotin and copper. The nutrients in cashews are thought to improve recall delays and age-related memory loss. It is also a great meat substitution if you are following a vegetarian diet. Just add a handful to your stir-fry or use as a nut butter on crackers or bread.
3) Pecans– Pecans are heart-friendly and packed with plant sterols, that are effective at lowering cholesterol levels. They're rich in oleic acid, the healthy fat found in olives and avocados. As a good source of vitamin B3, pecans are the perfect option if you're fighting fatigue and stress.
4) Walnuts– Walnuts are a cancer-fighting agent due to the extremely high number of antioxidants. They are good for your brain and heart and helps in lowering bad cholesterol.
5) Pistachios– They are high in calcium, potassium, fiber, and B vitamins. A handful of these little seeds provides you with one fifth of your recommended daily fiber.
Enjoy!
Neha
Source: http://www.health.harvard.edu/blog/eating-nuts-linked-to-healthier-longer-life-201311206893