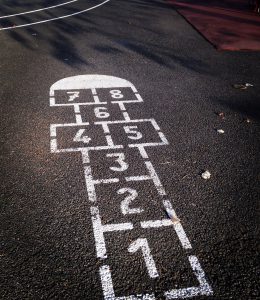 Hopscotch is a children's game that has lasted through the generations–and for good reason! No equipment is required and children enjoy making their own hopscotch spaces using sidewalk chalk. It's also a great game for preschoolers to practice their motor skills by learning to control their movement while hopping on one foot.
To play hopscotch, draw a diagram like the one above using sidewalk chalk on asphalt or concrete. You can also play inside and make the diagram with tape. This is a great way to let your children get creative with making the diagram! The player going first should toss a small rock, small bean bag, or other marker onto the first space on the diagram. Whichever spot the marker lands on is the space they need to hop to. Hop on single squares with one foot and side-by-side squares with one foot in each square. Once you reach the marker, pick it up (still on one foot!) and toss it to the next space to continue. After the first player is finished, subsequent players may take their turns.
In addition to the classic way to play hopscotch, there are other ways to play. For more detailed instructions and hopscotch variations, visit http://www.parents.com/fun/activities/hopscotch/. See if you and your children can think of your own way to play!
How do your children play hopscotch?