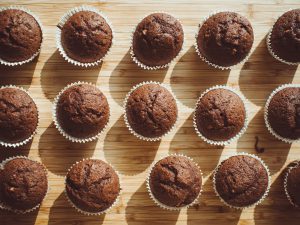 Makes 28 servings
Serving Size: 2 mini muffins
Ingredients
2 eggs
3/4 cup brown sugar
1/2 cup applesauce
1/2 cup orange juice
1 teaspoon vanilla extract
2 cups all-purpose flour
2 teaspoons ground cinnamon
2 teaspoons baking soda
1 teaspoon salt
1 teaspoon nutmeg
1/2 cup unsweetened cocoa
2 medium zucchini, grated
Choose 2 of the following. Blend together to make a frosting
Powdered sugar
Peanut butter
Low-fat yogurt
Directions
Preheat oven to 350°F.
In a large bowl, beat eggs, brown sugar, applesauce, orange juice, and vanilla extract.
Combine the dry ingredients (flour, cinnamon, baking soda, salt, nutmeg, cocoa) in a separate bowl. Gradually add to egg mixture and mix well.
Stir in grated zucchini.
Fill muffin pans 2/3 full. Bake for 20-25 minutes.
Remove muffins from pan and allow to cool.
Spread mixed frosting of your choice on top of cooled muffins.