Looking for recipes that will help you prepare balanced meals for your family on a tight budget? Check out the cookbook. It's a great guide created specifically to help those of us on a budget plan and prepare healthy, thrifty meals for our families. Whether for breakfast, lunch or dinner, this cookbook is a winner! To get started, try this simple recipe!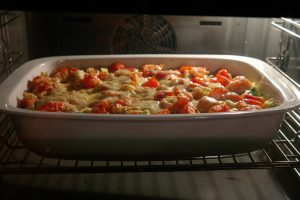 Pizza Meat Loaf
Servings: 4 servings about 1/4 loaf each
Ingredients:
1 lb.  Ground turkey
¾ cup Spaghetti sauce
¼ cup Mozzarella cheese, part-skim
½ cup Green peppers, chopped
¼ cup Onion, minced
PREPARATION TIME: 15 MINUTES
CONVENTIONAL COOKING TIME: 20 MINUTES
MICROWAVE COOKING TIME: 8 MINUTES
Lightly grease 9-inch pie plate with vegetable oil. Pat turkey into pie plate.
CONVENTIONAL METHOD
Place turkey in 350˚ F oven; bake until turkey no longer remains pink, about 17 to 20 minutes.
MICROWAVE METHOD
Cover turkey with waxed paper.
Cook on high; rotate plate 1/4 turn after 3 minutes.
Cook until turkey no longer remains pink, about 5 more minutes. Drain.
TO COMPLETE COOKING
Top baked turkey with spaghetti sauce, cheese, and vegetables.
Return turkey to either the conventional oven or the microwave oven and heat until cheese is melted, about 1 to 2 minutes.
PER SERVING:
Calories 255 Total fat 14 g Saturated fat 4 g Cholesterol  88 mg  Sodium 376 mg
Source: http://www.marketmakeovers.org/sites/default/files/FoodPlansRecipeBook.pdf