Staying active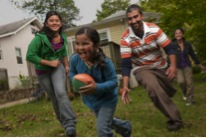 is sometimes hard to do especially if you work and have children. Our friends at the American Diabetes Association share some ideas about how physical activity is a natural stress reliever. It also helps control blood glucose levels, lower blood pressure, and provides many other health benefits. Don't let the hustle and bustle of the holidays disrupt your exercise routine. Include time for physical activity on your calendar when you are planning ahead. We recommend doing at least 30 minutes of moderate physical activity 5 days per week.
Finding it hard to get motivated this winter? Having a goal to work toward and exercising with others can help. Try creating an exercise challenge with your family or set an activity goal for yourself. If you're at a loss for what to do during the colder months, check out our list of winter activity options below:
If you've got snow, make a snow fort or take the family sledding. Walking up and down a hill is a great work out, and it's a good way to get the kids active too!
Go ice skating with a friend to catch up and get some fresh air.
Sign up for indoor fitness classes. There are a lot of class options out there now. Try zumba, kickboxing, jazzercise, yoga, and more.
See if any local restaurants host a salsa dancing night. Learn to salsa and get your muscles moving!
Buy an exercise video or look for a free workout video online that you can do in the comfort of your own home.
Hosting a holiday party? Giving the house a deep clean also counts as activity!
Bundle up and go for a brisk walk or jog around the neighborhood.
If you've got a gym membership, take advantage of the indoor equipment this winter!
Sign up and train for a race or walk with a family member or friend. Having a race to train for in early spring can help keep you motivated.
Suzanne
Source: http://www.diabetes.org