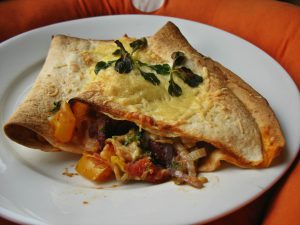 Makes 4 servings
Serving Size: 1 tostada
Ingredients
4 corn tortillas, 6-inch
1 cup low-fat or fat-free refried beans
3/4 cup shredded low-fat Monterey Jack cheese
1 cup low-fat sour cream
1 cup shredded lettuce
1 cup shredded carrots
1 cup salsa
Vegetable oil
Directions
Wash hands and surfaces.
Preheat oven to 375°F.
Lightly brush both sides of tortilla with vegetable oil. Place tortillas on baking sheet. Bake 12-15 minutes or until crisp.
Grate cheese and carrots. Shred lettuce.
Spread 1/4 cup refried beans on each tortilla and top with 3 tablespoons of cheese.
Bake until cheese melts, about 2 minutes.
Top each tortilla with 1/4 cup sour cream, lettuce, carrots, and salsa.
Refrigerate leftovers immediately.
Recipe from: K-State