Many varieties of vegetables can be grown in container gardens. Vegetables that grow well in containers are those with a confined habit of growth, such as salad greens, spinach, eggplant, Swiss chard, beets, radish, carrots, peppers, bush beans, tomatoes, bush varieties of summer squash and cucumbers, green onions, and many herbs.
Containers: There are many possible containers that can be used to start your garden. From plastic, wood or clay, containers should be large enough to support plants when fully grown. This chart provides a sample lists vegetables, minimum container for growth and sample varieties. Space requirements for vegetables can also be found on the seed packet.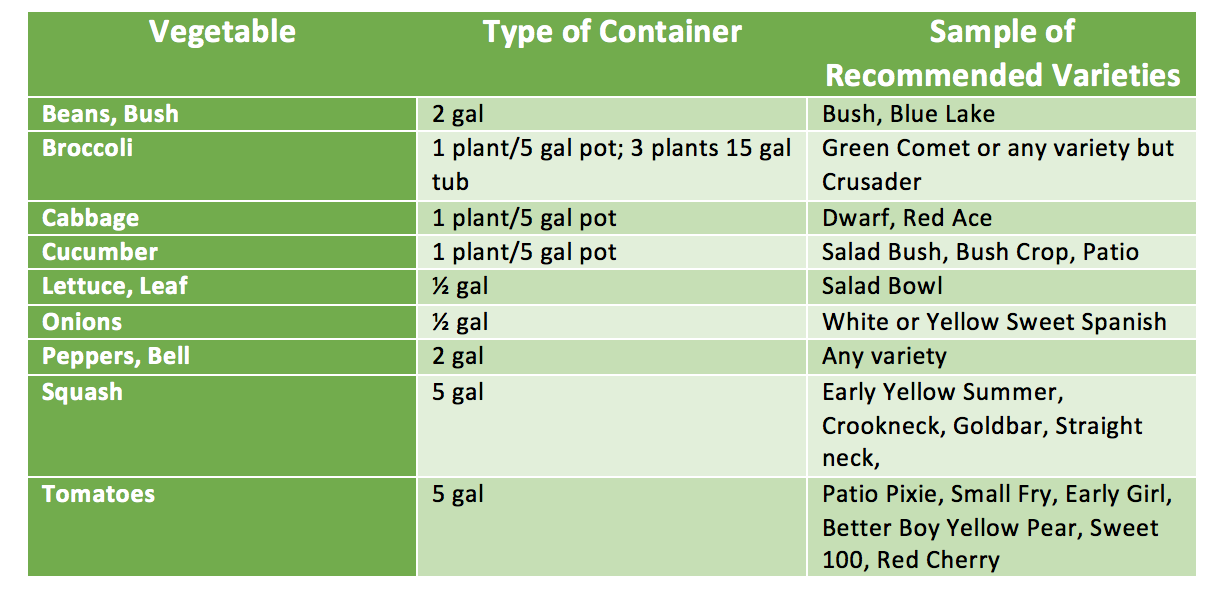 Raise Beds/Square Foot Gardening: This is a form of container gardening in which the soil is formed in three-to-four-foot-wide beds, which can be of any length or shape. It requires less work, less weeding, & less watering. The chart below provides a graphic example of plant spacing.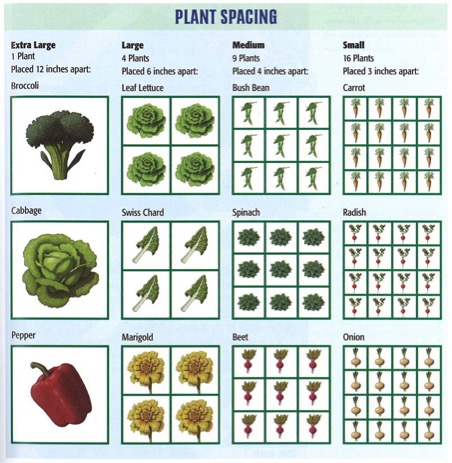 Gardening can also save you money. Here are a few examples of how much you save growing your own vegetables.
Four tomato plants = $15. The average yield for a row of about four plants is 60 pounds.   The going retail price per pound for tomatoes is $1.77, while yours only cost about 25 cents.
You'll save even more with bell peppers. With a $12 investment in six plants, you can reap up to 120 pounds of peppers. That lowers the price per pound from $2.37 in stores to 10 cents.
Easy-to-grow broccoli also costs less than a third of the retail price per pound, at around 50 cents rather than $1.37.
Source: Iowa State University and Bureau of Labor Statistics
Gardening tips to get you started:
Choose a sunlit area to place the plants & decide which plants you want to grow.
Choose a good planter. Vegetables with shallow roots – such as lettuce, radishes and herbs – can grow in as little as 8 in. of soil depth. Larger plants, such as tomatoes, bush beans and squash, need deeper and larger pots.
Fertilize and Water Your Vegetable Container Garden. Proper watering is essential for a successful container garden, since soil dries out faster in pots than in the ground. Be sure to check for moisture each day.
 Harvesting: Harvesting container vegetables is the same as garden vegetables. You will know they are ready by visual inspection, or sampling the produce.
Travella
Travella Free serves as an Extension associate and coordinator of the Discover Agriculture Program at the North Carolina Agricultural and Technical State University Farm.  In this position, she is responsible for the development and delivery of science-based programs for kindergarten-through-12th-grade students.