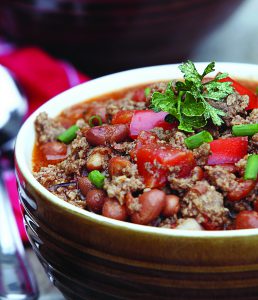 Ingredients
1/2 pound ground meat (optional)
1 onion, diced
1 green pepper, diced
2 teaspoons garlic, minced
1 can (10.5 oz.) white beans
1 can (10.5 oz.) red beans
1 can (10.5 oz.) black beans
1 can (10.5 oz.) low-sodium diced tomatoes
1 tablespoon chili powder
1 teaspoon ground cumin
1/4 teaspoon cayenne pepper
1/4 teaspoon garlic powder
1/2 teaspoon onion powder
1/4 teaspoon ground black pepper
Optional Toppings:

Shredded cheese
Green onions, sliced
Sour cream
Directions
In a large pot, cook the ground meat (if using), onions, and green bell pepper until the vegetables are tender and the meat is no longer red. Drain the fat.
Add the minced garlic and cook for 1 minute.
Add the three cans of beans and the can of tomatoes. Stir well.
Stir in the chili powder, ground cumin, cayenne pepper, garlic powder, onion powder, and ground black pepper. Bring to a boil, reduce heat, and let simmer for 20-30 minutes.
Top with your choice of optional toppings.
Serve over brown rice or whole grain pasta.