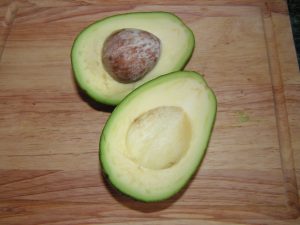 Although avocados are high in fat, most of the fat is healthy mono-unsaturated fat. They are also cholesterol free, sodium free, and loaded with dietary fiber, vitamins, and minerals. Two tablespoons of mashed avocado provide about 55 calories. Watch this video to learn the best way to cut and peel an avocado
Below is a delicious, healthy and fun recipe for guacamole that your children will enjoy helping you prepare.
 Easy Guacamole
Ingredients:
2 ripe avocados, pitted and peeled
1 small onion, minced
1 clove garlic, minced
1 small tomato, chopped
1½ Tablespoon lime juice (or juice of 1 fresh lime)
Salt and pepper to taste
Directions:
Peel avocados and remove the pit.
Peel and mince the onion and the garlic.
Chop the tomato.
Mash the avocado in a bowl (fun for the kids) and then stir in the remaining ingredients.
Serve cold with tortillas.
*To check if your avocado is ripe, push on it.  It will be firm on the outside, but there should be a little give when you push on it.