Two of my favorite things to eat growing up were chicken nuggets and French fries from a well-known fast food restaurant. I didn't eat very much fast food growing up so it was a real treat when I did. I can still remember the warmness and the crunch of the first bite of a chicken nugget. Of course, they were paired with the warm, salty taste of perfectly cooked fries.
Fast-forward to now, and in my adult mindset, I no longer think of that meal as a treat. I think of the excess calories that make "the crunch" of the chicken nugget and the overly salty taste of the (still perfectly cooked) fries. Today, I crave the taste of both, but I know my waistline can't handle the extras—salt, fat, and calories—that come along with such a meal.
So in search of a tasty treat, I have discovered EFNEP's Oven Baked Chicken Nuggets and Oven Fries as a good substitute for when I want the taste of fast food. However, this meal is even better since I can prepare the recipes at home.
At home, I am more in control of what goes into this delicious treat. The extras I worry about with fast food- salt, fat, and calories- can be reduced by making substitutions for items typically used in fast food preparation.
(See the recipes below).
In the Oven Baked Chicken Nuggets recipe, cornflakes give a good lower-calorie crunch and the Italian seasoning – or any of the other spices—provide a good punch of (little to no salt) flavor. My favorite is a no-salt added spicy herb blend and a dash of black pepper. Paired with a fat-free honey mustard dressing, these taste better than the fast food nuggets I ate as a kid. You can also try a low-fat ranch or tangy barbeque sauce.
In the Oven Fries recipes, I like to use sweet potatoes. Sometimes I season them with garlic powder and black pepper to give them a savory flair, or to add to the natural sweetness, I'll use a mixture of brown sugar and cinnamon. The key is to cut the potatoes into even sized pieces to ensure they cook evenly and to crispy perfection. They are good on their own or dipped into a low-fat or fat-free dressing.
Hope you enjoy them too!
Oven Baked Chicken Nuggets
Makes 4 servings, Serving size: 6 nuggets
Ingredients
1 egg
2 Tablespoons low-fat milk
2 ¾ cups cornflakes, crushed
2 Tablespoons Italian seasoning
1 pound boneless, skinless chicken breast, cut into nugget size pieces
¼ cup fat-free ranch dressing or fat-free honey mustard for dipping sauce
Non-stick cooking spray
Directions
Preheat oven to 400°F
Whisk the egg and milk together in a small mixing bowl with a fork.
Place cornflakes in a plastic bag; crush finely. Add Italian seasoning to crushed cornflakes and mix well.
Dip chicken pieces in egg mixture, then shake with cornflakes to coat.
Put coated chicken on a baking sheet coated with non-stick cooking spray.
Carefully place pan in oven and bake for 15 minutes.
Carefully remove the baking pan from the oven.
Serve nuggets with barbeque, ketchup, or mustard dipping sauce.
Nutrition Information Per Serving
265 Calories, Total Fat 5g, Saturated Fat 1.5g, Protein 38g, Total Carbohydrates 17g, Dietary Fiber 0g, Sodium 240mg, Good Source of Iron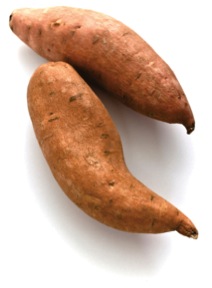 Oven Fries
Makes 6 servings, Serving size: 10 fries
Ingredients
Non-stick cooking spray
4 medium baking potatoes or sweet potatoes
2 Tablespoons oil
Seasonings (black pepper, garlic powder, onion powder, paprika) (optional)
Directions
Preheat oven to 475°F.
Lightly spray baking sheet with non-stick cooking spray.
Wash potatoes thoroughly and dry with a paper towel.
Cut potatoes into long strips about ½ inch thick.
Put oil in a plastic bag. Add potatoes and toss to evenly coat with oil. You may add seasonings to the bag.
Spread strips in a single layer on a baking sheet and place in preheated oven.
Bake at 475°F for 20 minutes.
After 20 minutes, take sheet out of oven and turn potato strips over.
Immediately return sheet to oven and bake at 475°F for 15 more minutes.
Nutrition Information Per Serving for sweet potatoes
120 calories, Total Fat 4.5g, Saturated Fat 0.5g, Protein 1g, Total Carbohydrates 17g, Dietary Fiber 3g, Sodium 15mg, Excellent source of vitamin C.
NC EFNEP – Families Eating Smart and Moving More