'Tis the season for favorite holiday foods and drinks. Eggnog is a classic holiday drink that is quite tasty but can be a bit high in fat and calories. Between the heavy cream, sugar, and eggs, eggnog can quickly become a real calorie buster. There is good news; you don't have to give up the tasty drink this season, the key is to enjoy it in moderation.
There are several brands of eggnog that you can purchase from your local grocer, but you might try Howling Cow Eggnog. Made right on North Carolina State University's campus, the eggnog "is rich, creamy, perfectly sweet and oh so calorie worthy," according to Dr. Carolyn Dunn, Nutrition Specialist. A treat for eggnog lovers, ¼ cup of the concoction can be mixed with ¼ cup skim milk for a less caloric portion. Purchases of Howling Cow products support the education of NCSU students, for more information, go to their website at https://howlingcow.ncsu.edu.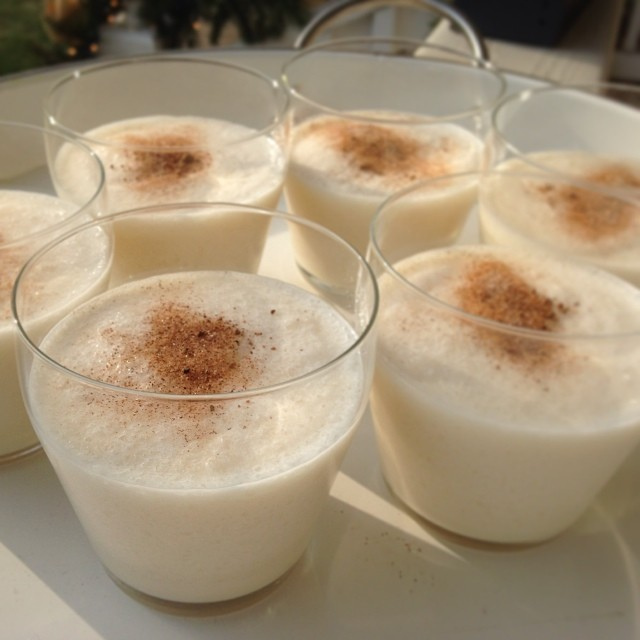 You can also enjoy your family's classic eggnog recipes, but lighten them up with the following small changes. Use almond, skim or 2% milk instead of cream or whole milk; bananas instead of refined sugar; or add some cinnamon or nutmeg to make your eggnog taste flavorful. Making these small changes will save you from fat and calories, but will still taste great!
Try this quick and easy, yet thick and yummy recipe from foodandhealth.com
Banana Nog (serves 4)
Ingredients:
4 bananas, peeled
1 and 1/2 cups skim milk
1 and 1/2 cups plain nonfat yogurt
1/4 teaspoon rum extract
Pinch ground nutmeg
Directions:
Add all ingredients except nutmeg to blender or food processor.
Puree until smooth.
Pour into 4 fancy serving glasses and top each with a pinch of nutmeg.
Nutrition Information:
Makes 4 servings of one cup each. Each cup contains 198 calories, 2 grams of fat, 1 gram of saturated fat, 0 grams of trans fat, 7 milligrams of cholesterol, 114 milligrams of sodium, 38 grams of carbohydrate, 3 grams of fiber, 26 grams of sugar, and 9 grams of protein.
Each serving also contains 10% of the daily value (DV) of vitamin A, 20% DV vitamin C, 36% DV calcium, and 0% DV iron.
Total Time: 5 min | Prep: 5 min | Cook: 0 min
Provided by Stephanie McDonald-Murray,                                                                              Regional Nutrition Extension Associate, EFNEP & SNAP-Ed