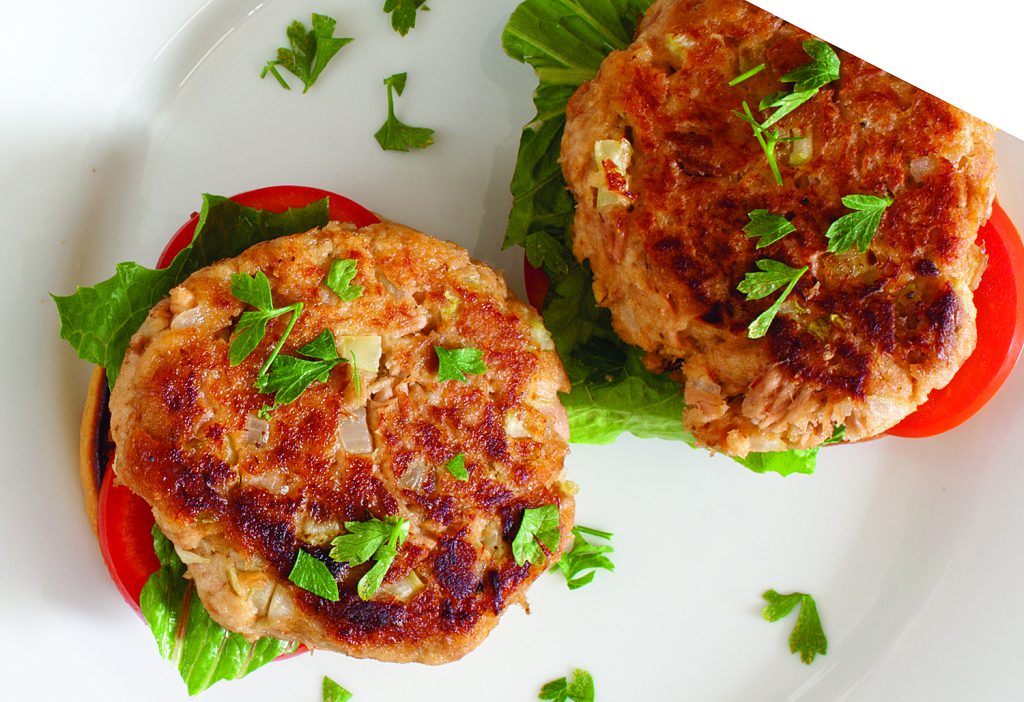 Makes 4 servings
Serving Size: 1 burger
Ingredients
15 ounces canned pink salmon in water
1/2 red bell pepper
8 wheat crackers
3 tablespoons low-fat mayonnaise
1 teaspoon lemon juice
4 drops hot sauce
4 whole-grain dinner rolls
1 tomato, sliced
4 lettuce leaves
Directions
Coat a large, nonstick skillet with cooking spray and heat over medium heat.
While skillet is heating, place drained salmon in a medium bowl (remove some of the skin if desired), flake fish with a fork, mashing bones.
Wash a red pepper and cut it in half lengthwise. Save half for other uses. Remove stem, seeds, and white membranes. Cut pepper into slices, then dice. Add to salmon.
Place crackers in a resealable plastic bag, squeeze air out, and zip shut. Smash crackers into crumbs.
Add cracker crumbs, mayonnaise, lemon juice, and hot sauce to bowl with salmon. Gently mix and shape into 4 patties.
Cook salmon cakes, turning once with spatula, until lightly browned on each side.
While salmon is cooking, slice tomato into 1/4-inch slices, cutting out the core.
Place burger on top of hamburger bun half and top with tomato, lettuce, and other condiments as desired.
Original Recipe from:  https://eatsmartmovemoreva.org/wp-content/uploads/2016/08/Salmon-Burgers-on-a-Bun-1.pdf