Makes 6 servings (Serving Size: 1 taco)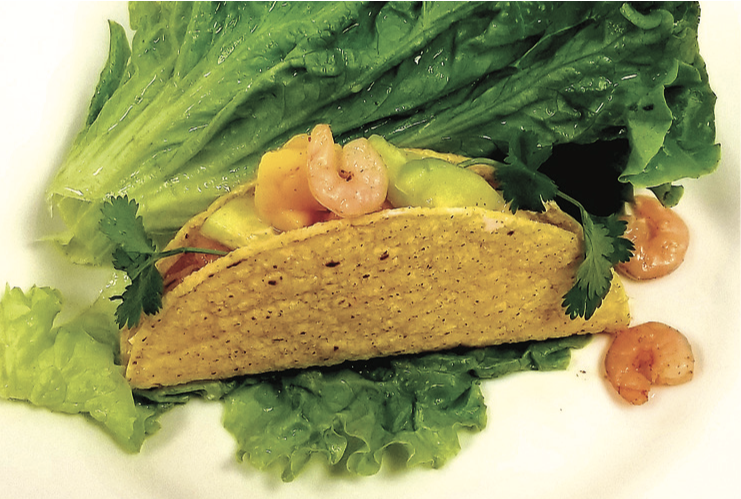 Ingredients for Shrimp:
-4 tablespoons smoked paprika
-1 tablespoon oregano
-1 teaspoon chipotle chili powder
-1/2 teaspoon garlic powder
-1/4 teaspoon cayenne red pepper
Ingredients for Ginger Mango Salsa:
-1 medium mango, diced
-1/2 medium cucumber, diced
-1/4 teaspoon fresh ginger, minced • 1/2 teaspoon chili powder
-1 tablespoon cilantro, minced
Directions:
-1/4 teaspoon dry mustard
-1 tablespoon olive oil
-1 pound medium shrimp, deveined
-6 corn tortillas (can also use whole wheat tortilla or lettuce leaves to make a wrap)
1. In a medium bowl, mix paprika, oregano, chipotle chili powder, garlic powder, red pepper, and dry mustard.
2. Add raw shrimp. Coat thoroughly.
3. In a small bowl, combine ingredients for salsa. Cover and chill.
4. In a large skillet, heat olive oil over medium heat. Add shrimp and cook until pink (Fish should be cooked to an internal temperature of 145°F and will
flake easily when it is thoroughly cooked.)
5. Divide shrimp between 6 tacos (or wraps). Top with salsa.
Nutrition Information Per Serving
178 Calories, Total Fat 5g, Saturated Fat 1g, Protein 13g, Total Carbohydrate 23g Dietary Fiber 4.5g, Sodium 465mg. Excellent source of vitamins A and C. Good source of iron.
Recipe contributed by Kathy Copeland and Della Hicks, NC EFNEP Educators