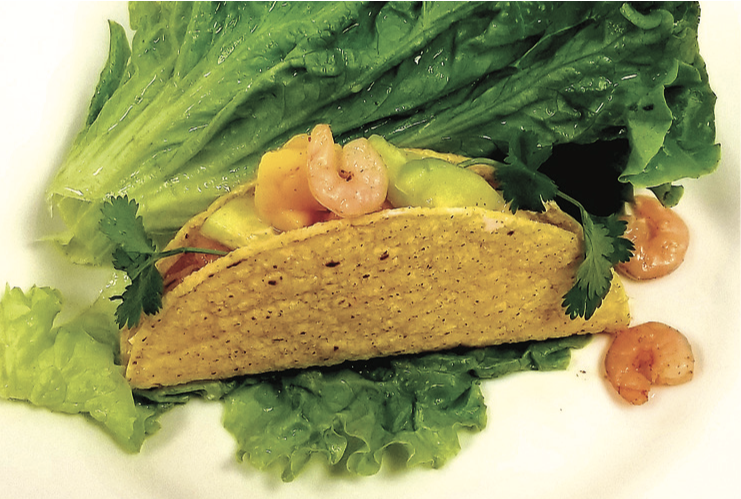 Makes 6 servings | Serving size: 1 taco
Ingredients for Shrimp:
4 tablespoons smoked paprika
1 tablespoon oregano
1 teaspoon chipotle chili powder
½ teaspoon garlic powder
¼ teaspoon cayenne red pepper
1/4 teaspoon dry mustard
1 tablespoon olive oil
1 pound medium shrimp, deveined
Ingredients for Ginger Mango Salsa:
1 medium mango, diced
½ medium cucumber, diced
¼ teaspoon fresh ginger, minced
½ teaspoon chili powder
1 tablespoon cilantro, minced
Other Ingredients
6 corn tortillas (can also use whole wheat tortilla or lettuce leaves to make a wrap)
Directions:
In a medium bowl, mix paprika, oregano, chipotle chili powder, garlic powder, red pepper, and dry mustard.
Add raw shrimp. Coat thoroughly.
In a small bowl, combine ingredients for salsa. Cover and chill.
In a large skillet, heat olive oil over medium heat.
Add shrimp and cook until pink (Fish should be cooked to an internal temperature of 145°F and will flake easily when it is thoroughly cooked.)
Divide shrimp between 6 tacos (or wraps). Top with salsa.
Nutrition Information Per Serving: 178 Calories, Total Fat 5g, Saturated Fat 1g, Protein 13g, Total Carbohydrate 23g Dietary Fiber 4.5g, Sodium 465mg. Excellent source of vitamins A and C. Good source of iron.
Recipe contributed by Kathy Copeland and Della Hicks, NC EFNEP Educators