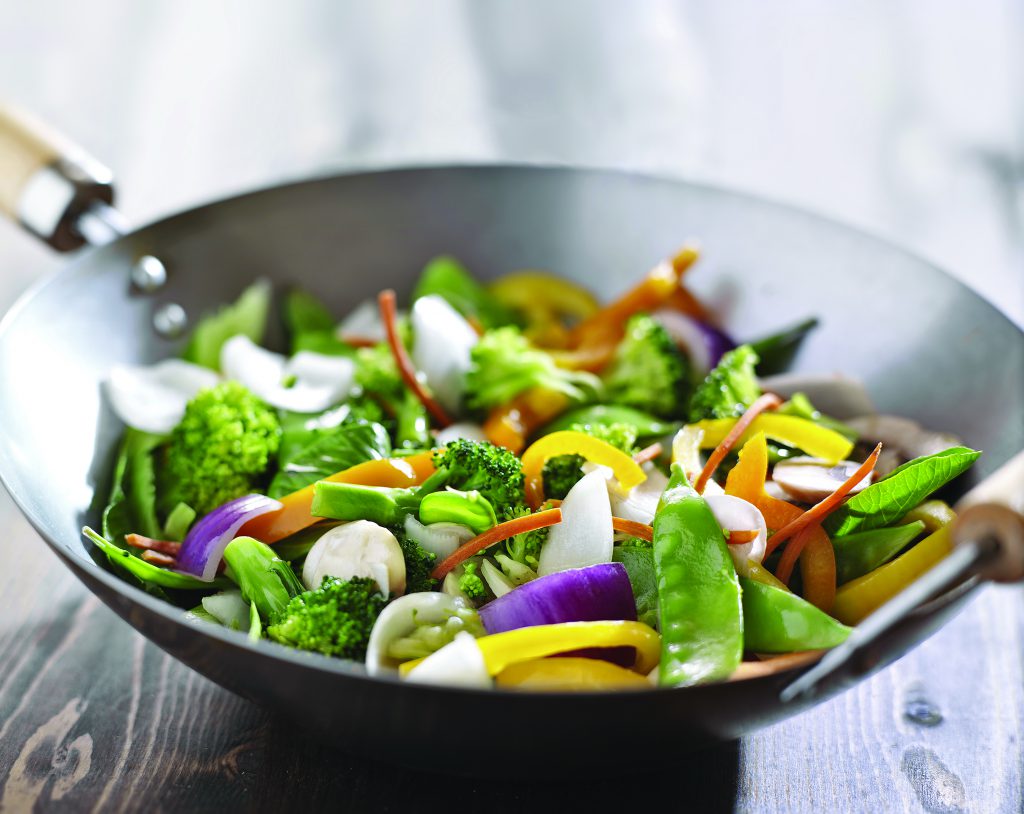 Ingredients
Choose 5 vegetables (1/2 cup of each)

Onion
Broccoli
Celery
Carrots
Peppers
Mushrooms
Squash
Zucchini
Cauliflower

Choose 1 Starch (1 cup per person, cooked according to package directions)

Brown Rice
White Rice
Rice Noodles
Whole-Wheat Spaghetti
Noodles

1/4 cup Stir-Fry Sauce (recipe follows)
1-2 tablespoons vegetable oil
Directions
Wash and chop selected vegetables into small evenly sized pieces. You may cut them into circles, strips, or cubes as desired. A variety of shapes will make the stir-fry more pleasing to the eye.
Heat a small amount (1 tablespoon or less) of vegetable oil over high heat in a 10-inch frying pan, electric skillet, or wok.
Keeping the heat high, add vegetables to the pan in order of firmness–harder foods first and ending with the softest foods.
Toss vegetables during cooking to keep them from sticking. When stir-frying, cooked vegetables should still be crisp and retain their bright color.
Add sauce to taste (about 1/4 cup). Stir-fry until all vegetables are thoroughly coated.
Serve with starch of choice.
---
Stir-Fry Sauce
Makes 1/2 cup
Ingredients
2 tablespoons sodium-free beef bouillon
2 tablespoons apple cider vinegar
1 teaspoon dark molasses
1/8 teaspoon ground ginger
Dash of black pepper
1/8 teaspoon garlic powder
1 cup water
2 tablespoons of cornstarch
Directions
Combine all ingredients in a saucepan and boil gently, uncovered, for 5 or more minutes or until sauce is reduced to 1/2 cup. When cooked, pour into lidded jar and keep in the refrigerator. Stir before using.