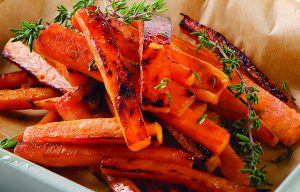 Ingredients:
1 sweet potato, unpeeled and washed
1 teaspoon oil
optional spices (see below)
Optional Spices:
For additional seasoning and variety, you could add

cinnamon and sugar
garlic powder
paprika
curry powder
cayenne pepper
Italian seasoning
your favorite non-salt seasoning
Directions:
1. Preheat oven to 450 degrees.
2. Cut potato into fry-like strips: First cut the potato in half length-wise, then cut into thick slices. Lie the thick slices down and cut them into strips.
3. Put the strips on a cookie sheet and add 1 teaspoon of oil. Season with any additional seasoning and then stir to coat them. Make sure none of the potatoes are touching each other on the cookie sheet. *Have your kids help with this step!
4. Place potatoes in a 450 degrees oven for about 20 minutes, or until crispy and golden brown.