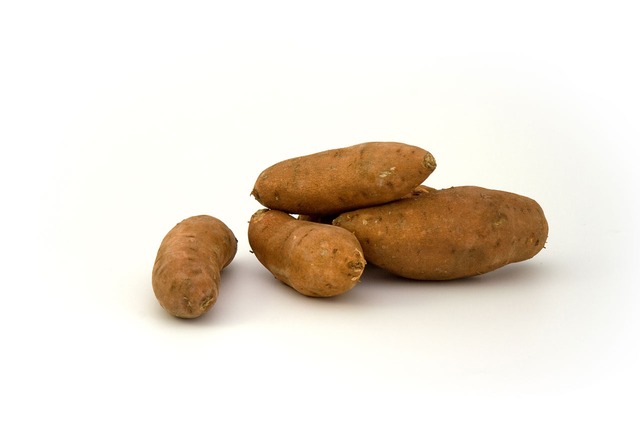 Makes 6 servings
Serving Size: 6 tots
Ingredients
5 cups sweet potatoes, peeled and coarsely shredded
2 1/2 cups canned low-sodium garbanzo beans (chickpeas) with liquid
1/2 cup green onions, finely chopped
2 tablespoons vegetable oil
1/2 teaspoon salt
1/2 teaspoon garlic powder
1/4 teaspoon ground black pepper
1/2 teaspoon onion powder
1/2 teaspoon ground cinnamon
Directions
Preheat oven to 350°F.
Place shredded potatoes on a large baking pan sprayed with a nonstick cooking spray. Bake for 20 minutes or until slightly tender. Do not overcook. Remove from oven.
In a blender or food processor, blend the garbanzo beans and liquid until smooth.
In a medium mixing bowl, mix all the ingredients together. Cover and refrigerate for 40-45 minutes to make tots easier to form.
Preheat oven to 400°F.
Spray a large baking pan with nonstick cooking spray. Using a cookie scoop or a spoon, roll 36 tots. Place 1 inch apart on baking sheet. Lightly flatten the top of the tots with a spoon or a fork. Bake for 10-12 minutes or until lightly brown. Serve hot.