---
Dried fruits like raisins make great snacks. They are easy to carry and store well.
Make an easy trail mix with raisins, peanuts, and whole grain cereal. Store in zip bags and keep handy for on the go snacks.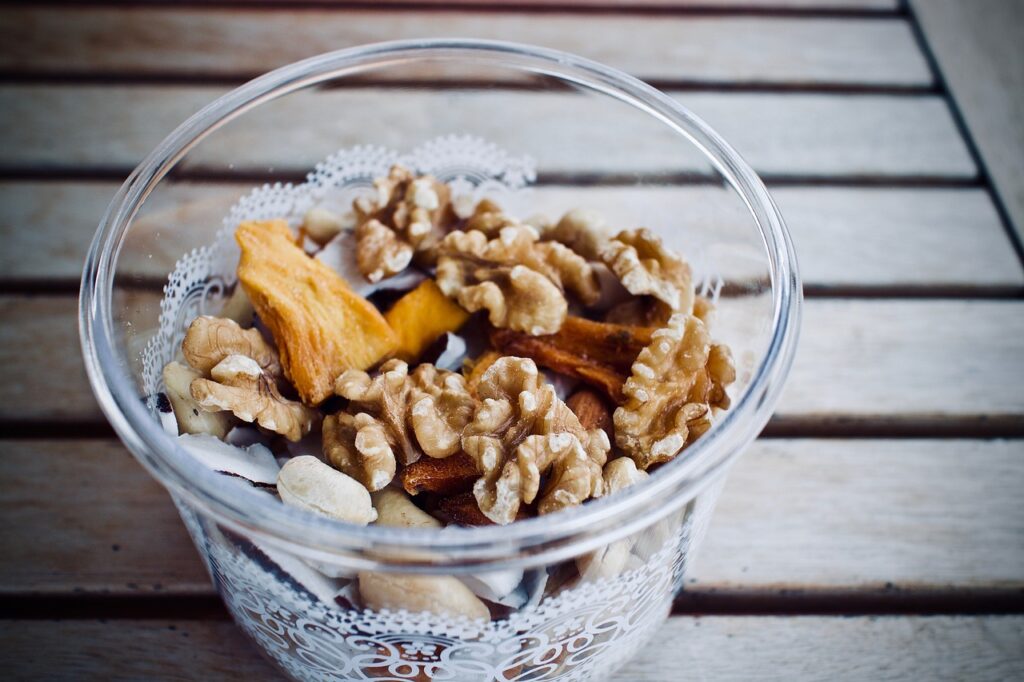 ---
Taking your kids grocery shopping can be a great learning experience for them and get them excited about trying new foods. But it can also be a headache! Here are some tips on how to get your kids involved while decreasing stressful situations:
If you can, plan to go to the store with your child when you have plenty of time and the store is not crowded.

Plan shopping trips when your child is not tired or hungry. Or bring a nutritious snack for them to eat during the shopping trip.
Discuss your rules before you enter a store. Remind your child to stay close to you. Also, set ground rules about what is acceptable to put in the cart. Discussing acceptable behavior before going into the store can save a lot of headache later on.
Give your child a job. For example, ask them to help pick out five oranges or three tomatoes. Or let them choose if you get apples or pears. Kids who help pick out fruits and vegetables are more likely to eat them. Older children may like to hold onto the grocery list and cross off the items as you put them in the cart.
Set positive limits. When your child does something you do not want them to do, instead of reacting with a negative limit, such as "don't throw the oranges on the floor," tell your child what is expected in a positive way, such as "keep the oranges in the bin."
Make the shopping trip a learning experience. Keep kids entertained by asking them questions and having them search for items

. Teach toddlers about touch by asking how different items feel, like the skin of an apple or if the milk is warm or cold. Teach preschoolers about colors by asking them to point out items of different colors like the green peas or the cereal in the yellow box. Have school-aged children look at the labels and compare items based on nutrition and unit pricing.
What other tips can you share about shopping with kids?
Adapted from Spend Smart. Eat Smart.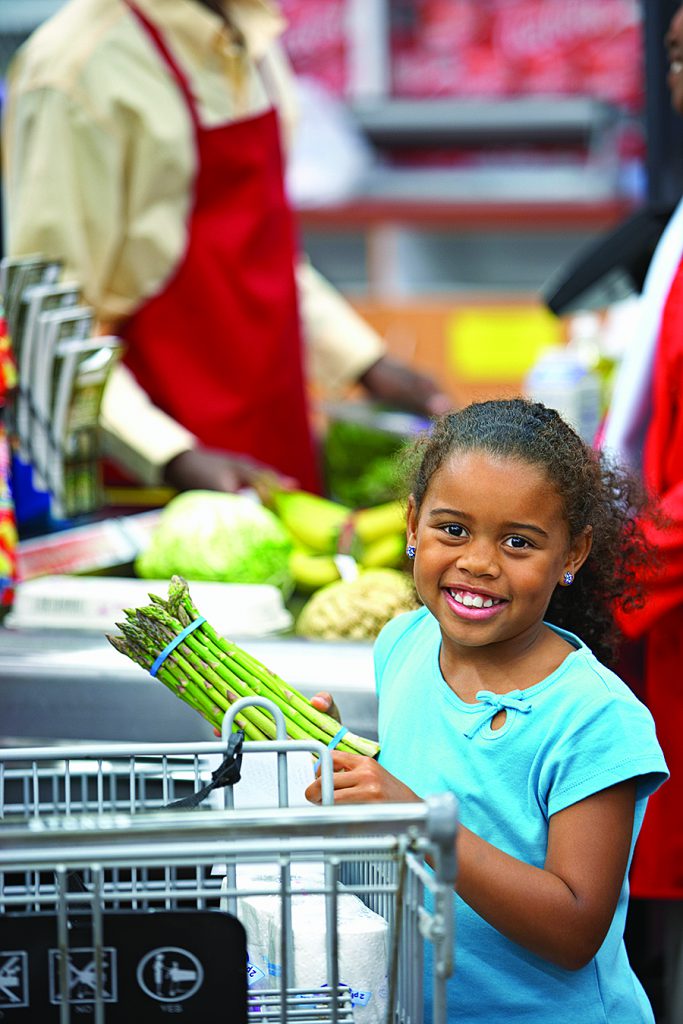 ---
Here are a few ideas on how to serve berries:
Put some in a plastic container to eat as a snack or lunch on-the-go

Add to a bowl of whole grain cereal
Make a yogurt parfait with berries, yogurt and granola
Sprinkle on salads
Make fruit kabobs along with other fruits such as pineapple chunks (fresh or canned), bananas and grapes
Use as a topping for ice cream or frozen yogurt
Make smoothies
Adapted from Spend Smart. Eat Smart.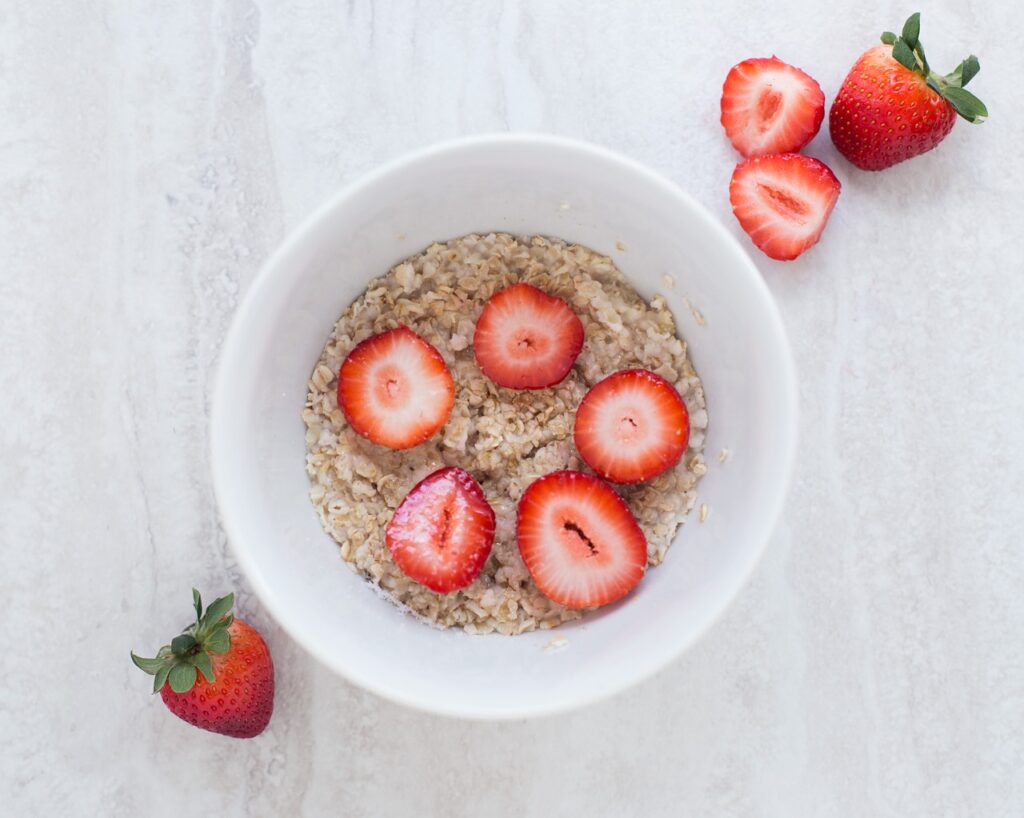 ---
We keep hearing that breakfast is the most important meal of the day, but many people still have trouble finding time in their busy mornings to eat a nutritious breakfast.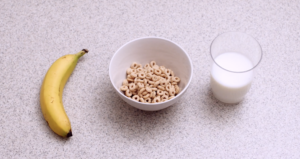 Here are some quick grab and go ideas:
Whole fruit, like bananas, apples and oranges. (For an even faster option, keep peeled oranges in the refrigerator in plastic baggies)

Whole grains and peanut butter: spread 2 tablespoons of peanut butter on whole wheat bread, bagels, English muffins, or frozen waffles.
Low fat yogurt cups.
Fruit smoothies
Low sugar granola bars
Hard boiled eggs
Leftovers: you don't have to eat breakfast food for breakfast!
---
Planning your meals ahead of time will actually save you time and money in the long-run, and help you stay on track with healthier food options.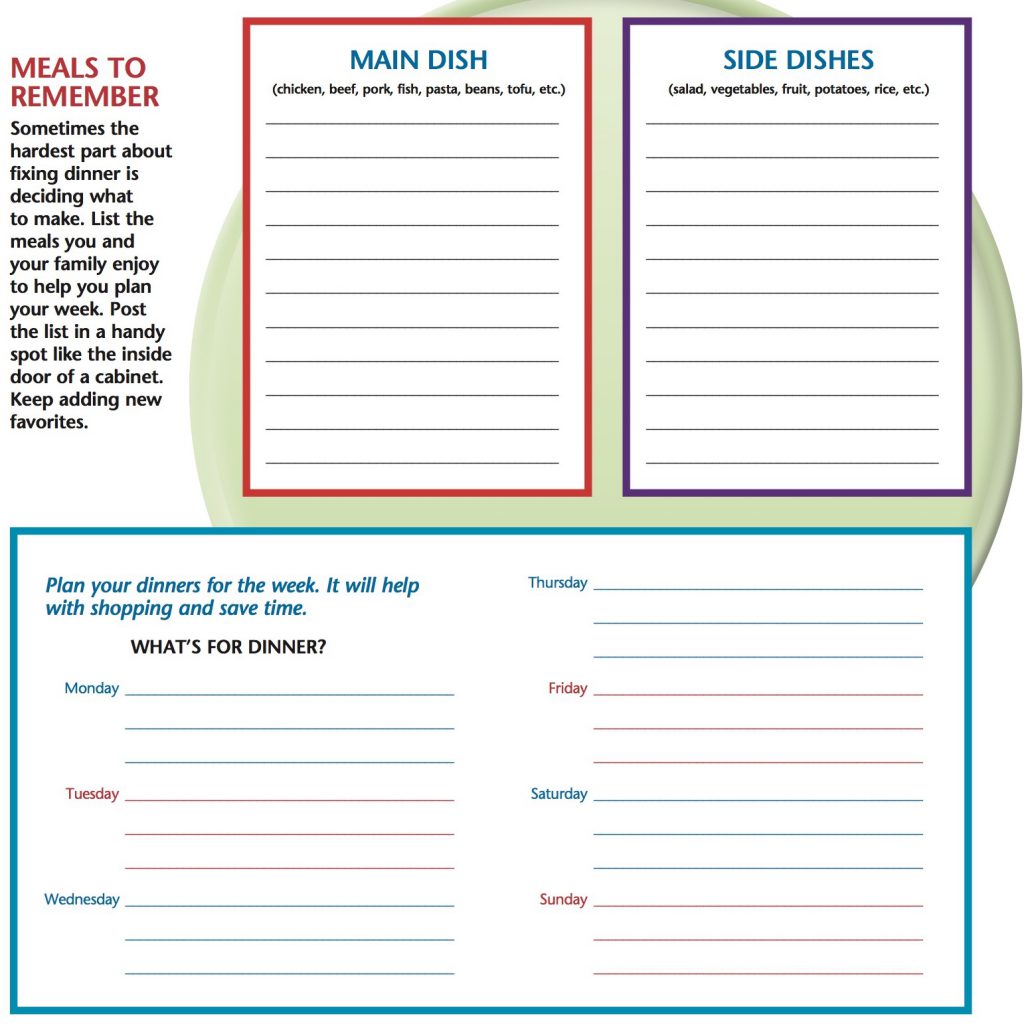 Here are some ways to plan ahead:
Plan as a family. Have family members suggest different healthy meals they want for the week.
Buy meat in bulk, then season, divide into portions and freeze. When prepping for a week's worth of meals, place each entrée in a glass container, so you can easily identify its content at a moment's notice.
Plan meals by using a checklist of proteins, fruits and veggies and side dishes of all the colors of the rainbow. This makes it much more fun and exciting when the kids actually choose to eat or try foods like purple eggplant or yellow squash blossoms.
Have a meal that you serve once every week.
On the weekends (or days when you have more time), make bigger meals or meals you can double to freeze such as lasagna or enchiladas, to reheat during the week
Be flexible! For some people, using a very precise menu for every day of the week works well, but some people actually find it more stressful to be tied into food that their family may or may not be excited about that day. Another option is to plan a loose guide of the proteins and general veggies for the week and make what sounds good in the moment.
What other ways do you like to plan ahead? Comment below!